Racism, transgender athletes and her PM ambitions: Price speaks out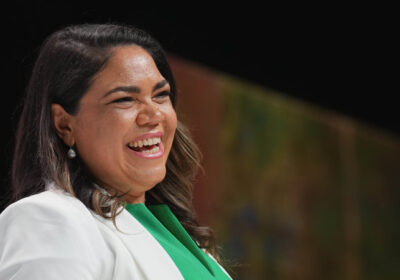 Save articles for later
Add articles to your saved list and come back to them any time.
London: Australia's rejection of an Indigenous Voice to parliament does not make it racist in the eyes of the world, leading No campaigner Jacinta Nampijinpa Price has said as she flagged plans to take on the issue of transgender women in sport.
In an exclusive interview, the federal opposition Indigenous Australians spokeswoman and rising star also said that while she was not seeking to become prime minister one day, "if that eventuated because of the trajectory I've been on, then so be it".
Senator Jacinta Nampijinpa Price told the Alliance for Responsible Citizenship conference that the Voice referendum defeat marked a turning point in identity politics.Credit: James Whatling/Parsons Media
Appearing as a last-minute speaker at a global gathering of conservatives in England this week, Price said the 60 per cent national vote against the Voice in last month's referendum marked a turning point in the fight against identity politics.
"If anybody from any other country would like any tips on how to push back on this ridiculous ideology, we're all here to help," she told 1500 delegates at the Alliance for Responsible Citizenship's inaugural conference in London.
Speaking to this masthead after her speech, Price said that in the lead-up to the referendum, a number of European ambassadors had queried "why the hell Australia was creating division" on race, contrary to claims by some former moderates that a defeat would harm Australia's international reputation.
"We're not racists in the eyes of the rest of the world," she said of the result.
The first-term Northern Territory Country Liberal senator, who was catapulted into the shadow cabinet in April, acknowledges her swift rise in conservative politics, fuelled by her high-profile opposition to the Voice.
"I'm aware of my sort of meteoric rise. It's crazy. I don't want to get too ahead of myself; I always think you have to prove yourself first," Price said.
"With my sons, it's like 'mum's a national hero to others, but she's just our mum'."
Asked if she would like to be Australia's first Indigenous prime minister – which would require a move to the lower house and a change of party – Price said she would take on the responsibility "if I had to, but I'm not trying to get there, I'm just wanting to get the job done as best as I can".
"I'm not looking to be elevated in terms of my career – that's not why I did this," she said.
"I wanted to be in a position of power so I could be heard for the benefit of amplifying those marginalised voices – that was always the aim.
"[But] if that eventuated because of the trajectory I've been on, then so be it."
For now though, her focus is Indigenous disadvantage.
"The reality is a lot of my family are still marginalised. I attend funerals on a regular basis. There's always a tragedy when you belong to an Indigenous family and that brings you back down to earth and reminds you where you come from," she said.
Price said if she were minister, she would tackle child sexual abuse in Indigenous communities by allowing children in harm's way to be removed from their parents.
"The stigma of the stolen generations suggests we have to leave them in dysfunction so that they remain connected to their culture and their country. But if their culture's dysfunctional, they're not actually receiving any sort of cultural upbringing that is enriching for them and their lives," said the 42-year-old, who wants a royal commission into child sex abuse in Indigenous communities.
Speaking at a conference in Melbourne on Thursday, Prime Minister Anthony Albanese said the government would continue to consult on Indigenous policy. He said he believed most Australians wanted action to close the gap on Indigenous disadvantage but noted that violence against women and children was not confined to one section of the population.
Asked if gender issues were important to her politically, Price, who defines herself as a social conservative – "I'm not a moderate in any way, shape or form" – nominated women's rights in sport as an area she plans to tackle.
"The issue of women … having to play sport against trans women is a fight I want to take up because that comes down to women's safety on the sporting field," she said.
"For me, it is about women's rights, and we haven't established our rights just for them to be turned back on after all this struggle."
While wading into the trans debate didn't bode well for failed Liberal candidate Katherine Deves at last year's federal election, Price said: "I don't see why it should be controversial.
"If I had daughters I would be really concerned that they had to play AFL against biological men.
"It's common sense and I don't shy away from a commonsense argument."
Price, a former singer-songwriter, said she once railed against feminism but happily accepts being termed a "practising feminist", having helped establish programs such as Desert Divas, which nurtures female Indigenous musical talent.
"We haven't had our feminist movement as Aboriginal women. We've always been told we've got to stand by our men for the sake of our rights as a race and that's always meant we put our rights behind our men," she said.
"I guess I am a feminist in that regard because I've always fought for the rights of Aboriginal women but I'm definitely practising because I'd rather just be doing it rather than thinking about it."
She also said she was flexible on issues such as whether Australia should become a republic – she backs the monarchy for stability but isn't opposed to change if the time is right.
"There might come a day where a republic might be more suited to who we are, but I don't think we're there yet as a nation," she said.
Cut through the noise of federal politics with news, views and expert analysis from Jacqueline Maley. Subscribers can sign up to our weekly Inside Politics newsletter here.
Most Viewed in Politics
From our partners
Source: Read Full Article