Qantas needs to pay staff less to stay afloat: executive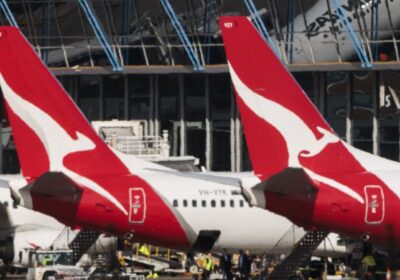 Save articles for later
Add articles to your saved list and come back to them any time.
Qantas says it would likely not stay afloat if it did not reduce the pay and conditions of its staff over time to stay competitive in a global aviation market.
Defending the airline's industrial practices before a parliamentary inquiry into Labor's second major tranche of workplace reforms, Qantas executive Nathan Safe said the carrier's employment structure was "complex" but had evolved legally over time to ensure the business was viable in an international market.
Qantas says it likely wouldn't exist if it continued to pay people on legacy agreements.Credit: Brook Mitchell
"Our legacy terms and conditions are by far the highest in Australia, and remain high when compared to virtually every other international carrier flying here," said Safe, the acting executive manager of industrial relations.
"But if we kept hiring on these same terms and conditions – especially when our domestic competitors are paying award or slightly above award rates – Qantas would likely not be here."
Appearing before the Senate inquiry in Queensland on Tuesday alongside HR executive Natalie Thomson, Safe said the airline had been held up as one of the key reasons for the government overhauling industrial relations laws to prevent people from using labour-hire arrangements to circumvent enterprise agreements already struck with employees to drive down pay.
Workplace Relations Minister Tony Burke's Closing Loopholes Bill aims to ensure workers hired under labour-hire arrangements are paid the same as colleagues performing the same job, among other major reforms aimed at the rights of casuals and gig economy workers, as well as criminalising wage theft.
Safe said the government's bill, if passed, could significantly increase costs for the airline without increasing productivity.
"That could, in turn, compromise the viability of services (particularly regional ones), undermine job security and create market distortions by way of an unlevel playing field in circumstances where competitors will not be captured by the proposed reforms," he said.
Qantas is enduring a turbulent period as it faces ongoing criticism over poor customer service, speculation over undue government influence, and the fallout from illegally sacking workers during the pandemic.
On Monday the airline also denied it behaved illegally when it sold tickets on thousands of cancelled flights last year, arguing legal action launched by the consumer watchdog – which has accused Qantas of selling tickets on 8000 cancelled flights between May and July 2022 – "ignores the realities of the aviation industry".
The union movement has persistently accused Qantas of systemically undercutting workers' pay by hiring staff through different entities on lower pay and conditions than existing colleagues.
Safe said the carrier was "a legacy business operating in a highly competitive global market, with low barriers to entry for new competitors".
"For most legacy carriers, that hasn't ended well. That's why we have evolved our labour model over several decades," he said.
"Yes, our structure is complex – but it has evolved legally and is based in the enterprise bargaining system."
Safe said rather than undercutting legacy agreements, its newer agreements "effectively grandfather legacy conditions for long-serving employees, while ensuring a sustainable future for a low margin, trade-exposed, capital-intensive business."
Cut through the noise of federal politics with news, views and expert analysis from Jacqueline Maley. Subscribers can sign up to our weekly Inside Politics newsletter here.
Most Viewed in Politics
From our partners
Source: Read Full Article