'Puss in Boots: The Last Wish' Director Joel Crawford Says Animation Deserves More Respect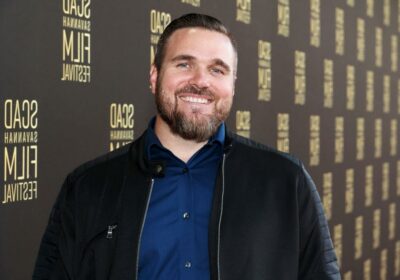 "Puss in Boots: The Last Wish" director Joel Crawford wants more respect for the brilliant minds behind animation. The amount of work that goes into bringing heartfelt stories like Crawford's animated feature to life involves countless hours and teams of artists. However, the medium is constantly overlooked and undervalued by the industry, Crawford argues.
Crawford recalls pitching the story of "Puss in Boots: The Last Wish" to British star Ray Winstone, hoping to convince the veteran actor to join the "Shrek" spin-off sequel as Papa Bear. While telling Winstone about how his character's adopted daughter Goldilocks wishes for a human family, Winstone gave an honest reaction that made it into the film. "He was just in the moment," Crawford tells Variety. "Completely engaged in the character, he just said, 'some people just stick around until the porridge is gone.' Ugh…and we put that in the script."
On this episode of the award-winning Variety Awards Circuit Podcast, Crawford discusses receiving his first Oscar nomination for "Puss in Boots: The Last Wish." He also talks about how the stellar ensemble brought emotions and spontaneity to the story and how Hollywood, and the Oscars, should recognize more technical artists behind the camera in animation. Listen below:
The Antonio Banderas-voiced Puss in Boots is back. The fiery feline, originally from the "Shrek" movies and 2011's "Puss in Boots" spin-off, returns in the DreamWorks Animation box office hit. The film finds the hero/outlaw learning he's on the last of his nine lives, which leads him on a quest to locate a mystical wishing star to restore his lifespan. The voice cast includes Banderas, Salma Hayek, Harvey Guillén, Florence Pugh, Olivia Colman, John Mulaney, Wagner Moura, Samson Kayo and Da'Vine Joy Randolph.
Crawford assures listeners that being an animation director is not as simple as standing behind an artist and saying, "draw."
"It's the same goal where you have this vision as a director," says Crawford. "You're essentially capturing a moment, but it's over the course of different departments."
Each of his cast brought something different to the character that didn't seem obvious when looking at the script. Oscar-nominee Florence Pugh, who voices Goldilocks, understood that her character needed to convey "honesty about being a teenager." She interpreted the Goldilocks as "a pixie pirate."
Also in this episode, Jamie Lee Curtis discusses her long and distinguished career and her reaction to receiving her first Oscar nomination for A24's "Everything Everywhere All at Once." The veteran actress gets candid in a video interview about her famous parents, Oscar nominees Janet Leigh and Tony Curtis, and shares her gratitude for her co-star Michelle Yeoh.
Variety's "Awards Circuit" podcast, produced by Michael Schneider, who also co-hosts with Clayton Davis, is your one-stop listen for lively conversations about the best in film and television. Each week "Awards Circuit" features interviews with top film and TV talent and creatives; discussions and debates about awards races and industry headlines; and much more. Subscribe via Apple Podcasts, Stitcher, Spotify or anywhere you download podcasts. New episodes post weekly.
See the latest film predictions, in all 23 categories, in one place on Variety's Oscars Collective. To see the ranked predictions for each category, visit Variety's Oscars Hub.
Read More About:
Source: Read Full Article