Prime Minister Scott Morrison tests positive for COVID-19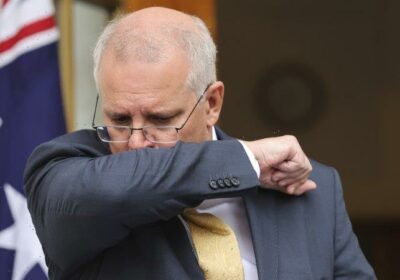 Prime Minister Scott Morrison says he has tested positive for COVID-19 and is experiencing flu-like symptoms, including a fever.
Mr Morrison released a statement just before midnight confirming that he tested positive on Tuesday evening, despite testing negative every day – including on Tuesday morning – since Sunday.
Prime Minister Scott Morrison coughs during a news conference at Parliament House in Canberra, hours before testing positive for COVID-19.Credit:Alex Ellinghausen
He repeatedly coughed during a news conference on Tuesday and pulled out of an event at the Sydney Opera House to light up the sails in yellow and blue in honour of Ukraine, which was attended by NSW Premier Dominic Perrottet.
"I had tested myself daily since Sunday, including this morning, with all tests returning a negative result," the Prime Minister said in a statement.
"I took a further test this evening after developing a fever late today. The test was inconclusive so I took a PCR test tonight which returned a positive result late this evening," he said.
He said he was isolating at home in Sydney and that "Jenny and the girls have thankfully tested negative."
However, he said they would isolate at home for seven days.
He said he would continue to "discharge all my responsibilities as Prime Minister".
The Prime Minister held a joint news conference in Canberra on Tuesday alongside Defence Minister Peter Dutton, who has previously had the virus.
That news conference followed what he said was a "rather lengthy" meeting of the National Security Committee of Cabinet.
On Monday he was in Brisbane responding to the floods where he held "extensive discussions" with the city's Lord Mayor.
On Sunday, when the Prime Minister said he was testing himself for the virus, he met with British talk show host Piers Morgan for a "45-minute chat."
More to come
Most Viewed in Politics
From our partners
Source: Read Full Article