PlayStation Launches App for Buying and Renting Movies From Sony Pictures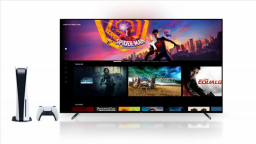 Movies are back on PlayStation — although they're all titles from corporate cousin Sony Pictures Entertainment.
More than two years ago, PlayStation shut down its service offering movie and TV show purchases and rentals. At the time, Sony Interactive Entertainment explained that was making the move because it was seeing a growing number of PlayStation users shifting to free and subscription streaming-video services.
Now, Sony has decided to bring back movies to the gaming console in partnership with its studio arm. On Thursday, Sony Interactive Entertainment launched the Sony Pictures Core app (previously branded as Bravia Core on Bravia TVs and select Xperia devices) on PS5 and PS4 consoles.
Sony Pictures Core offers up to 2,000 movies from Sony Pictures available to rent or buy. At launch, that includes "Spider-Man: Across the Spider-Verse," "Spider-Man: No Way Home," "Uncharted," "The Equalizer," "No Hard Feelings," "Bullet Train" and "Ghostbusters: Afterlife."
In addition, PlayStation Plus Premium/Deluxe members will get access to a curated catalog of 100 movies through the Sony Pictures Core app to stream on-demand from the Sony Pictures library — for no extra charge. The catalog, which will be ad-free and updated periodically, features movies such as "Looper," "Kingsglaive: Final Fantasy XV," "Elysium" and "Resident Evil Damnation."
Users will also be able to purchase select Sony Pictures films during an "exclusive, early-access window" straight from their console in select markets. The first film with early access will be "Gran Turismo: Based on a True Story," which tells the true story of a team of unlikely underdogs who "risk it all to take on the most elite sport in the world." Currently, "Gran Turismo: Based on a True Story" is available through Sony Pictures Core in the U.S., Canada, Australia and New Zealand and will premiere soon in additional markets. (Users who purchase the movie through Sony Pictures Core will receive credit toward an in-game purchase in GT7, including cars featured in the movie.)
"This is just the beginning, and we plan to evolve the offerings and benefits of Sony Pictures Core over time – including a selection of hit anime content from Crunchyroll," Evan Stern, senior director of global marketing at Sony Interactive Entertainment, wrote in a blog post.
Read More About:
Source: Read Full Article