Piers Morgan Has A Major Issue With Meghan Markle's New Children's Book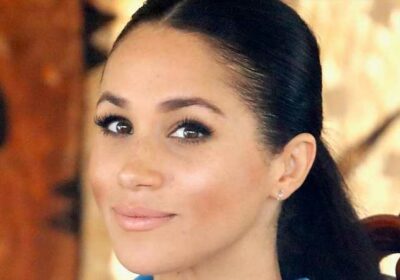 The Duke and Duchess of Sussex – who may be cut off from the royal family entirely — are busy making new lives for themselves in California. After their tumultuous exit from the royal family and the ensuing controversy due to their interview with Oprah Winfrey, it's no wonder that they're trying to carve a space for themselves professionally that isn't tied to the royals. Prince Harry and Meghan Markle have already scored lucrative deals with Netflix and Spotify, and now the former "Suits" star is branching out into publishing. BBC News reported that Meghan has written a children's book "about father-son relationships, as seen through the eyes of mothers."
Entitled "The Bench," the new children's book is slated for publication on June 8. The story is reportedly based on Harry's relationship with their young son Archie, with the Duchess noting in a statement the book "started as a poem I wrote for my husband on Father's Day, the month after Archie was born." Meghan is hoping "The Bench," which is illustrated by Christian Robinson, will speak to all kinds of families, with publisher Penguin Random House advising the book cultivates "a deep sense of warmth, connection, and compassion." Meghan will also record an audio version.
Although this latest business venture seems reasonable enough, Piers Morgan – who is Meghan's biggest fan (sarcasm intended) — is really not pleased about it.
Piers Morgan feels Meghan Markle is behaving hypocritically
Meghan Markle's most vocal critic, and alleged one-time date, Piers Morgan is furious the Duchess of Sussex has the gall to write a children's book. The former actress shares son Archie with her husband, Prince Harry, and is currently pregnant with their second child, a daughter. The British firebrand, who lost his job hosting "Good Morning Britain" after ranting about the Duchess live on air, lashed out in his Daily Mail column about how Meghan is acting hypocritically by covering father-son relationships. According to Morgan, she "has ruthlessly disowned her father Thomas and refuses to have anything to do with him despite the fact they now live just 70 miles from each other." The controversial television personality went on to remind readers that the Duchess is estranged from the rest of her family, too, and didn't even invite them to her wedding. 
He opined, "This doesn't seem like someone overly keen to operate 'an inclusive lens' to me." Morgan then turned his attention to Harry, claiming the royal defector "trashed" his father during the explosive Oprah Winfrey interview by "moaning about how Daddy had stopped taking his calls or giving him cash." The former "GMB" host described the Duke as a "needy spoiled brat teenager" and blamed Meghan for forcing Harry to turn his back on "his family, country and duty." Accusing Meghan of being "brazen" and "tone deaf," Morgan wondered how much her kids' book "will resonate with her own family, or her husband's?"
Source: Read Full Article