Patriotic Brits warned decorating car for the Coronation could end in £100 fine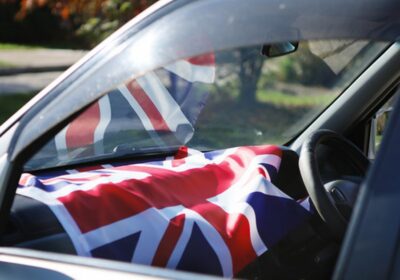 Bookmark
Sign up for the Hot Topics newsletter for hot style and sex tips
We have more newsletters
Patriotic Brits hoping to celebrate the King's Coronation by decorating their car, inviting lots of people along for the journey or overloading the car with luggage and bags, could face fines and penalty points if found to be in breach of the Highway Code this bank holiday weekend.
Experts at Quotezone.co.uk are urging motorists to drive safely over the weekend, with 14.6m journeys expected to take place over the Coronation bank holiday weekend.
As well as facing potentially long delays, motorists on the road this weekend have been warned to be aware that their coronation celebration plans could break common driving laws.
READ MORE: Brits warned TikTok car hacks could see them landing 9 penalty points on licence
Those planning to go all out for King Charles' celebrations and dress up in a royal-themed costume could also be at risk of fines if it is found their outfit is restricting and in breach of rule 97 of the Highway Code, which states drivers must have footwear and clothing which does not prevent them using the controls in the correct manner.
Quotezone.co.uk Founder and CEO Greg Wilson has said: "With so many expected to hit the roads to celebrate with family and friends this bank holiday weekend, we want to urge drivers to think about factors such as car decorations, outfit choice and overloading their car, to help keep safe and avoid fines.
"Driving with due care and attention when on the roads is important every day, but especially over a period of time where so many are expected to be making journeys. Motorists should check the roads ahead of their trip, plan the route and leave plenty of time.
"Many drivers may not think twice about decorating their car with bunting, turning up the radio to full blast to enjoy the Coronation coverage or snacking on a pack of mini quiches, but all of these can be seen as offences which could result in fines and penalty points."
Here are the offences to avoid this bank holiday weekend:
1. Decorating your car
Decorating vehicles with royal bunting, flags, crowns or patriotic banners could land drivers with hefty fines. Mounted decorations which block visibility, breach rules which state a driver must have a full view of the road. This can result in a £100 on-the-spot fine or an even larger financial penalty if taken to court. External car decorations can also cause huge problems when not properly mounted. If a decoration were to fall off the vehicle into the path of another car, it could be viewed as driving without due consideration.
2. Tuning in to Coronation coverage
Patriotic Brits who are planning to be driving during the coverage of the King's Coronation should be careful not to turn their radio up too loud. Over a weekend with expected delays on the road due to increased traffic, listening to the radio at a high volume could inhibit their awareness of the roads and other road users, landing them in trouble.
3. Overloading the car
If drivers are planning to travel with family or friends this weekend, they need to avoid overloading the car with people or luggage. Failing to keep their vision free from obstructions through the front and back window could land them with a fine and three penalty points on their licence. Overloading can also lead to issues with the car's maximum weight. The vehicle handbook will tell them the maximum weight for the car, including passengers and luggage. If this amount is exceeded and the car is involved in an accident, the insurance could be invalid.
4. Driving under the influence
Those planning to enjoy some drinks this bank holiday weekend are urged to plan their way home and think about what driving may be required the morning after, before drinking, to avoid driving under the influence of any alcohol. The penalties for drink driving in the UK depend on the severity of the offence, but those caught should expect to receive six months in prison, an unlimited fine or a driving ban of at least 12 months. If drinking is on the cards over the bank holiday weekend, people need to be aware of the fact that drivers may still be affected by the alcohol the next day which could affect their ability to drive safely. There are lots of online tools available to help drivers check their blood alcohol level to ensure they are safe to drive the next morning but they should always err on the side of caution.
5. Wearing costumes / summer clothing
True patriots planning to dress up to mark the occasion of the King's Coronation should be aware of how their clothing could restrict them once behind the wheel. Rule 97 of the Highway Code states drivers must have footwear and clothing which does not prevent them using the controls in the correct manner. **
This means any big, bulky novelty costumes can cause issues for drivers. Footwear is also very important to consider, although many choose to pop on sandals and flip flops when the sun comes out, they can impact their ability to drive. Driving barefoot could also see them hit with a penalty for driving without due care or attention.
6. Coronation party food
Party food is a big part of the celebrations this bank holiday weekend, for those who have to drive during the coronation or are making big road trips to be with family, remember to pull over and picnic when it is safe to do so – supplying the driver with food and drink while driving could result in three penalty points and a £100 fine if the driver is considered not in proper control of the vehicle, and could be charged with careless driving.
READ NEXT:
'I have saggy boobs, hip dips and a square bum – but I'm still beautiful'
Women say men with a 'J' name are the worst to date as they share 'red flags'
Model 'so hot she makes men cry' turns 'poolside goddess' in skimpy bikini
Brits shown 'correct' way to use a colander – but they slam 'dangerous' method

For more lifestyle stories, sign up to the free Hot Topics newsletter here
King Charles Coronation
King Charles III
Driving
Source: Read Full Article