NT approves Beetaloo gas fracking despite climate fears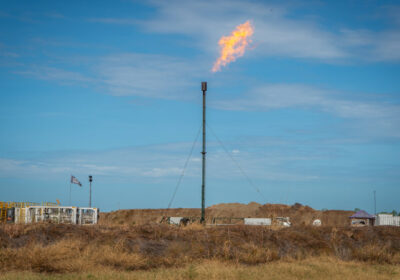 Save articles for later
Add articles to your saved list and come back to them any time.
Onshore fracking has been given the green light in the Northern Territory's gas-rich Beetaloo Basin, clearing the way for a controversial expansion of wells and production in a move that has dismayed traditional owners and environmental groups.
NT Chief Minister Natasha Fyles said the government had finally satisfied all 135 recommendations from the independent Pepper inquiry into fracking, which it commissioned after it lifted the moratorium on fracking five years ago.
"The Northern Territory, the Australian government and in fact our partners around the world all have the same ambition to be a net-zero emission economy as soon as we can … but we need an energy source as we step through to that," Fyles said.
"We have strengthened government agencies, we have strengthened legislation to rigorously assess environmental management plans."
Almost 100 scientists, co-ordinated by the Australia Institute think tank, published an open letter in national newspapers on Wednesday, urging the NT government to not approve gas fracking and warning of the climate damage it would inflict.
The 2018 Pepper inquiry found industry risks could be managed if its recommendations were implemented in full.
NT Chief Minister Natasha Fyles has given the green light for fracking in the territory.Credit: James Brickwood
But the scientists' letter said one key recommendation of the inquiry had not been addressed, namely that the NT and Australian governments should ensure there was no net increase in the lifecycle greenhouse gas emissions emitted from onshore gas.
"The Northern Territory government has failed to keep its commitment," the letter said.
Fyles disagreed on Wednesday, telling a media conference: "We have absolutely met the recommendation."
Earlier this year, Federal Climate Change and Energy Minister Chris Bowen said the federal government would not help the Northern Territory offset emissions from the Beetaloo Basin.
The Beetaloo Basin, about 500 kilometres south of Darwin, stretches across 2.8 million hectares.
It is believed to contain significant amounts of shale oil and gas that could be recovered using fracking – a process that involves injecting high-pressure fluid into bedrock – but the full extent of the petroleum and gas resource is uncertain.
Analysis by Reputex in 2021 estimated a high-production scenario could lead to an additional 1.4 billion tonnes of lifecycle emissions from the basin over 20 years, including emissions when the gas was sold and used.
In April, the NT government released the findings of a three-year study into fracking in the Beetaloo sub-basin, a key recommendation from the Pepper inquiry, which found no new risks associated with the development of an onshore gas industry.
The Environmental Defenders Office said the NT government should not have signed off on the Pepper inquiry recommendations because it had failed on major recommendations on water protection, cultural heritage and community rights.
Exploratory gas well on Tanumburini Station which is part of a gas exploration and production process in the Beetaloo Basin in the Northern Territory.Credit: Justin McManus
"Our work shows the NT government has no basis to claim the recommendations have been implemented, when promised federal water protections are not in place and cultural heritage assessments and consultation processes for traditional owners fall far short," special counsel Alina Leikin said.
Rick Wilkinson, the chief executive at independent energy consulting firm Energy Quest, said Tamboran Resources was the only company with a significant fracking and testing program in the NT, but its projects were still in the appraisal phase.
"[Fracking the Beetaloo is] subject to the appraisal and testing of the wells and there is no fracked well in the Northern Territory that has proven to be commercial to date," Wilkinson said. "There still hasn't been enough drilling or testing done to prove commerciality and it's a big area, a long way from infrastructure, which makes it expensive."
A spokesman for the Nurrdalinji Native Title Aboriginal Corporation, which represents members with native title interests across the Beetaloo Basin, said the chief minister was wrong saying traditional owners would have power to veto production on their country.
Johnny Wilson at an exploratory gas well on Tanumburini Station, part of the proposed Beetaloo Basin gas project.Credit: Justin McManus
"There is no veto right at production stage under native title or land rights laws," said traditional owner Johnny Wilson.
One of Australia's biggest landowners, Rallen Australia, which owns six NT cattle stations and has Tamboran and Santos fracking exploration wells on its property, expressed concern that production could now occur.
Rallen has companies exploring for gas on its Tanumbirini cattle station, including Tamboran Resources, and has been in legal negotiations including court action with Tamboran and Santos.
"What fracking will sacrifice is simply irreplaceable and that's clean water, prime land and a sustainable economic future," said Rallen Australia director Luciana Ravazzotti.
Exploratory gas well on Tanumburini Station.Credit: Justin McManus
The Australian Petroleum Production & Exploration Association welcomed the announcement, saying it was the beginning of a "new wave of prosperity" for the NT.
"The NT has backed the Beetaloo and it's great news for the businesses and people of Darwin and regional communities like Katherine and Tennant Creek to benefit from new investment and jobs," a spokeperson said.
Oil and gas companies would now be able to apply for onshore gas production projects, with a new "petroleum operations unit" to ensure compliance, the NT government said.
With AAP
Get to the heart of what's happening with climate change and the environment. Our fortnightly Environment newsletter brings you the news, the issues and the solutions. Sign up here.
Most Viewed in Environment
From our partners
Source: Read Full Article