'No Time to Die' Becomes The 2nd Hollywood Movie With Almost $500 Million In Box Office Sales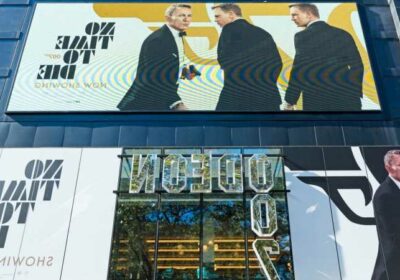 No Time to Die, a 2021 spy film and the 25th installment of the James Bond series starring Daniel Craig, has just taken the fifth spot in the box office worldwide. Daniel Craig will be bidding goodbye to the character as this was his fifth and final movie as James Bond. His stint will come to an end in the film No Time to Die, which was claimed to be the most ambitious movie in the entire franchise. The newest Bond film is groundbreaking as it brings the character of Daniel Craig to a definitive end.
The film's producers, MGM / Universal / Eon, are currently in triumph as the movie, No Time To Die reported earnings of $365 Million in sales at the international box office and at $474 million in sales worldwide. The 25th James Bond series is currently placed 2nd Hollywood movie in terms of sales, following the movie F9 in the top spot, a movie that was also produced by Universal. A prediction based on the current sales suggests that the movie will hit $500 Million sales over the weekend.
RELATED: Tom Hardy & James Norton Are The Betting Favorites To Become The Next
James BondNo Time to Die was distributed internationally by the companies MGM, United Artists Releasing, and Universal. At the domestic box office, the movie is reported to have earned $103.9 Million. The final Bond movie of Daniel Craig is currently the 8th movie to earn more than $100 Million this year. Among the list of the movies in chronological order is Shang-Chi: The Legend of the Ten Rings ($218.4 million), Black Widow ($183.6 million), F9 ($173 million), Venom: Let There Be Carnage ($170.6 million), A Quiet Place Part II ($160 million), Free Guy ($120.8 million), and Jungle Cruise ($116.7 million). The movie displays great figures since there were only two movies that hit more than $100 Million last year, namely Bad Boys for Life ($206.3 million) and Sonic the Hedgehog ($148.9 million). The two films mentioned were released before the COVID-19 pandemic has started, before the closing of the theaters.
In the international scene, No Time to Die was well received and is doing great business. The U.K. tops the country that recorded the biggest sale in the foreign market. It was reported that the movie had earned $96.5 million, which breaks the thirteen years record held by the movie Mamma Mia as Universal's highest-earning movie in the U.K. The spy film has surpassed the sales of F9 by more than $100 million in the Middle East, Africa, and Europe. It is the highest-earning film in the said foreign territories.
READ NEXT: Bond Girl Tanya Roberts Passes Away Unexpectedly At 65
Source: Deadline, CNN, Variety
Source: Read Full Article