Neighbours airs another mammoth twist in Toadie Rebecchi and Terese Willis wedding story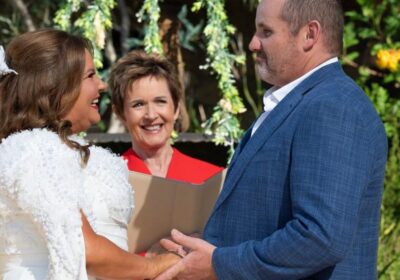 Neighbours spoilers follow for Monday's (September 25) episode that is now available to stream on Amazon Freevee.
The revival series of Neighbours left viewers' jaws on the floor last week with a shock wedding twist that saw Toadie Rebecchi (Ryan Moloney) and Terese Willis' (Rebekah Elmaloglou) tie the knot.
The development caught fans off guard and was particularly surprising when you factor in that both characters were in happy relationships with other people during last year's finale.
Terese reunited with longtime love Paul Robinson (Stefan Dennis), while Toadie married Melanie Pearson (Lucinda Cowden).
The brand new series, however, is set in the future and a lot of time has passed since that big day, with both partnerships having crumbled in the period the show was off air.
Toadie and Terese's union was surprising to say the least, with many fans having already voiced their hopes that the characters in question will reunite with their former flames instead.
To view this video please enable JavaScript, and consider upgrading to a webbrowser thatsupports HTML5video
It's certainly a possibility, given that several moments throughout the first four episodes hinted that the happy couple isn't quite as happy as they're making out.
Terese's doubt stemmed from an old invitation to her previous wedding to Paul, which she found on the day she was getting wed to Toadie.
Toadie, meanwhile, found a pig memento belonging to Mel, which left him wondering if the universe was trying to tell him something.
How to watch Neighbours on Amazon Freevee
Amazon Freevee is a free ad-supported streaming service which offers a wide range of movies and TV programmes for just about anyone. 
It is very easy to use and can be accessed on a web browser via the official Amazon website, or on a mobile device, smart TV or games console via either the Prime Video or Freevee apps – some services carry both, so you'll be spoilt for choice.
Android TVs, Apple TVs and Google TVs also have the Freevee app, so if you possess any of these devices you'll be able to stream Neighbours to your heart's content.
Simply head to Amazon.co.uk if you're in the UK or Amazon.com for US users and create your free account. 
Once you're registered, simply type in Neighbours and voila, let the binge-watching commence!
A selection of iconic episodes are currently available to stream, with EVERY episode from 2012 to 2022 also on offer.
More information here.
But it's not the universe that's telling them they shouldn't be together. It's Nell (Aiyesha Salem-Towner)!
Despite claiming to be happy over her dad's union to Terese, Monday's offering of the Freevee soap proved that Nell is still under the belief that Toadie is meant to be with Mel!
The episode in question saw Toadie struggle to move on as he packed up his belongings and put his house on the market, moving in with Terese. The discovery of the pig, however, spooked him, with Terese also taken aback.
Hugo, meanwhile, watched the conversation from the staircase before heading straight for Nell's room to inform her that Toadie had found the pig – like she had planned.
'I don't care if [Toadie and Terese] are married', said Nell. 'Mel is who he is meant to be with.'
Consider us stunned.
Neighbours streams Mondays to Thursdays on Amazon Freevee with new episodes available from at 7am. 
If you've got a soap or TV story, video or pictures get in touch by emailing us [email protected] – we'd love to hear from you.
Join the community by leaving a comment below and stay updated on all things soaps on our homepage.
Source: Read Full Article