'My fella's Christian parents realised I'm an adult star after seeing racy card'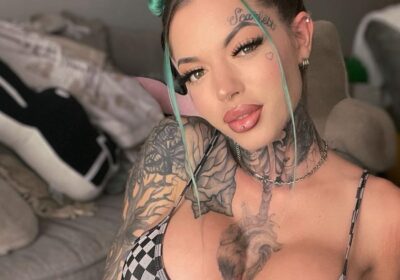 Bookmark
Sign up for the Hot Topics newsletter for hot style and sex tips
Thank you for subscribing!
Sign up for the Hot Topics newsletter for hot style and sex tips
We have more newsletters
An adult star has told of the moment she met her new boyfriend's "hardcore Christian" parents – and it didn't go well.
Heavily-tattooed adult star Chantal Danielle had no idea that her boyfriend came from a strict Christian background. She said that his distinctive pink hair and tattoos can often be seen in her raunchy OnlyFans videos.
Speaking to the Pillow Talk podast, Chantal told the Pillow Talk podcast. "I met my boyfriend – I was already doing porn, and and it's crazy because when we met he had pink hair … tattoos like you wouldn't think that his parents are like super hardcore Christian."
READ MORE: Adult star who rates todger snaps 'loves' smaller manhoods as 'patheticness is sexy'
For more unique and fascinating glimpses into other people's love lives , check our Love and Sex section here.
But that soon became clear when he invited her for dinner at their house – without warning them that she would be coming. Chantal had made no compromises on her outfit, either.
"I was dressed like I always dress," she said. "I had a T-shirt on, but my nipples were showing because I've got big t**s and I don't wear bras so you're going to get you're going to get nipple…"
The boyfriend's parents "weren't very happy about that," she said, but they were even less happy once they'd done a little amateur detective work and found out what Chantal did for a living.
'Neighbours knew I was an adult star before I even moved in – but it's best for my kid'
"They called him a week later and they said that he didn't tell them that I did porn," Chantal said. They did some investigating and they said they'd seen my picture on a Brazzers Christmas card, and they said 'We looked up Brazzers … she does porn. That's not how we raised you.
"The crazy thing," Chantal added, " is they didn't know he was doing porn with me, somebody from the church dug and found out that he was doing porn with me but you've really got to dig to find that."
'I sent my nan classy pics of me in Barely Legal adult mag – her reaction was priceless'
Chantal's boyfriend asked his by-now-furious mum why she hadn't asked the person who had shown her the porn videos how they had managed to find them: "Why are you not mad at them for watching our porn," he asked, but she just replied "We're not talking about that."
She explained that she's one of the very few porn performers who use their real name for work, which would have made her easier to find. Chantal continued: "When I built my Instagram, I already had my social media stuff going so I thought 'why would I change my name if people already know me by my name?'"
She added that she already had a sizeable profile as a tattoo model before making the jump to porn. Besides, she added, if she followed the classic "first pet's name and childhood address" porn star name formula she would have been called "Foxy Veranda."
To get more stories from Daily Star delivered straight to your inbox sign up to one of our free newsletters here.
Tattoos
Christmas
Family
OnlyFans
Christianity
Source: Read Full Article