My brother's vegan girlfriend felt discriminated against at my dinner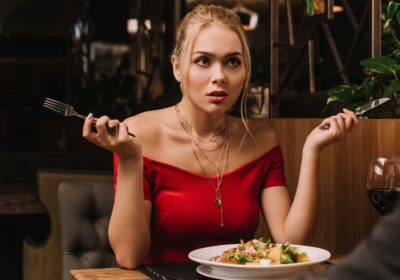 On the social media platform Reddit, there is a forum called 'Am I the A******' in which people take to the internet to ask if they were morally wrong in a situation. This week, one woman's post has gone viral after her engagement party was interrupted by her brother's new girlfriend.
The 24-year-old woman began her post by saying she was "still receiving backlash" from what happened at her engagement party over the weekend and wanted "some outside options" to decide if she was the one in the wrong. She wrote: "My fiancé and I invited both of our immediate family and close friends to this dinner (about 30 people). The dinner was held at a nice Italian restaurant in my city."
The bride-to-be explained that the couple's invitations gave guests the option to choose either a meat or fish dish. She knew everybody who was invited so she knew their food restrictions, such as her father and stepmother as they were pescatarians.
However, the woman explained her 20-year-old brother threw in a curveball about a week before the dinner to ask if he could bring his new girlfriend. The original poster said yes, and her brother chose a meat option for both of him and his female guest.
The newly-engaged woman explained: "Now my brother dates around a lot and is always bringing new girls around, so I wasn't aware that he was even in a relationship. I told him sure and that I'd have an extra seat for her."
The beginning of the night went well and everyone was having a good time. The woman wrote that she meet her brother's girlfriend and that she "seemed very sweet." However, disaster soon struck once dinner arrived, and the vegan girlfriend interrupted the dinner by calling on a waiter. The woman wrote: "[The girlfriend] pulled one of the waiters aside and LOUDLY asked him 'is there any vegan options?'"
The waiter "become confused" and said they only offered fish and meat as a main course, but offered salad, roasted potatoes and other vegetables as a substrate. This apparently upset the girlfriend as she began getting "mouthy" and making a scene.
DON'T MISS:
Cruise passenger complains about 'horrendous' cruise [INSIGHT]
Man's fury as passenger nicks his plane seat and won't move [REPORT]
Woman makes 'little girl cry' by asking her to move from window seat [REPORT]
The woman wrote that the girlfriend responded and said: "Well what if I don't want a salad huh? You just assume because I'm vegan I only eat salads? What if I want some pasta? What kind of restaurant is this, this is discrimination".
The brother began trying to calm his girlfriend down, but the girlfriend decided to confront the newly-engaged woman and berated her for her choice of restaurant. The girlfriend apparently said: "Why would you pick a restaurant that doesn't have vegan options? Many people are vegan nowadays it makes me feel alienated that you couldn't even think to accommodate me".
The woman wrote that she tried to explain herself, but the girlfriend called her "small-minded" and "embarrassing" for not being accommodating. The woman replied: " I didn't think to accommodate you. I'll consider that in the future, hopefully, you'll be around long enough for me to do so."
The girlfriend was upset and left, and now both the woman's brother and her mother are telling her to apologise. She wrote: "My brother walked out with her, and has been messaging me that I should apologize to her…My moms also been on my case to apologize to be the bigger person and keep the peace. "
She then asked if she "was the a******" in the situation and if she had made the vegan girlfriend feel "alienated".
The post quickly went viral and over 1,400 people have left comments underneath to offer their opinion. The most popular comment said: "Oh for the love of god, do not apologize to her. Who does she think she is to complain like that? The way she talked to the waiter proves that she has no manners." The comment also went on to describe the vegan girlfriend as a "rude, spoiled brat" with an "inappropriate attitude."
Another commentator said they thought the woman's brother was "the biggest a******" and said it sounded like he was his mother's "golden child" since the mother was pressuring the woman into apologizing. They said: "[The woman] should rightfully be furious at him for setting his girlfriend up for failure and trying to ruin the dinner."
A third user wrote: "Wow oh wow" and said the girlfriend was in the wrong. They said: "You should remind your brother your world does not revolve around his current or future girlfriends. The audacity of her."
Somebody else reassured the woman she had done nothing wrong in the situation and also said the girlfriend was in the wrong. The user wrote: "[The girlfriend] using the word 'discrimination', tells me all I need to know about her privilege. These people are so desperate to be oppressed."
Source: Read Full Article