Music Industry Moves: Ed Sheeran to Donate Portion of 'Autumn Variations' Sales to Save The Music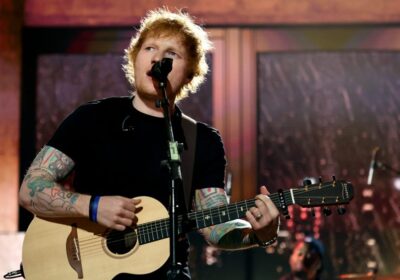 Ed Sheeran is donating a portion of the proceeds from sales of "Autumn Variations" — both the original release and the newly-released "Fan Living Room Sessions" — to music education non-profit Save The Music.
The announcement comes on the heels of "Autumn Variations (Fan Living Room Sessions)," an extended version of the album that arrived today and features live performances from surprised fans' homes. The takes were filmed during the North American leg of Sheeran's "Mathematics Tour," and each fan is commemorated in the title of the song recorded in their living room.
Sheeran's contributions to Save The Music will aid the organization's goal of helping students, schools, and communities unlock their full potential through making music. In the days leading up to last week's release of "Autumn Variations," the singer-songwriter teamed up with Save The Music on surprise visits to five different schools in Los Angeles and New York City, donating guitars to each of their music departments.
https://youtube.com/watch?v=23qxN0bv4sE%3Fversion%3D3%26%23038%3Brel%3D1%26%23038%3Bshowsearch%3D0%26%23038%3Bshowinfo%3D1%26%23038%3Biv_load_policy%3D1%26%23038%3Bfs%3D1%26%23038%3Bhl%3Den-US%26%23038%3Bautohide%3D2%26%23038%3Bwmode%3Dtransparent
+ Sony Music Publishing has renewed its agreement with Grammy award-winning producer and songwriter Lindgren. The deal, made in partnership with hit songwriter, producer and OneRepublic lead singer Ryan Tedder, "expands creative opportunities alongside Tedder on new projects," per the announcement.
Recently, Lindgren collaborated with Tedder on Blackpink's new single "The Girls," which saw its release on Aug. 25. Lindgren's newest credits also include "Killin' Me Good" by JIHYO, released on Aug. 18, as well as upcoming projects with Bella Poarch.
Tedder said, "I've been working with Lin since the beginning of the pandemic. He blew my mind from the first session with both his speed and musicality. I look at him as a one-stop shop for any and all production, any genre, and he's also really sneaky with a great lyric every session. Lin is the German wunderkind."
Added Lindgren, "The SMP team, in tandem with my manager Justin Garza and Tommy Brown as a publishing partner, has been a fantastic home for my work and we're delighted to welcome Ryan Tedder to the party. They say 'it takes a village'… and this is a pretty cool village we've built."
+ Dominican rapper El Alfa has signed a new deal with Sound Royalties, a subsidiary of GoDigital Media Group.
Also recognized as "The King of Dembow," El Alfa has eight albums under his belt and boasts over 22 million monthly listeners on Spotify. He's set to release a new project on Oct. 19 titled "El Rey Del Dembow," which is said to incorporate different melodies alongside African and Conga rhythms, infusing other cultures into dembow.
"I've been speaking with Sound Royalties for years, and the time finally made sense for us to work together. The best advice I ever received was from Alex Heiche and his team, telling me to register and organize my royalty streams and that whatever I do – don't sell," El Alfa said in a statement. "It was because I didn't sell that I am now able to leverage my back catalog to invest in my future. This multi-million-dollar funding will be instrumental in continuing to build my legacy and cement my influence in the Latin music space. Beyond that, it is foundational for promoting and marketing my music, launching new career opportunities, and releasing more work through my own music label, El Jefe Records."
+ Seeker Music has hired Dan Stuart as its new general counsel, bringing with him over 20 years of legal representation and advocacy for both talent and music companies.
As a music lawyer, Stuart recently completed a nearly five-year run as senior vice president, business affairs, at AWAL (US) during which AWAL's US client base was acquired by Sony Music Entertainment. Prior to joining AWAL, Stuart spent five years as a Partner at King, Holmes, Paterno & Soriano, and 15 years as an attorney at Manatt, Phelps & Phillips.
Evan Bogart, Seeker's CEO, said, "I've known Dan for almost 20 years. And what I've known about Dan since the day I met him is how smart, dedicated, passionate, authentic, and well-respected he is. He is one of the best in the business, and in my view, it's because he's not just a lawyer, he's an OG music guy who really cares about music and music creators. I speak for the entire Seeker family when I say there's no better fit for someone to serve as our General Counsel."
Along with Bogart, Stuart joins an executive team composed of Seeker CFO Jennifer Scher, COO Rob Guthrie, Global Head of Creative Steven Melrose, Chief Rights and Royalties Officer Jennifer Blakeman, and Board Chairman, John Smith (representing key investors M&G).
+ Fantasy Records has appointed Lindsay Brandt to the newly-created role of VP of marketing, creative. Brandt will serve as Fantasy's in-house creative director and head of marketing with a focus on content development and digital strategy. She will report to Margi Cheske, president of Fantasy Records.
Previously, Brandt was senior director, creative and digital for Activist Artists Management in Los Angeles, where she served as the company's creative and marketing lead working closely with artists such as the Lumineers, Alec Benjamin, Grateful Dead, Dead & Company and Bob Weir.
In 2014, Brandt moved to C3 Presents, where she signed the alt-electro outfit MUTEMATH and launched the band's independent label and publishing operations. In 2018, she departed to establish her own creative agency and artist management company, Honest Defector, working alongside musicians and visual artists in brand development, marketing, and touring strategy.
At the onset of the pandemic, Brandt served as a marketing advisor to the National Independent Venue Association (NIVA). A member of the Recording Academy, Brandt also sits on Hofstra University's Music Business Program Board of Advisors.
+ Oak View Group (OVG) has announced the appointment of Kristina Heney as executive vice president (EVP) of marketing, media and conferences. In this newly created position, Heney will become OVG's head of OVG marketing and communications and also take on leadership of the company's expanding media and conferences division, including Pollstar and VenuesNow brands.
Heney, who will be based in New York, will report to Francesca Bodie, president of business development, and Chris Granger, president of OVG360. She assumes her new post effective immediately.
As head of OVG marketing, Heney will oversee corporate communications and marketing and be tasked with establishing the OVG brand, as well as leveraging proprietary data to grow OVG businesses including its owned and operated venues, OVG 360, OVG Hospitality, Global Partnerships, GOAL, and Crown Properties Collection.
Heney is also responsible for expanding OVG's Media & Conferences division into a global presence in the live entertainment space, developing new approaches and differentiated content, and further establishing Pollstar and VenuesNow brands. All media and conference leadership will report to Heney.
+ City Parks Foundation (CPF) held its 2023 benefit fundraiser in Central Park at the flagship SummerStage venue on Sept. 29, honoring Tom Poleman with the SummerStage Icon Award and Devon Eisenberg with the People & Parks Award.
While guests enjoyed special performances by music stars Train and Tim McGraw, the event raised over $1.3 million in donations, making it the company's most successful benefit to date. All funds raised will support City Parks Foundation's free arts, sports, environmental education and community-building programs produced each year in New York City public parks.
City Parks Foundation honored Poleman, the chief programming officer and president of national programming for iHeartMedia, with its SummerStage Icon award for his significant contribution to New York City's arts and culture. City Parks Foundation also honored Eisenberg, co-founder and principal of the Young Women's Leadership School of the Bronx (TYWLS), with the People and Parks award in recognition of contributions made towards the city's educational system, and the communities the school serves.
Read More About:
Source: Read Full Article