Murray Darling Basin water recovery to be halted by Nationals senators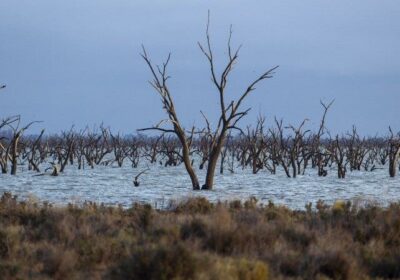 Recovery of water for the environment under the $12 billion Murray Darling Basin Plan would be halted in its tracks under a move launched by National party senators in Canberra on Wednesday morning.
The Basin Plan was created in 2012 to buy back water from irrigators and invest in infrastructure projects to return 3200 gigalitres to the environment, after scientists found extractions for farming had been over-allocated and the river's health was at imminent risk.
The Nationals want to halt water buy backs for environmental flows under the Murray Darling Basin Plan.Credit:Dominic Lorrimer
The government has already recovered about 2100 gigalitres of irrigation water, which was bought back from willing sellers including with co-investment to improve the efficiency of on-farm water use.
About 600 gigalitres have been flagged for recovery under projects to improve the efficiency of the river system and reduce water losses – but these works are not yet completed.
Another bucket of 450 gigalitres was set to be bought back from irrigators, but federal and state governments have ruled out buybacks, arguing irrigation communities cannot sustain the losses and said this water would also come more infrastructure works.
But none of these moves have been legislated and the prospect of a future Labor government to re-enact existing laws to buy back water remains live.
Nationals Senate leader Bridget McKenzie moved a motion on Wednesday that would change water laws to rule out further buybacks, remove the need to recover any of the 450 gigalitre bucket and adds a further clause to prevent any future water recovery once the Basin Plan's statutory timeframe expires in 2024.
"For too long our Basin communities have been hurting, the science is now telling us the approach adopted 12 years ago is outdated and the Plan must change," Senator McKenzie said.
South Australian Green Senator Sarah Hanson-Young said the Nationals' move was "shocking".
"Barnaby Joyce has been deputy PM for two days and has just launched war on South Australia and the Murray Darling. This is shocking. Every South Australian should be angry that right now the National Party is moving in the senate to cut water from SA and the environment," she told the Senate.
More to come
Most Viewed in Politics
Source: Read Full Article