Mum makes homemade playdough in her slow cooker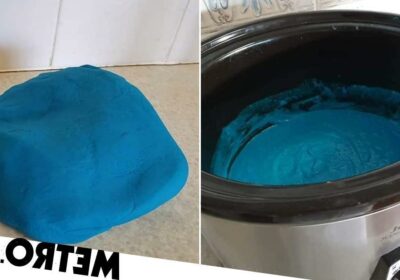 We haven't exactly had the glorious weather we hoped for so far this summer.
If you're stuck inside with the kids on yet another rainy day, this tip is perfect for you – making playdough using household ingredients and a slow cooker.
One mum posted about her method on the Slow Cooker Recipe & Tips Facebook page.
Mixing flour, salt, cream of tartar, water, oil and food colouring together, she was able to create 1kg of the stuff, which she described as 'softest and smoothest playdough ever'.
She started by stirring together the dry ingredients in a bowl and putting them into the slow cooker pot, and then added the wet ingredients.
The mixture was then cooked on a high heat between 45 to 60 minutes, stirring often for the first half an hour then twice for the remaining cooking time. 
Once it stops sticking to the sides, the dough should be nearly ready.
'You can test this by taking a small amount out, form into ball and cool in freezer for a few minutes,' the woman added.
'When it's ready this won't stick to your fingers when you handle it. This small test ball can then be returned to the mix.' 
Of course, you can make it in a range of colours and then store it for kids to get creative with.
Ingredients
2 cups flour
1/2 cup salt
4 tbsp cream of tartar
2 cups water
2 tbsp oil
1-2 tsp food colouring
Directions
Do you have a story to share?
Get in touch by emailing [email protected]
Source: Read Full Article