Morrisons rolls out new free service in every store nationwide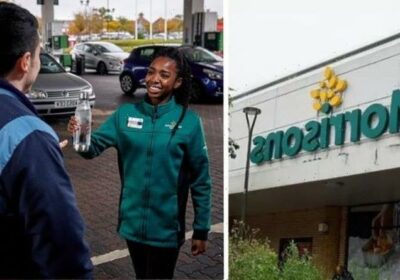 Morrisons details their community support programmes
We use your sign-up to provide content in ways you've consented to and to improve our understanding of you. This may include adverts from us and 3rd parties based on our understanding. You can unsubscribe at any time. More info
The initiative will be available at all the supermarket's petrol forecourts, as well as in store. It is being rolled out at a larger scale after a successful 12-week trial in August last year.
Morrisons is offering customers the chance to refill their water bottles for free at its petrol stations.
Shoppers will now be able to give staff their water bottles at all 338 petrol forecourt kiosks nationwide and have them filled up for free.
The bottles will be sanitised before being handed back.
The new move is part of Morrisons bid to help customers cut back on single-use plastic.
The scheme's trial last year was a success as it showed an 18 percent decrease in bottles sold at forecourt kiosks that offered free water refills, in comparison to the same period in 2019.
Natasha Cook, Morrisons sustainability manager, said customer feedback has demonstrated that shoppers want to reduce their plastic usage.
She explained: "When we listen to customers, it's clear they want us to help them reduce the amount of single-use plastic they throw away.
"We know that customers often pick up a bottle of water when paying for petrol, so offering free water should be an effective way of reducing these single-use plastic bottles."
DON'T MISS:
Public perception of Kate and Pippa 'some distance from reality
Why you SHOULDN'T buy a house right now – Experts react to price index
Property warning: Housing stock shrinks by 40% since January
Morrisons already has 300 water fountains in the Food-to-Go sections of its branches where customers can refill their bottles.
The supermarket's cafés also offer a similar service.
This year, Morrisons has worked hard to reduce its single-use plastic usage.
Back in April, it encouraged customers to bring their own containers to stores to use at the supermarket's butchers, fishmongers, and deli counters.
Around the same time, the food retailer also banned plastic bags for life from all its stores, replacing them with paper bags.
The move made it the first UK supermarket to stop using plastic carrier bags completely.
Recently, Morrisons said it has reduced 8,000 tonnes of its own brand plastic packaging since 2017.
With its new water refill scheme, it hopes to reduce plastic further as fewer people may choose to buy a water bottle while shopping.
In other Morrisons news, the supermarket has launched a brand-new biscuit that is a Bourbon and Custard Cream hybrid.
Bourbon Creams feature a chocolate biscuit with a vanilla custard flavour filling.
The new biscuits are priced at just 40p a packet.
Customers took to social media to express their opinions on the biscuit, and views were divided.
Some were excited to get their hands on the Bourbon Creams while others thought the classic British snack was being "tampered" with.
One person said: "Ooooo these look awesome."
Another customer added: "It may be my dream biscuit."
Meanwhile, one person wrote: "Just plain wrong!"
Another person agreed. They said: "That's wrong on so many levels."
Source: Read Full Article