'Minx' Season 2 Sets Starz Premiere Date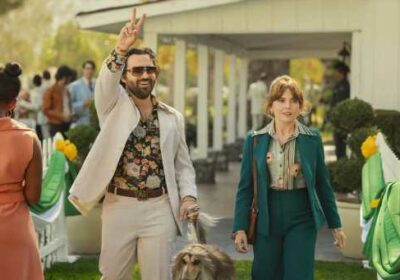 "Minx" Season 2 has an official premiere date at Starz.
Now that the period comedy has officially moved over from HBO Max, the second season will premiere on July 21 at midnight on the Starz app, app and all Starz streaming and on-demand platforms. On linear, it will debut on Starz at 9 PM ET/PT in the U.S. and Canada. The first season is currently available to stream on the Starz app.
"Minx" is set in 1970s Los Angeles. Per the official description, the series "centers around Joyce (Ophelia Lovibond), an earnest young feminist who joins forces with a low-rent publisher (Jake Johnson) to create the first erotic magazine for women. In season two, Doug and Joyce grapple with Minx's explosive success, which brings more money, fame and temptation than either of them know how to handle."
The cast for the series also includes Idara Victor as Tina, Jessica Lowe as Bambi, Lennon Parham as Shelly, Oscar Montoya as Richie, and Elizabeth Perkins as Constance.
"Minx" was created by Ellen Rapoport, who also serves as showrunner and executive producer. Paul Feig and Dan Magnante executive produce for Feigco Entertainment. Ben Karlin and Rachel Lee Goldenberg also executive produce, with Goldenberg having directed the pilot. Johnson serves as a co-executive producer. "Minx" is produced by Lionsgate Television.
"Minx" aired its first season on HBO Max beginning in March 2022, renewing the show in May. But in December, HBO Max canceled the show just before Season 2 was to finish filming in a cost-cutting move, while also pulling Season 1 off the service.
Read More About:
Source: Read Full Article