Message in a bottle travels across the Atlantic Ocean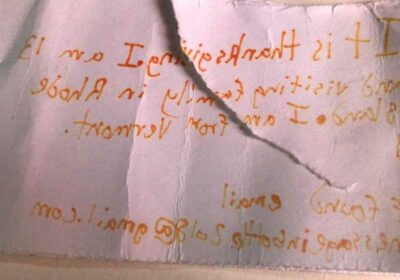 More On:
atlantic ocean

Shark watch: Huge great whites lurking off the New York and Cape Cod coasts

Iran sends ships to Atlantic Ocean rumored to go to Venezuela

NOAA predicts another busy Atlantic hurricane season

Titanic postcard signed 'Love, Jack' set to fetch more than $15K at auction

PROVIDENCE, R.I. — A Portuguese teenager has found a message in a bottle that traveled at least 2,400 miles from a Vermont teenager.
Christian Santos, 17, was spearfishing in the Azores when he found a crumpled plastic bottle that was tossed into the sea near Rhode Island in 2018, The Boston Globe reported.
Santos' mother, Molly Santos, posted a photo of the note on Facebook asking for others to share the post in hopes of finding the writer to share how far the message traveled.
The note inside of a Powerade bottle was written in orange marker on a notecard that reads, "It is Thanksgiving. I am 13 and visiting family in Rhode Island. I am from Vermont." The note included an email address to respond.
Molly Santos said that she sent an email to the address, but never received a response.
Share this article:
Source: Read Full Article