McDonald's launches new game with £10,000 cash prize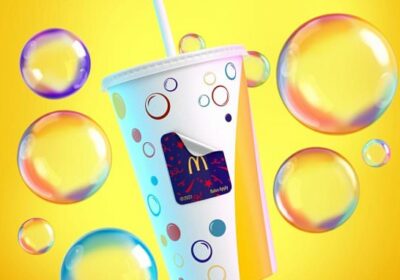 Gold in the arches! McDonald's launches new game for customers with £10,000 cash up for grabs – as well as free food and merchandise
McDonald's has launched a new Monopoly style game called Winning Sips 
Customers could win up to £10,000 plus free food and merchandise 
READ MORE: These are the 10 most annoying things McDonald's customers do
McDonald's has announced that it is launching a new Monopoly-style game this month. 
On Wednesday 29th March, the fast-food chain will be giving customers the chance of winning free cash and food, or even free exclusive McDonald's merch. 
The Winning Sips game will be available on stickers on medium and large soft drinks and milkshakes.    
The traditional McDonald's Monopoly will be back again this year, but a date has not yet been confirmed. 
McDonald's has launched a new Monopoly style game called Winning Sips. Customers could win up to £10,000 plus free food and merchandise
Last time McDonald's Monopoly ran from September to October 2022 and around the same time in 2021.
But the new game Winning Sips is launching within days, giving fast food fans a new opportunity to win.
The value of the prizes will range from a couple of pounds all the way up to £10,000. 
Winning Sips will work in a similar way to the popular McDonald's Monopoly in that customers will get a cup that comes with a sticker that peels off to see if you've won a prize, or an app play code you collect. 
The app is free to download from the Google Android and iPhone app stores. 
The game differs in that you won't collect game pieces in the same way as Monopoly, and there are no game pieces for Winning Sips on food items.  
Here's everything you need to know about the new game – as well as a full list of what you could win.
How do I enter McDonald's Winning Sips?
To enter the competition customers will need to purchase any medium or large soft drink – these include:
Coca-Cola Zero Sugar
Diet Coke
Sprite Zero
Coca-Cola Classic
Fanta Orange
Oasis
Chocolate milkshake
Strawberry milkshake
Banana milkshake
Vanilla milkshake
The traditional McDonald's Monopoly will be back again this year, but a date has not yet been confirmed
Game pieces are scheduled to be stuck on medium and large carbonated soft drink and milkshake cups at McDonald's from 05:00 on March 29th until 23:59 on April 25th, 2023.
Customers will need to peel the sticker to reveal an instant prize or app play game piece.   
After downloading the McDonald's app customers will then scan their code to be in with a chance of winning.  
However, it is worth noting that you will be limited to inputting eight-game entries into the McDonald's app and you will have until May 9th to claim the free prize.  
What could I win in McDonald's Winning Sips?
Customers could win cash and there's a host of free money up for grabs:
£200 Cash
£100 Cash
£50 Cash
£20 Cash
£10 Cash
£5 Cash
Customers who peel to play will also be automatically entered into a prize draw for the opportunity to receive one of ten cash prizes of a whopping £10,000.
Others may win free food which includes:
Sausage & Egg McMuffin
Hash brown
Porridge
Big Mac
6 Chicken McNuggets
Cheeseburger
McPlant
Fruit Bag
McFlurry
Apple Pie
Sugar Donut
Regular McCafé hot drink
Medium Coca-Cola® Zero Sugar
Medium Milkshake
But McDonald's is also giving away limited-edition merch including:
Coca-Cola Glasses
McDonald's branded Socks
McDonald's branded Towels
McDonald's branded Bucket Hats
How can I save money at McDonald's?
Signing up to the My McDonald's app means you can keep on top of the latest deals and offers.
The app will allow you to browse the latest menu available at McDonald's and every Monday it hosts deals available to cash in on.
Researching and comparing prices at your local McDonald's branches could also save you some cash on your order.
Menu prices can vary in restaurants just a couple of miles apart – so choose your branch wisely.
The Sun found that a Big Mac meal can be up to 30p cheaper at restaurants that are just two miles apart from each other.
You can bag freebies and discounts also on your birthday if you're a McDonald's app user.
Source: Read Full Article