'Lupin' Producer Gaumont Teams With Prime Video On Platform's First French Theatrical Feature 'My Mother, God, And Sylvie Vartan'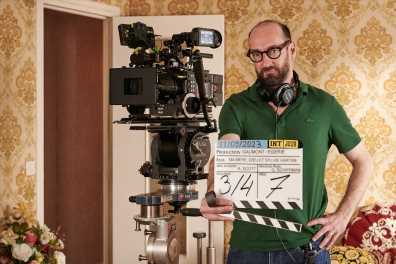 Gaumont and Egerie Productions have announced they are teaming with Prime Video on heartwarming French-language drama My Mother, God, And Sylvie Vartan (Ma Mère, Dieu, Et Sylvie Vartan), which is the platform's first French-language feature destined for a theatrical release.
The picture is adapted from the autobiographical novel of French radio and TV presenter Roland Perez and is inspired by his strong-minded Sephardic Jewish mother's determination that he would live a full life after he was born with a clubfoot.
Her self-sacrifice and a consuming passion for the music of popular singer Sylvie Vartan enabled her son to achieve his dreams despite his difference.
Related Stories
Awards
Oscars: France Unveils Short List For Best International Feature Film Candidate
Festivals
French Director Mehdi Fikri & Singer Camélia Jordana Talk Collaboration On Police Violence Drama 'After The Fire' – Toronto
Canadian director and screenwriter Ken Scott is attached to direct and also wrote the screenplay, adaptation and dialogue.
Filming will take place in Paris between September and November 2023
Leïla Bekhti (All Your Faces, The Eddy) and Jonathan Cohen (Daaaaaali!, Astérix and Obélix: The Middle Kingdom) lead the cast.
Vartan, whose voice accompanies the boy's childhood, also makes an appearance.
Further cast members include Naïm Naji, Milo Machado Graner, Lionel Dray, Joséphine Japy, Jeanne Balibar and Anne Le Ny.
The film is produced by Gaumont CEO Sidonie Dumas and Sophie Tepper at Egerie Productions (Tricky Old Dogs) , in co-production with Prime Video and Christal Films Productions Inc (Canada).
Gaumont will release the film theatrically in France and holds all distribution rights in France and internationally (except Canada).
"This is our first French theatrical production, and the fact that it's being made under the watchful eye of Ken Scott bringing together Leila Bekhti and Jonathan Cohen couldn't have come at a better time," said Thomas Dubois, Head of Originals Amazon Studios, Prime Video, France.
"We're delighted to be able to innovate alongside Gaumont, a key partner for us, on a film whose strength and importance of storytelling instantly seduced us and pushed us to think outside the box."
France's oldest film company Gaumont has been working across all platforms for more than decade now with hit series such as Narcos and Lupin and recent theatrical feature productions including comedy For Better and For Worst starring Fabrice Lucchini and Stéphane Brizé's Venice 2023 Golden Lion contender Out Of Season.
"Working with Ken Scott on this adaptation of Roland Perez's poignant novel is a unique opportunity. His talent for telling funny and moving stories is undeniable," said Gaumont's Dumas.
"We are thrilled to collaborate with Egérie Productions and Prime Video to bring to light this touching story about family and difference. This project embodies the spirit of innovation and creativity that defines Gaumont, and we can't wait to see this beautiful story come to life".
Must Read Stories
Stock Slips After Media Giant Unveils 10-Year, $60 Billion Theme Parks Plan
BBC Removes Content; Ads Suspended On Presenter's YouTube Channel
Elon Musk Floats "Small Monthly Payment System" For Anyone To Use X
Gavin Newsom Says He Has Talked With WGA & Studios, Will Meet With Them "This Week"
Read More About:
Source: Read Full Article