Love Island's Lucie Donlan gives Baywatch vibes with Pamela Anderson hair transformation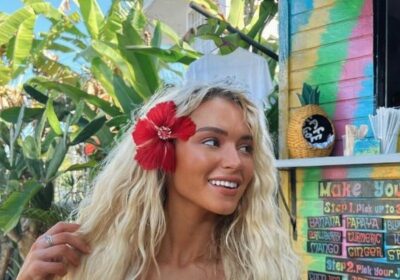 After making a name for herself on season 5 of the hit ITV showLove Island , model and surferLucie Donlanbecame known for her long blonde waves and beachy aesthetic. Now it seems she's paid tribute to another beach icon, as her latest Instagram post is giving some serious Pamela Anderson vibes.
In the post, Lucie shows off a stunning wavy up do that Pam would be proud of, mirroring the Baywatch star's iconic mess bun and touseled full fringe with a curly up do and bouncy bangs, coloured in a soft beige-toned blonde.
The style is a major transformation from Lucie's usual look, which typically features her platinum locks worn loose and flowing in her natural curls. However, for the Pamela-inspired updo, Lucie's curls have been piled on top of her head in a dramatic, messy bun, with the back showing a more elaborate, twisted style that helps tame her voluminous curls.
Her face-framing front sections are also left down and curly which adds some softness and stops the style from looking too polished. She also has a dramatic new full fringe in the shots, which has been blow dried into a more rounded, voluminous shape, and cut into a soft, feathery style that looks similar to a 'French bang'.
The messy top knot style was Pamela Anderson's signature hairdo, and the Baywatch star revealed recently that the secret to her effortless hairstyle was actually a pair of knickers, as she confessed she used to use a G-string to gather all of her hair up and secure it in place.
Speaking toBritish Vogue, Pamela said: "Don't tell me that you don't have a scrunchie. This is a trick of the trade," as she takes a pair of pale peach pants and pulls her hair up into an instantly-recognisable version of her messy updo. "We're really flashing back to the '90s. The tousled updo? Always had a pair of panties in them."
Last year the Pamela updo was one of the biggest hair trends, as TikTokers and influencers alike shared how to do a dupe of the 90s top knot – although without the underwear hair tie.
The unruly touseled style is easy enough to do at home, and the whole point is that it's undone and messy, so you don't need to worry about perfecting the technique. For Lucie, the combination of the perfect messy updo and her red figure hugging dress made for a perfect Pamela tribute, with many of her followers saying they got the Love Islander and the 90s icon mixed up and couldn't believe how similar they looked.
From one beach babe to another, we think the Pam Anderson hair might be the summer's best beauty look – although it's up to you if you'd rather use a scrunchie or a G-string!
READ MORE:
Click here for today's top showbiz news

Eight nail designs inspired by The Little Mermaid to try this summer

Kylie Jenner shows off long platinum hair and bleached brows in dramatic transformation

We review the best face SPFs for every skin type – from oily to sensitive complexions

What is the difference between physical and chemical scrubs, and which is best?
Source: Read Full Article