London house prices plummet – with one home losing £200,000 in a day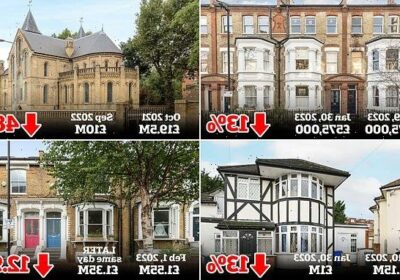 Is the London housing bubble finally bursting? Average price drops by more than £11,000 in the capital while country-wide figures show increase of just 1.9% annually – the lowest level recorded in three years
One luxurious house has dropped a staggering £9.5 million since October 2021 
While another property on the market slashed its price by £200k in a single day  
Average property prices in London have plummeted by more than £11,000 in the opening month of 2023 – with one home dropping a whopping £200,000 in a day. 
In a hint that the capital's housing boom may be at an end, Britain's biggest mortgage lender, Halifax, revealed the average home in the capital lost more than £350 a day over January as higher borrowing costs and recession fears gripped the market.
The slump has already seen huge slashes in some properties, with one four-bedroom terraced house in Stoke Newington cutting its price from £1,550,000 to £1,350,000 in a single day on February 1. 
A luxurious five-bedroom semi-detached home in the city's upmarket Chelsea district – which has its own pool, spa and cinema – lost almost half its value since October 2021, dropping a staggering £9.5 million since October 2021. 
The average UK-wide house price is now more than £12,000 below a peak seen in August last year, according to Halifax, which revealed property values increased by 1.9% annually – the lowest level recorded over the past three years.
It recorded 0.0% house price growth in January month-on-month, following monthly decreases of 1.3% in December and 2.4% in November, and said the typical property value remained largely unchanged in January 2023 at £281,684, compared with December 2022.
One 'sumptuous' four-bedroom terraced house in the leafy suburb of Stoke Newington cut its price by £200,000 from £1,550,000 to £1,350,000 in a single day on February 1
This luxurious five-bedroom home in Chelsea, complete with its own pool, spa and cinema, has lost almost half its value between October 2021 and now, dropping a staggering £9.5 million
And in Harrow, the value of this six-bedroom property tumbled by £150,000 in just 20 days, from £1,150,000 when it was first listed on January 10 to £1,000,000 on January 30
The slump meant London house prices stalled in month-on-month value changes – with experts now warning the city's market is 'following the trajectory' of the 2008 financial crash and could soon slip into negative year-on-year changes.  
Nationally, house prices dropped for the fourth month in a row, falling 1.5 per cent in December compared to November, with the average UK property now costing £281,272 – more than £12,000 than the high of £293,992 in August, Halifax said. 
The bank warned that uncertainly over how the cost of living crisis will hit household bills, as well as soaring interest rates, was behind the slowing housing market.   
But it expects buyers and sellers to 'remain cautious' over the coming year, with December's monthly fall being lower than the 2.4 per cent decline seen in November, even taking into account the expected seasonal slowdown.
Kim Kinnaird, director, Halifax Mortgages, said: 'We expected that the squeeze on household incomes from the rising cost-of-living and higher interest rates would lead to a slower housing market, particularly compared to the rapid growth of recent years.
'As we move through 2023, that trend is likely to continue as higher borrowing costs lead to reduced demand.
'For those looking to get on or up the housing ladder, confidence may improve beyond the near-term.
'Lower house prices and the potential for interest rates to peak below the level being anticipated last year should lead to an improvement in home buying affordability over time.' 
This one-bedroom flat in Kennington, central London, dropped £75,000 between January 9 and January 30, from £575,000 to £500,000
The price of an average home in London tumbled by more than £11,000 over January amid fears the capital's market fall into a negative spiral (stock image)
The slowdown in annual house price growth is reflected in most nations and regions across the UK, Halifax said.
READ MORE: Do you live in one of the areas with the biggest house price rises?
The bank's regional figures are based on the most recent three months of approved mortgage transactions due to smaller sample sizes.
This means they are not directly comparable to the annual house price growth rate for the UK as a whole for the month of January.
The annual rate of house price growth in Wales slowed from 6.0 per cent in December to 2.0 per cent in January, with a new average house price there of £210,275, down by nearly £14,000 from a peak of £224,210 in August.
The South West of England has also seen annual house price growth slow considerably, to 2.7 per cent in January compared with 6.0 per cent in December.
The average house price in the South West has dipped below £300,000 for the first time since March last year.
In Northern Ireland and Scotland the pace of annual growth has eased more slowly, Halifax said.
In Northern Ireland, annual house price growth eased from 7.1 per cent in December to 6.9 per cent in January and in Scotland it slowed from 3.3 per cent in December to 2.4 per cent in January.
In London, house prices stalled in January, with 0.0 per cent growth, compared with a 2.9 per cent increase in December.
Tom Bill, head of UK residential research at estate agent Knight Frank, said: 'Some discretionary demand has disappeared but most buyers need to move and have accepted the fact that a 13-year period of ultra-low rates is over.
But average house prices across the UK have fared better than the capitals, figures from Halifax have shown
'As budgets adjust to higher rates, we think prices will fall by five per cent this year but offers are still exceeding the asking price in some areas.'
Here are average house prices in January and the annual change, according to Halifax 
London was the only region in the UK not to see an increase in house prices. 
Here is how everywhere else fared:  
– East Midlands, £234,946, 3.5 per cent
– Eastern England, £333,426, 3.0 per cent
– London, £530,396, 0.0 per cent
– North East, £164,730, 3.1 per cent
– North West, £222,715, 4.6 per cent
– Northern Ireland, £183,935, 6.9 per cent
– Scotland, £197,784, 2.4 per cent
– South East, £387,716, 3.0 per cent
– South West, £298,853, 2.7 per cent
– Wales, £210,275, 2.0 per cent
– West Midlands, £248,625, 5.9 per cent
– Yorkshire and the Humber, £201,242, 4.9 per cent 
Nicky Stevenson, managing director at estate agent group Fine & Country said: 'A month without a fall in house prices brings some much-needed stability to the property market, and will likely encourage more sellers to put their homes up for sale ahead of the traditionally busy springtime.'
Mark Harris, chief executive of mortgage broker SPF Private Clients, added: 'There is encouraging news on the mortgage front with fixed-rate pricing continuing to edge downwards.
'While the days of sub-one per cent fixes are long gone, rates are beginning to look more palatable for borrowers, which should be a welcome boost for the housing market and encourage more to take the plunge.'
Steven Morris, director at Bristol-based mortgage broker, Advantage Financial Solutions, said: 'Though the property market is still under pressure, the fixed-rate mortgage price war currently raging and the fact prices were flat in January shows there's light at the end of the tunnel.
'Every time we apply for a fixed-rate for a customer, within no time it's cheaper elsewhere.'
Commenting on Halifax's latest house price index, Phil Tennant, chief operating officer of iBuyer UPSTIX, said the Halifax's figures were a 'reliable' indictator of where the market was likely to go. 
'Extrapolating the trend since values peaked in August 2022, the market seems to be following the trajectory of the 2008 crash, having dropped 2.3 percent in five months. Yet when and where the market will bottom out is still very much an open question,' he added. 
'Realistically, it's those currently part way through transactions that will be suffering the most. A cool market greatly increases the risk of broken chains, which are already endemic. Navigating the turbulence will require savvy agents to consider all tools at their disposal to ensure that sales complete.'
Source: Read Full Article