'London Calling… Here is the BBC News read by Lord Haw-Haw'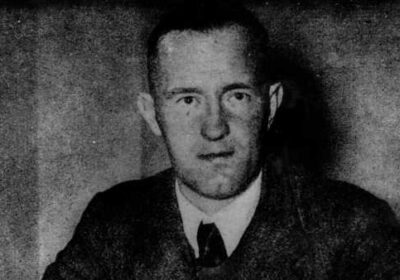 RICHARD LITTLEJOHN: London Calling, London Calling… Here is the BBC News read by Lord Haw-Haw
The BBC and other Left-wing media outlets pump out Hamas propaganda. The Met refuses to arrest demonstrators calling for 'jihad' on the streets of London. Labour MPs side with terrorists.
All this got me thinking how we could ever have won World War II if the Beeb's editorial guidelines and Scotland Yard's woke police procedures had been in force back then . . .
London Calling, London Calling. This is the BBC Home Service. Here is the news, read by Lord Haw-Haw.
German militants have categorically denied bombing the East End of London overnight. They have produced evidence that the firestorm which claimed hundreds of civilian lives in the densely populated docklands was caused by an RAF Lancaster which crash-landed in Wapping on its way to inflict mass casualties in the Rhine Valley.
A spokesman for the National Socialist Party in Berlin accused the Allies of committing genocide against the German master race. This claim was supported by the Secretary General of the League of Nations, who insisted Germany had the right to defend itself against Allied aggression and colonialism.
He called for an immediate ceasefire and a halt to the planned D-Day invasion, which has already been postponed twice because of inclement weather in the English Channel caused by man-made climate change. The Health and Safety Executive has also said the invasion would be illegal because no proper risk-assessment has been carried out.
William Joyce, known as Lord Haw Haw, who broadcast Nazi propaganda in English from Germany
Sir Roly told the BBC that in allowing the brownshirts to call for the mass murder of Jews, he was merely upholding free speech
In particular, troops assigned to landing craft heading for Normandy have not been issued with hi-viz jackets and there are concerns about the lack of disabled ramps and handrails on both Gold and Sword beaches. An HSE spokesman said there was a very real risk that someone might get hurt.
Pro-German demonstrations have been taking place across the country. In Trafalgar Square, 100,000 brown-shirted protesters were addressed by Sir Oswald Mosley, leader of the British Union of Fascists, who described Herr Hitler's National Socialists as his 'friends' and blamed the war on the global Jewish conspiracy.
Sir Oswald said claims that Germany had slaughtered six million Jews, gypsies and homosexuals in concentration camps were sheer fiction, propaganda designed to justify the unlawful Allied invasion of Europe. He said a Pathé newsreel of the alleged German bombing of Coventry and Plymouth had been staged at Elstree Studios.
As the crowd sang 'Deutschland Uber Alles', one demonstrator climbed to the top of Nelson's Column and planted a flag featuring a giant swastika. He was helped down by officers from the Metropolitan Police and given a nice cup of tea.
Nearby, a group of activists from Just Stop Coal, who had earlier slow-marched through London bringing traffic in The Strand to a halt, threw red paint at the War Office.
No arrests were made. The Met Commissioner, Sir Roly Powley, said the demonstrations had passed peacefully and stated he didn't have the legal power to arrest those involved.
Sir Roly told the BBC that in allowing the brownshirts to call for the mass murder of Jews, he was merely upholding free speech.
Specialist officers had assured him that the expression 'Final Solution' had a number of different meanings. He maintained that some of the more radical views voiced at the rally did not reflect those of the vast majority of peace-loving Nazis — sorry, militants — in Britain.
These include Herr Manfred von Stormtruper, the former head of the Waffen SS, who is now living in Barnet, North London. He was granted British citizenship after arriving in Kent in a rubber dinghy and allotted a council house, which he has since purchased at a discount under the right-to-buy scheme. The house was one of thousands of 'Homes For Heroes' built for veterans of World War I.
The Supreme Court ruled recently that all the young German airmen who have parachuted into Britain after crossing the Channel in Messerschmitt, Heinkel and Fokker aircraft should be treated as asylum seekers, not enemy combatants. Under the Geneva Convention, they must be housed in four-star hotels, not prisoner-of-war camps.
In Walmington-on-Sea, local residents demonstrated outside the Grand Hotel, which has been closed to the public and is being used as temporary accommodation for several dozen members of the Luftwaffe, shot down by Spitfires during the Battle of Britain. They object to them being given three square meals a day while British citizens are on strict rations.
Police arrested local butcher Jack Jones, a veteran corporal who served in the Boer War and World War I, for waving a Union Jack, throwing a pork chop, wielding a meat cleaver and shouting: 'They don't like it up 'em!'
Magistrates found him guilty of sedition and he is due to be hanged on Wednesday, half-day closing. At the same court Wolfie Trotsky, trustafarian president of the Students' Union at Walmington University, who painted pro-German slogans on the war memorial outside the Town Hall, was fined ten shillings.
William Joyce, who broadcast from Nazi Germany as 'Lord Haw Haw' during WW2 is seen in captivity
In Parliament, Mr Attlee is facing a rebellion from Labour MPs who have always been unhappy about him agreeing to join Mr Churchill's Coalition Government. They say he should show solidarity with the National Socialists in Berlin.
Mr Attlee avoided mentioning the war during Prime Minister's Questions this afternoon, concentrating instead on cost-of-living issues, such as the price of snook and paraffin oil.
A number of Labour front-benchers are threatening to resign if he continues to back the planned D-Day incursion, which they insist is a clear breach of international law. Mr Attlee recently told the Home Service Britain had a right to respond to German attacks.
Last night, as German militants continued to fire V2 rockets at London in self-defence, residents were told not to seek refuge in Underground stations, which have been closed indefinitely because of the strike by members of the RMT rail union. Anyone attempting to cross picket lines in an effort to gain access to low-level platforms will be shot on sight.
In other developments, Scotland Yard said it is investigating a complaint that Mr Churchill and Sir Arthur Harris are guilty of war crimes for authorising the 'collective punishment' of German citizens.
The complaint has been made by a man known only as 'Nick' and is being handled by a specialist squad, codenamed 'Operation Midland', which was responsible for the inquiry into historic sex crimes by the founder of the Boy Scouts movement and popular entertainers, including the producer of The Ovaltineys.
Vera Lynn has been forced to call off her morale-boosting tour of Army bases.
Her songs, including We'll Meet Again and There'll Be Bluebirds Over The White Cliffs Of Dover, have been condemned as racist, white supremacist, colonialist and anti-German. The BBC's director- general has ruled that they will no longer be played on the Light Programme.
In East London, police raided a school in Stepney and arrested a number of children who were singing the subversive ditty Hitler Has Only Got One Ball in the playground. They have all been charged with 'transphobic hate crime' and will appear in juvenile court tomorrow. They face up to ten years in borstal.
Stonewall, the LGBTQWERTY+ rights organisation, protested that Herr Hitler is halfway through gender reassignment treatment, which is why he's only got one ball. Herr Himmler is very similar.
Herr Goebbels has recently undergone successful transition and has no balls at all. Henceforth, he will be know as Frau Goebbels and if found guilty at the Nuremberg trials, in the unlikely event of an Allied victory, will be able to serve his sentence in the women's section at Spandau jail.
That's all the BBC News for tonight. I'm Lord Haw-Haw. Join me again tomorrow.
London Calling at the top of the dial. And after all this, won't you give me a smile!
Source: Read Full Article