Liam Hemsworth Gushes About Miley Cyrus Taking His Last Name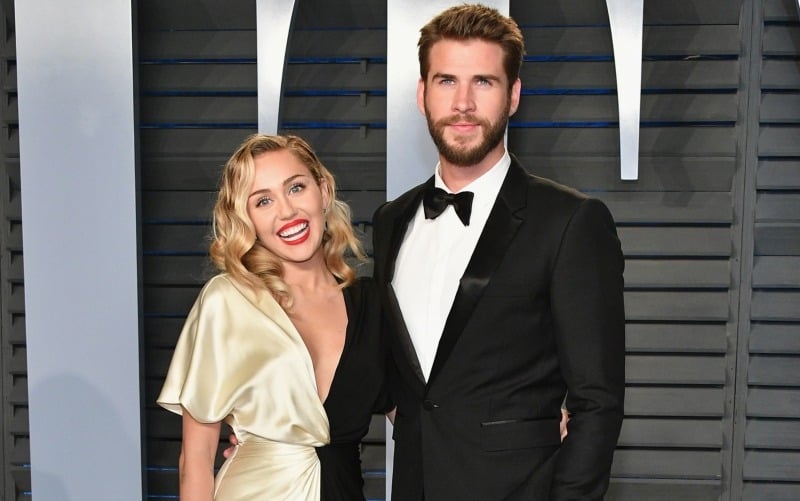 Looks like Miley Cyrus is officially going by Miley Hemsworth!
Liam Hemsworth recently revealed his surprise when his wife of almost two months had taken on his last name.
While making an appearance on "Live with Kelly and Ryan," Liam Hemsworth could not hold back the smiles as he discussed the joys of married life.
The actor never asked his wife to change her name
Liam Hemsworth is not only a tall and handsome Australian actor, he is also an extremely sweet and adorable husband.
On February 8, the 29-year-old actor sat down with Kelly Ripa and Ryan Seacrest on "Live with Kelly and Ryan" to discuss what life has been like since tying the knot.
Hemsworth couldn't help but smile when Miley Cyrus' name was mentioned and was quick to announce that his wife had offically taken on his last name.
"Miley Ray Hemsworth now, actually," Hemsworth said.
The actor revealed that Miley Cyrus made the decision to change her last name and that how he didn't to pressure her into doing so.
"She will still be obviously known as Miley Cyrus, but she took my name, which is great," he said. "That was honestly one of the best things about it. I didn't ask her to take my name, but she was like, 'No, of course, I'm taking your name.'"
Liam Hemsworth is getting used to the term "wife"
With Liam Hemsworth being close to two months into his marriage, the actor recalls the term "wife" being completely foreign to him in the beginning.
"It's become a little more normal, but the first couple of weeks it was … I mean, it's only been a month and a half," he said. "But the first couple of weeks was really foreign to me, with 'wife' and 'husband.'"
Hemsworth even revealed that he has a special name for Miley Cyrus in his phone, "I just have her in as 'Wife' in my phone now."
Their wedding is still being talked about
Liam Hemsworth married singer/actress Miley Cyrus in a small ceremony held in her home state of Tennessee.
Kelly Ripa and Ryan Seacrest wanted a little insight to Hemsworth's big day and why exactly did the couple settle on a secret, intimite wedding.
"We never wanted to do anything too extravagant or big," Hemsworth revealed. "We find the whole thing kind of embarrassing. We know how we feel about each other. We just wanted something simple and organic with immediate family."
https://www.instagram.com/p/Br3Ul76hG3s/
https://www.instagram.com/p/Br3Ul76hG3s/
View this post on Instagram
A post shared by Miley Cyrus (@mileycyrus) on
Earlier last month, a source close to the couple revealed that they were enjoying every second of the married life. "Miley and Liam say they felt married before their actual ceremony. Miley is so happy with her life right now. … She and Liam couldn't be happier."
"It's the best. It's the best," Liam Hemsworth told Entertainment Tonight. "I feel so lucky to be with someone like her. It's great. Very lucky.
Fans were buzzing when Liam Hemsworth and Miley Cyrus revealed they had tied the knot close to end of December.
Since then, Liam Hemsworth has loved being married and Miley Cyrus is right there with him.
Just last month, the "Wrecking Ball" singer wrote a lengthy message to her husband on his birthday, highlighting her favorite thing about Hemsworth.
https://www.instagram.com/p/BsmgIB6BQwg/
https://www.instagram.com/p/BsmgIB6BQwg/
View this post on Instagram
HBD 2 Da Hubz
A post shared by Miley Cyrus (@mileycyrus) on
"I love having a teeth brushin' partner & when I'm lazy how you'll comb my hair," she added. "I even love when you shrink my favorite t-shirt in the dryer – because having a boyfriend (Oh em gee I almost forgot you're my friggen husband now) that does laundry is pretty much the best thing ever. … I love how you let ME be ME."
Cyrus concluded the post by writing, "Thank you for giving me the happiest days of my life."
Source: Read Full Article