Labor takes on Dutton with plan to stem false asylum seeker claims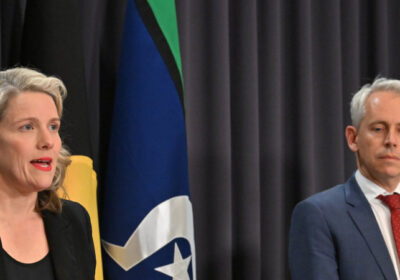 Save articles for later
Add articles to your saved list and come back to them any time.
Asylum seekers will face a stronger regime to decide their claims to stay in Australia under a dramatic shift in federal policy to act on concerns that some migrants are working for up to 11 years while waiting for their cases to be decided.
The new measures aim to stem a rise in false asylum claims in a system the government says is "dysfunctional" and harming genuine refugees, with Labor blaming Opposition Leader Peter Dutton for allowing the surge when he was responsible for border protection.
Minister for Home Affairs Clare O'Neil and Minister for Immigration Andrew Giles respond to the Nixon review into migration at a press conference at Parliament House in Canberra on Wednesday.Credit: AAP
Dutton accused Labor of letting 105,000 asylum seekers into the country since it took office and described Prime Minister Anthony Albanese as "weak as water" on border policy, escalating the political brawl on migration and population ahead of the next election.
But experts dismissed the opposition leader's key claim by noting that the Coalition had overseen the increase in asylum seekers in Australia to 94,260 over nine years to May last year, while another 10,416 arrived under Labor.
With the government turning the issue into a test of Dutton's time in office, Home Affairs Minister Clare O'Neil cited a review by former Victorian police commissioner Christine Nixon as proof the Coalition had allowed rampant exploitation of the visa system.
"The reason that I think this will sting so much for Australians is that we have here Peter Dutton who has made a career out of pretending he's a tough guy on borders – and the Nixon review shows us that that is a fraud and a lie," O'Neil said on Wednesday.
Dutton defended his record by saying he had cancelled the visas of thousands of criminals while he was responsible for immigration, border protection and home affairs in the Coalition government.
"What did I do when I was immigration minister? Well, we stopped the boats. Under Labor, they had 50,000 people arrive on 800 boats and 1200 people drowned at sea. They put children into detention. So, not only did we stop the boats, we kept the boats stopped," he said.
The new plan includes $159 million for three initiatives that aim to speed up decisions in the hope of removing the incentive for migrants to lodge an asylum seeker claim in the knowledge they can work while they wait for the outcome.
"This will assist to break the business model of people seeking to exploit long wait times for claims to be assessed," says a government briefing document on the changes, which adds that about 90 per cent of asylum claims are rejected.
"For example, people traffickers won't be able to promise a person seeking protection a long stay in Australia while their claim is processed."
The government will spend $57 million to add 10 members to the Administrative Appeals Tribunal and 10 judges to the Federal Circuit and Family Court of Australia, where many of the claims are ultimately decided. This is in addition to 93 appointments to the tribunal under separate policies that will restructure and rename it the Administrative Review Tribunal.
Another $54 million will be spent on the Department of Home Affairs to enable real-time priority processing of protection visa applications, so new cases can be decided while the backlog is cleared, while $48 million will be put towards legal assistance services out of concern that vulnerable migrants are being exploited by employers.
The new measures are part of the government's formal response to the Nixon report, which was set up after the Trafficked series by The Sydney Morning Herald, The Age, 60 Minutes and Stan.
Immigration Minister Andrew Giles will outline the changes with an assurance that the government will not punish genuine refugees, given those with legitimate claims are suffering from an appeals system that has been clogged with false claims.
The government has calculated that an application for asylum takes 2.4 years on average at Home Affairs, followed by 3.6 years if the applicant seeks a merit review at the Administrative Appeals Tribunal, then up to five years if it goes to a judicial review at the Federal Court.
"The problem is that the real victims of the abuse of this protection visa claim system are people who are genuine refugees – they are being forced to wait in a queue behind a bunch of people who don't have a meritorious claim," O'Neil said.
The moves to speed up decisions follow separate policies to toughen regulation. The government is spending $82 million on visa processing changes, $50 million on stronger compliance by officials, $27 million on biometric systems to process visa applications and $10 million on the Office of the Migration Agents Registration Authority in the hope it can stop unscrupulous agents.
Another $38 million will be spent on the Australian Skills Quality Authority in the hope it will stop fraud among vocational education providers who bring migrants to "ghost colleges" so they can work while pretending to study.
Speaking in Perth on Wednesday, Dutton claimed twice that Labor was responsible for the rise in asylum seeker numbers.
"Labor's presided over 105,000 asylum seekers over the course of the last 15 months – a record number in our country," he said.
There were 104,676 asylum seekers in Australia at the end of August, according to data listed on government websites and checked by Abul Rizvi, a former deputy secretary of the Immigration Department.
Dutton suggested Labor was to blame for those asylum seekers. "Why have they allowed 105,000 asylum seekers into our country over the last 15 months?" he asked.
Rizvi said it was wrong to suggest the 105,000 asylum seekers had arrived under Labor. In fact, most of the asylum seekers arrived during the nine years the Coalition was in government, including when Dutton was minister responsible for immigration, border protection and home affairs.
"Dutton's second statement is patently untrue and he would know it," he said.
Cut through the noise of federal politics with news, views and expert analysis. Subscribers can sign up to our weekly Inside Politics newsletter.
Most Viewed in Politics
From our partners
Source: Read Full Article