Kylie & Kendall Jenner Are Already Getting In The Christmas Spirit, Based On These IG Posts
Now that the holiday season is here, plenty of celebs are sharing photos of their Christmas and Hanukkah decor with their fans. And that includes the notoriously holiday-loving Kardashian-Jenner clan, too. Kylie, Kendall, and Kourtney all shared Christmas tree photos on Instagram this week, which makes the news that the Kardashian Christmas card likely isn't happening this year a little easier to swallow.
Kylie's tree is definitely the most opulent — it's completely gold, and it's taller than two stories of her house. As Kylie noted, her gorgeous tree was the work of Jeff Leatham, an artistic director who works primarily with flowers. "Gold is the theme this year," Kylie wrote in her Instagram caption. "Thank you @jeffleatham and team for never failing to make Christmas magic happen."
The lip kit mogul's Christmas tree display is complete with huge, circular gold ornaments. The all-gold look stands in sharp contrast to the colorful, circular decorations Kylie has in her foyer year-round. And honestly, it's truly awe-inspiring to see the tree extend past the staircase, past the framed art in the second-floor hallway, and all the way up to the house's ceiling. It looks like there's not a tree topper on this giant Christmas tree — but it's so tall, you can barely see the top of it anyway.
Of course, fans probably guessed that when Kylie said she was getting her Christmas tree delivered, she probably wasn't talking about a traditional seven-foot-tall Fraser fir. She's been known to go to great lengths with her holiday decorations in the past, after all. The Christmas tree Kylie had last year, which was also designed by Leatham, was pink-themed and just as giant. Kylie didn't abandon the color this year, either — she also shared a photo of some elves in pink outfits perched on one of her storage cabinets.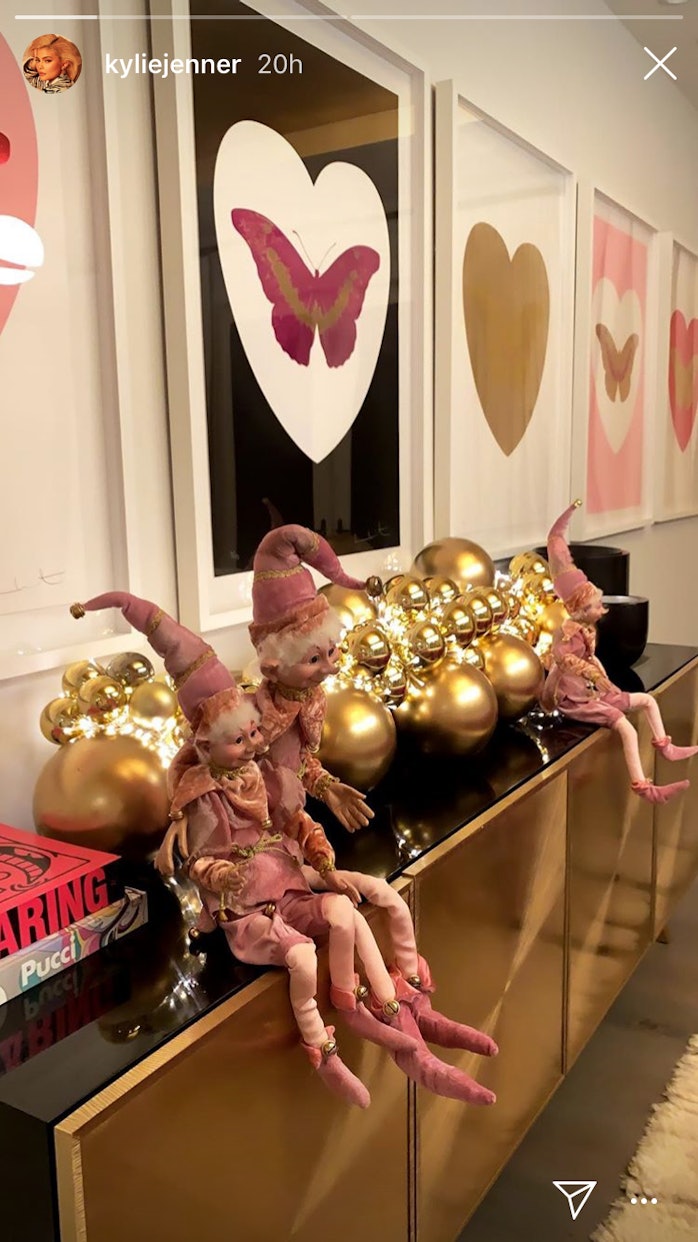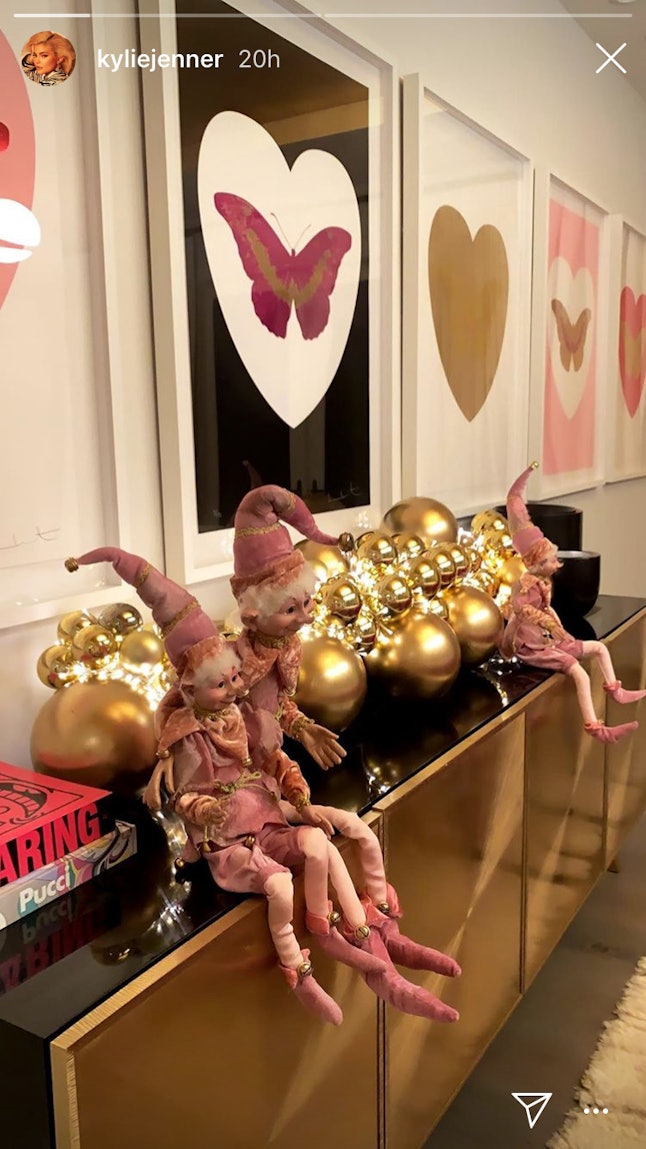 Kendall's holiday decor, meanwhile, is more traditional. Her Christmas tree is green, and it looks like it's significantly shorter than Kylie's. The model also decked out her house by spreading lit garland across her fireplace.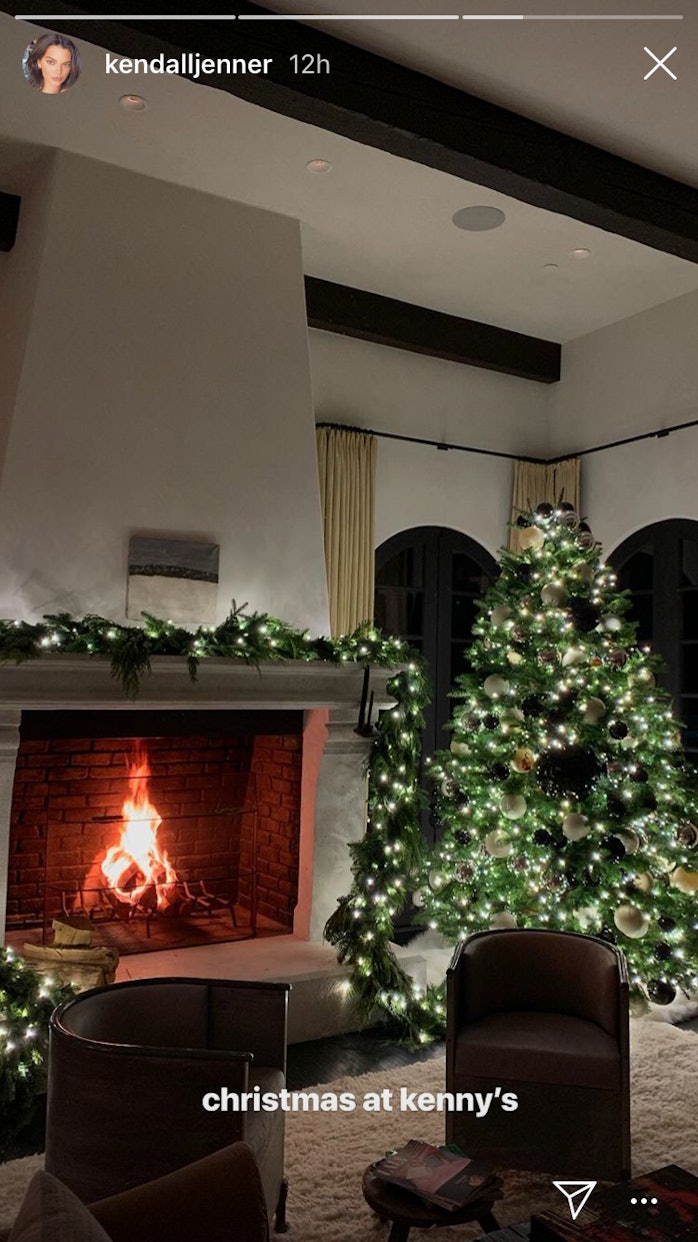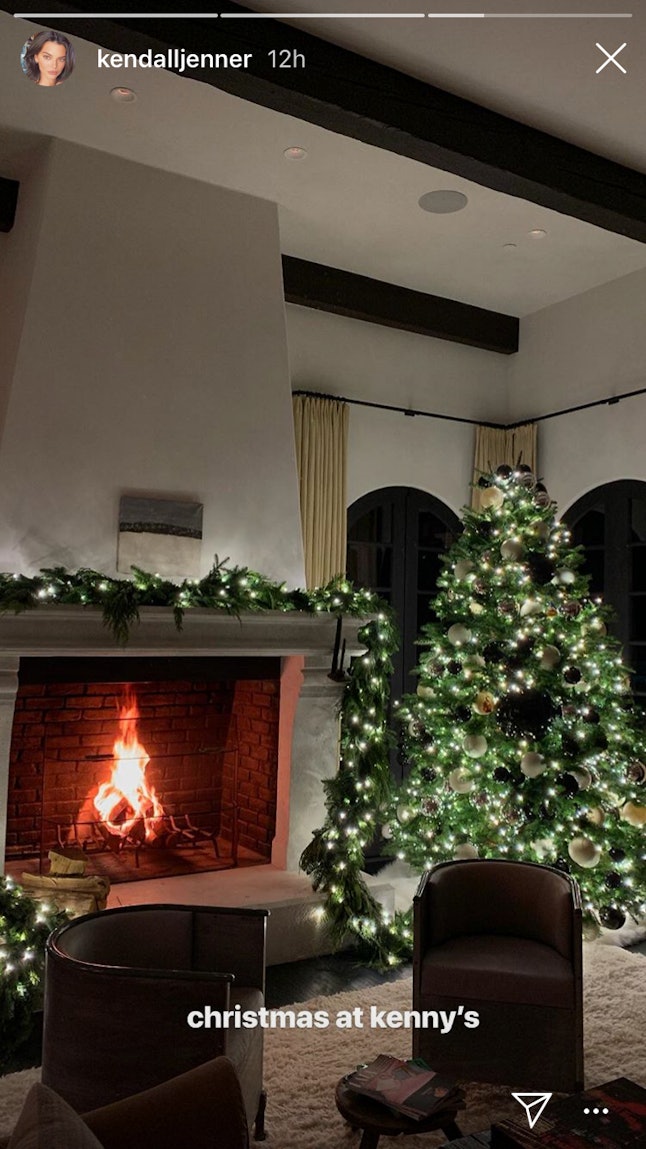 And while Kourtney, Khloé, and Kim haven't shared photos of their own Christmas decorations yet, Kourtney did share a photo of Kendall's decorations on her own Instagram Story, too.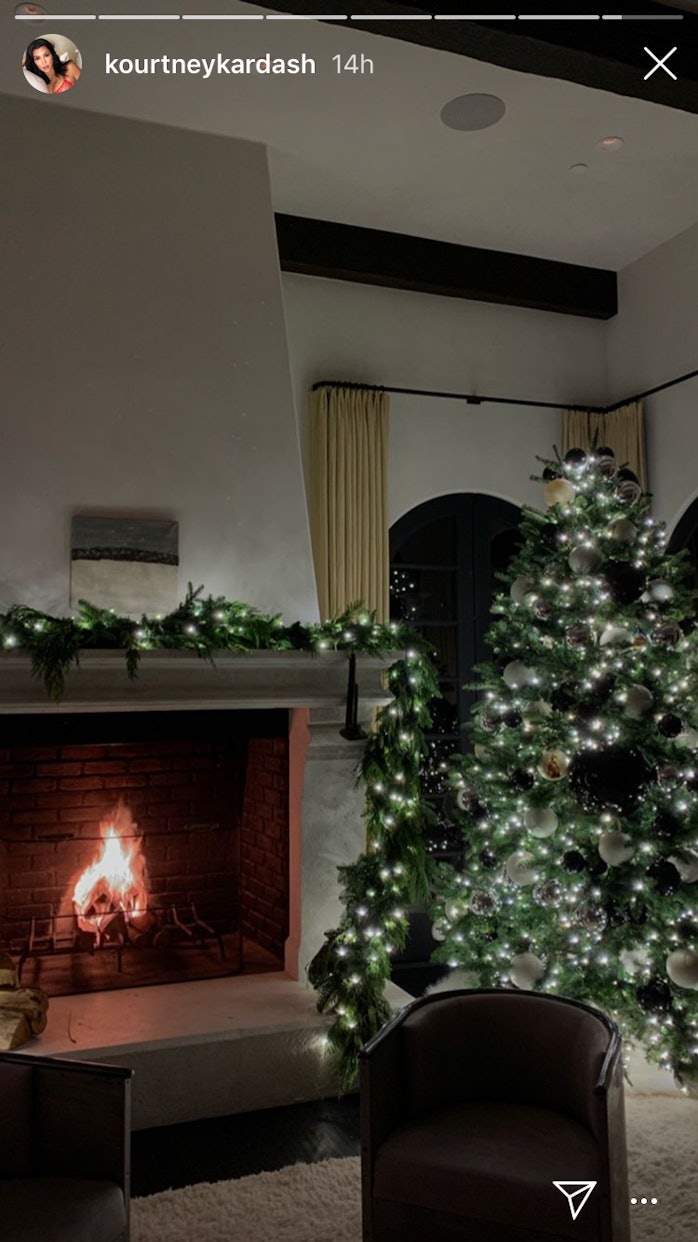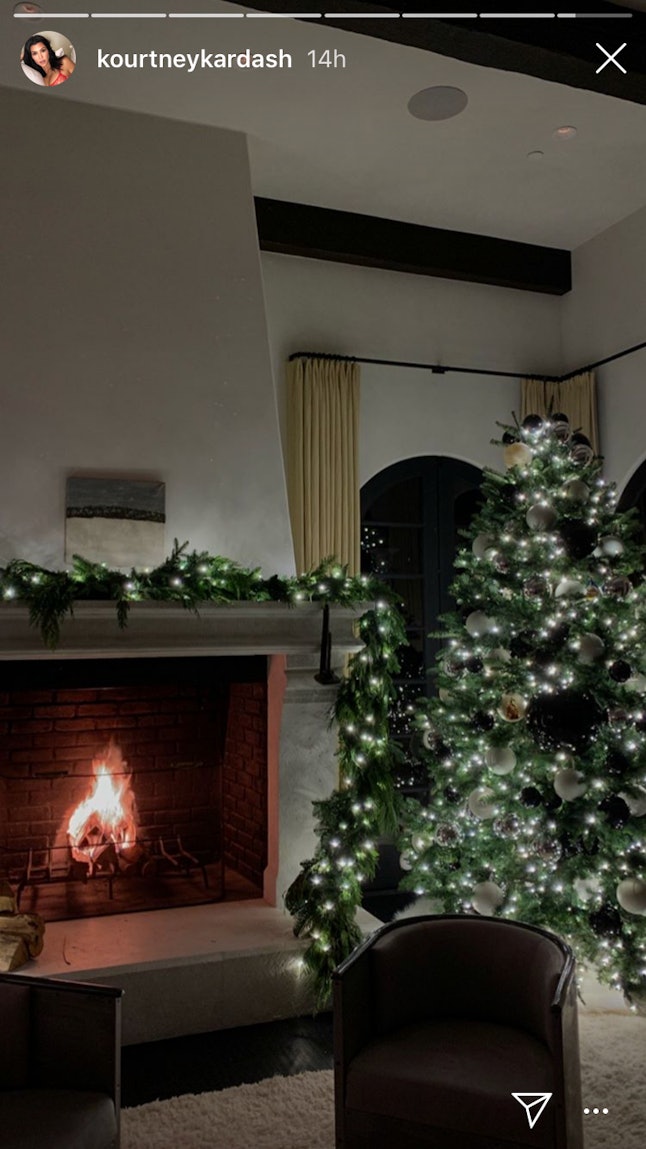 The holiday season this year is an extra-special one for the Kardashian-Jenner family, too. It's Stormi, True, and Chicago's first Christmas, so it makes sense that the family would want to pull out all the stops, decoration-wise. But having all of the new babies in the family also led Kendall to make another joke about being the only childfree Kardashian-Jenner sibling.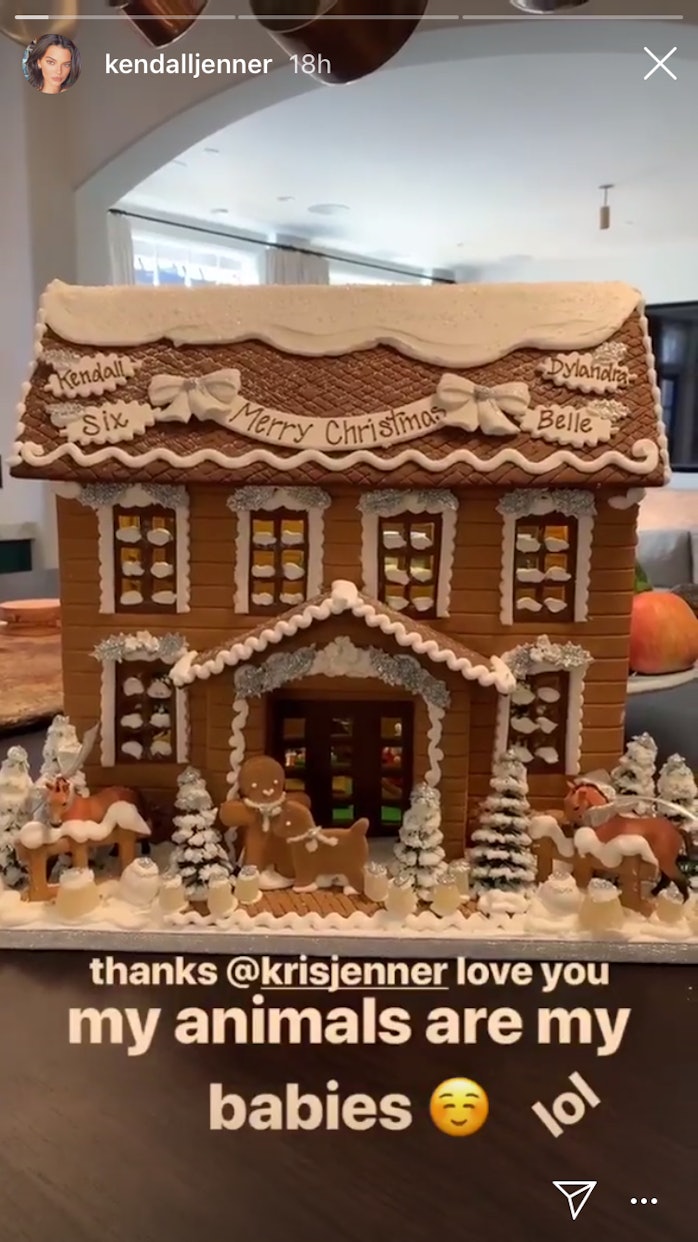 Kendall shared a photo of a gingerbread house that her mom, Kris Jenner, apparently gave her. The roof of the house shows Kendall's name, along with the names Six, Dylandra, and Belle. Based on Kendall's caption, it sounds like the three names might belong to her pets. "My animals are my babies," the model joked in her post, likely referring to the fact that all of her siblings have small children at home.
And whether or not the Kardashian-Jenner family puts out a holiday card this year, last year's will definitely be one to remember. Kylie didn't appear in the 2017 Christmas card, likely because she didn't confirm her pregnancy until Stormi's birth. (Last month, Kim implied there might not be a Kardashian Christmas card this year, thanks to all of the drama the family's been through in 2018.)
Still, the family clearly loves the holiday season, and it's fun to see that Kendall and Kylie are getting into the Christmas spirit by setting up their trees. Christmas card or not, they're obviously putting a lot of effort into making this holiday season a memorable one.
Source: Read Full Article