Kyle Richards: 'I Feel Amazing' After Not Drinking Alcohol in 7 Months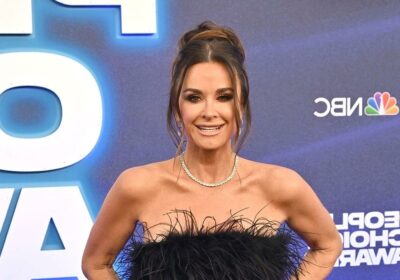 Making changes! Kyle Richards revealed that she's cut something big from her diet as she continues to showcase her weight loss transformation: alcohol.
Kyle Richards' Most Honest Quotes About Plastic Surgery
"Truth is I don't miss it at all," the Real Housewives of Beverly Hills star, 54, wrote via her Instagram Story on Tuesday, February 7, while responding to DMs from fans about her wellness journey. "I feel amazing so don't see the point right now."
Richards noted that she doesn't have a "time frame" for when she'll reintegrate alcohol into her lifestyle. According to the Bravo personality, February 15 will mark seven months without drinking.
When another curious follower wondered whether Richards will pick up a cocktail again once RHOBH begins filming season 13, the Halloween Ends actress replied, "I don't plan on it."
She teased: "With that said, some of these women have been known to drive someone to drink 😜🥴🥂."
Former 'Real Housewives of Beverly Hills' Stars: Where Are They Now?
While fielding questions, Richards also gave some insight into her workout regimen. "Love my peloton!" she responded to one social media user. "I use it about 3 times a week now and I used to do some of the strength training but not anymore. I do love an arms and intervals class when I am short on time."
The Little House on the Prairie alum shocked fans after the new year when she showed off her killer abs in a bikini selfie. After nearly breaking the internet, Richards addressed speculation that she'd been using Ozempic — a medication designed to regulate type 2 diabetes — to speed up her weight loss.
"I have never tried ozempic and this is not from plastic surgery," she replied to one Instagram comment in January. "I did have a breast reduction in May. I'm honest about what I do. But if giving plastic surgery the credit makes you feel better then pop off sister 😘."
As rumors continued to swirl about her slimdown, the California native shared a detailed look at her diet and fitness routine. "I changed my eating after we were in Europe for a month," she said during an Amazon Live session last month. "We were in Europe for three weeks and then Australia for a week, and I had gained weight, and I was like, 'OK, that's it.' No sugar, no carbs, no alcohol."
Celebrities' Weight Loss and Transformations: Before and After Pictures
Richards explained that her health kick was initially only supposed to last for a "little while," but the results were "so good" that she decided to stick with it. "Now that I've already lost the weight I wanted to lose — I'm not trying to lose anymore — I, of course, will have birthday cake or some pasta, but actually, to be honest, once in a blue moon," she clarified. "I am not following the keto diet, just basically, I eat protein, vegetables, fruit and carbs once in a while. But I do eat fruits and vegetables all the time, and I really love cereal."
The Halloween Kills actress previously told Us Weekly that she hits the gym to help ease her anxiety. "If I'm stressed or depressed, [drinking] would be the worst thing I could do because alcohol makes me feel depressed," she said in February 2019. "For me, if I want to feel good and if I'm stressed, it's exercise, exercise, exercise."
For access to all our exclusive celebrity videos and interviews – Subscribe on YouTube!
Source: Read Full Article