Kris Jenner Insists Kourtney Kardashian Protect $65 million Fortune With Prenup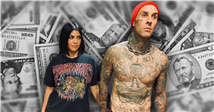 Kris Jenner is insisting that her daughter Kourtney Kardashian protect her $65 million fortune with a prenup. Kourt and Travis Barker tied the knot in Las Vegas just hours after the Blink-182 rocker performed on the Grammys stage, albeit with a marriage license. Now, the Momager is warning her to "be careful" and wants her to protect her assets before the "real wedding."
In case you missed it, Kourtney and Travis were celebrating in Sin City following the rocker's performance at the Grammys. After a few drinks, the two walked into One Love Wedding Chapel where an Elvis impersonator pronounced them man and wife.
RELATED: A Look Inside Kourtney Kardashian's $12 Million Palm Springs House
Even though the Vegas wedding wasn't "official" because the couple lacked a marriage license, it was enough to spook Kris. The Kardashian-Jenner matriarch is "happy Kourtney has finally found love," but she still thinks a prenup is a good idea, as per The Sun.
"Kourtney and Travis were just having fun in Vegas and I don't think all of the family knew they were doing this, they will be clarifying it's not legal."
A source said: "Kris has warned her to be careful as she worries she is getting too caught up in the fantasy. Two of her daughters have had failed marriages and she doesn't want to be negative, but she wants her to protect herself."
A post shared by Kourtney ❤️ (@kourtneykardash)
"Kris has pulled her aside and advised her to take precautionary measures to ensure that she is covered if they ever do split," the source continued. "It's likely there will not be an official marriage without an NDA or prenup if Kris has anything to do with it."
Kourtney has quietly made millions despite her sisters stealing much of the spotlight. In addition to appearing on Keeping Up with The Kardashians, the reality star launched her lifestyle website Poosh in 2019. She also profits from endorsing products on her Instagram account, which boasts 168 million followers.
A post shared by Kourtney ❤️ (@kourtneykardash)
Travis has also amassed a decent fortune through his work with his band Blink-182 and has numerous songwriting and record-producing credits. His work with Machine Gun Kelly helped usher in the pop-punk revival of the early 2020s. Today, the drummer is worth $60 million.
The lovebirds got engaged last year after Travis proposed with a one-million-dollar ring. Not long after, she purchased the rocker a $205,000 vintage car for his birthday.
Source: The Sun, TMZ
Source: Read Full Article