Kris Jenner Finally Moves Into Her Stunning $20 Million Mansion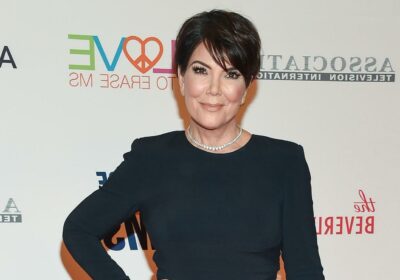 It looks like Kris Jenner has finally moved into her $20 million mega-mansion. The matriarch and her daughter Khloe Kardashian have been awaiting construction to finish on their neighboring plots.
The "momager" now resides in an exclusive gated community in the Hidden Hills area of Los Angeles. The area is home to mega-mansions and A-list celebrities.
Some of Kris' new neighbors you may have heard of include The Weeknd, Drake, and Will Smith.
According to Dirt, Kris emptied $20 million of her pockets to construct her home. Khloe signed a $17 million check for the spot next door, which is still under construction.
In September, Khloe appeared on The Late Late Show with James Corden where she discussed owning a home next to her mother.
"We are so obsessed and in love with one another that we basically bought two different lots next door to each other," she told Corden.
Space won't be an issue at these modern farmhouse-style homes, Kris' house spans 16,500 square feet while Khloe's comes in at 10,000. Both homes sit on 1.5 acres of land according to Variety.
Kris' home, composed of dark grey brickwork, features a large pool surrounded by manicured grounds and an outdoor cooking area.
According to Sun, the land was previously owned by construction ace Ron Tutor and had a 20,000 sq ft. home on the site which Britney Spears once lived in.
RELATED: Kris Jenner Says Family's 'Evolving' After Signing Lucrative Deal With Hulu & Disney
The home was eventually torn down and the land sat uninhabited for years until the reality stars began work on their homes.
Both Kris and Khloe sold homes in the area for $15 million and $15.5 million, respectively, last year.
The mansion was finally completed after Khloe revealed on an episode of Keeping Up With The Kardashians that the pair had to deal with a shady contractor.
"We bought these houses from a builder who was building these houses and he has investors behind him. We ran a background check on him. He had a 35-page rap sheet. I told mom I was not comfortable using him. Mom wanted to still use him. Whatever. We ended up firing him because he sucked and he was trying to steal from me and now he took our houses and they've been on a standstill," she said.
It seems they have resolved the issues, as pictures revealed boxes and luxury cars outside of the new house's 8 car garage this week.
READ NEXT: Kris & Caitlyn Jenner Reunite For Business Reasons, But Doubts Remain
Sources: Sun, Variety
Source: Read Full Article