King Charles Coronation: Who Will Be Watching Around The World?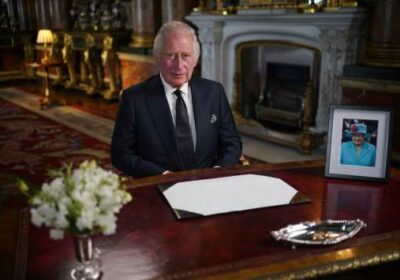 King Charles III's coronation arrives tomorrow (May 6), and networks and streaming services around the world are preparing coverage for the elaborate, generational event at London's Westminster Abbey.
Millions will watch the pageantry, which is set to cost the British taxpayer at least £100M ($125M) despite several polls showing muted enthusiasm for monarchy both in the UK and abroad. International news channels such as BBC News and CNN will carry coverage but local nets are also clearing schedules ahead of the big day, while in territories such as Hong Kong, pop-up screenings will bring crowds together. The Royal Family's YouTube channel may also carry the proceedings and SVOD services such as BritBox will stream them in some territories.
Related Story
The King's Coronation & Eurovision: How The BBC Is Gearing Up For Its Biggest Week Of Live Programing In More Than A Decade
In Australia, one of 56 countries where Charles is still monarch through the Commonwealth, most of the main networks will broadcast the event or offer accompanying news coverage. Locally the coronation will take place at 10pm.
Public service broadcaster the ABC will begin its coverage at 5pm local time in New South Wales, with the processions beginning at 7.30pm. Those in Western Australia will see coverage start at 3pm local time and those in the Northern Territories will tune in from 4.30pm.
Channel Nine will start at the same time in NSW, with terrestrial rivals Ten and Seven starting at between 6-7pm. Following the event, Seven will at 5.30am Sunday run the Coronation Concert, which will feature the likes of Katy Perry and Lionel Ritchie, with a second screening in the evening. Tom Cruise, Tom Jones and Joan Collins were recently added to the concert and will pre-record messages for the BBC extravaganza.
In Hong Kong, which was part of the British Empire until 1997, it is likely to be shown on international news channels rather than mainstream networks. The same appears to apply in India, another former British-controlled territory. Some British pubs and restaurants are holding watch-along parties in Hong Kong, while Fortnum & Mason are offering a special Coronation-inspired afternoon tea. None of the major Chinese or Russian TV channels appear to be carrying coverage, with online news media barely mentioning the events. Due to the Ukraine War, Russia was not invited to send a representative to the ceremony, while China is sending Vice President Han Zheng, a politician who British MPs say has overseen a crackdown on freedoms in Hong Kong.
In South Africa, another major Commonwealth country, none of the major terrestrials are carrying coverage, though pay-TV channel BBC First will pick it up from 8.30am local time and streamer BritBox will stream from 10am. There doesn't appear to be much TV appetite in other English-speaking African countries such as Kenya and Nigeria.
Over in Canada, CBC, CityTV and CTV will run coverage all day from 4am local time, with Global picking up at 5am. Global's coverage will end at 9.30am, with the others running until 10am. CityTV then immediately segues to highlights.
Europe's channels are also well prepared for the pomp. In Germany, ARD's public network Das Erste and ProSieben's commercial network Sat.1 are running coverage locally from 9.30am, with RTL starting half an hour earlier. Das Erste follows up coverage at 4pm with a doc on Charles featuring the likes of historian Ed Owens and British broadcaster Jonathan Dimbleby. Sat.1 will air a doc on Charles' previous wife, the late Princess Diana, in the same slot before running a Charles doc at 6pm.
France's TF1 and France 2 will begin coverage at 9am. At 3.30pm CEST, TF1 will switch to a documentary about the suspected rivalry between Kate Middleton and Meghan Markle, the wives of Prince William and Prince Harry, respectively. Italy's Rai 1 will run coverage of proceedings from 11.45am CEST, joining the likes of La 7, which kicks off its coverage at 9.40am.
In Spain, one of the few mainland Europe countries that is a constitutional monarchy like the UK, coverage is less than extensive. Of the main channels, only RTVE's public channel La 1 will cover events, with its broadcast beginning at 11am local time.
WatchTVAbroad, a website that tracks viewing around the world, claimed the Queen's funeral was watched by as many as 4.1 billion people globally last year — though the statistic is questionable and unverifiable. Whether the King's ascent to the throne attracts anything like those sorts of numbers won't be clear until after the broadcasts, and could give us an indication of how excited people are for Charles' reign. Queen Elizabeth II, the UK's longest-serving monarch, built up her popularity over many years, choosing to stay quiet on public and private matters. Charles is more outspoken on issues such as the environment and his private life has been well documented.
King Charles technically became King upon his mother's death last September but the Coronation will make it official. It's the first event if its kind in the UK since 1953. Camilla has been Queen Consort since Queen Elizabeth II's death but will simply be called Queen Camilla from this weekend onwards.
Prince Harry is set to travel to London despite his high profile estrangement from his father and brother, Prince William, though his wife Meghan Markle remains with her children in the U.S. Rumors are Harry will fly back to LA around 2pm local time, as soon as the pageantry is over.
Controversy is never far away from events like this and the decision to invite the public to swear allegiance to the new king and form a "chorus of millions" has been met with muted response at best, in a country where support for monarchy is under threat. Even a majority of readers of the right-wing, traditionalist Express said they would not take part in a poll held this week. The police have also warned "tolerance for any disruption, whether through protest or otherwise, will be low," with more than 1,500 protestors expected to demonstrate against King Charles on Saturday. New laws have been fast-tracked to give officers new powers of arrest.
The royal family will no doubt be hoping images of clashes aren't distributed around the world alongside those Charles taking the throne.
Must Read Stories
AMPTP Hits Back, Making Its Case For "Generous" Contract Offered To The WGA
Strike Briefly Shuts Down 'Billions' In NYC; Teamsters Honor Picket Lines At 'AHS' Set
Fox On The Run: 'Guardians Of The Galaxy Vol. 3' Seeing $14M Thursday, 'Super Mario' Spots $500M
WGA's David Goodman Slams Latest Studio Response, Says Paramount CEO Sounds "Scared"
Read More About:
Source: Read Full Article