Keith McNally jokes about seating James Corden and Beyoncé together at Balthazar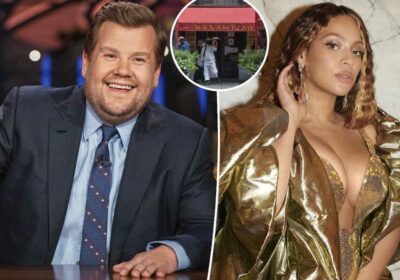 More On:
balthazar
Leonardo DiCaprio fails to go 'incognito' at brunch after Gigi Hadid date
James Corden says it's 'beneath' him to care about NYC restaurant drama: 'I did nothing wrong'
Try Guys wife claims she saw James Corden scream at busboy over closed restaurant
James Corden defended by NYC restaurant owners after Balthazar ban
Beyoncé and James Corden may have to share a table next to the toilets at Balthazar.
The New York City restaurant's outspoken owner, Keith McNally — who infamously criticized the "Late Late Show" host's behavior at the iconic eatery — took to Instagram on Monday to express his displeasure with the "Crazy in Love" singer's recent concert in Dubai.
"Beyoncé is understood to have been paid $24 million for an 85 minute concert in Dubai to celebrate the opening of a new hotel," he wrote. "In Dubai Homosexuality is illegal."
McNally, 71, went on to quote Peter Tatchell, an LGBT rights campaigner who also expressed his disappointment in Beyoncé.
"I love Beyoncé's music but her performance in a dictatorship like Dubai was a huge mistake. Ditching her own progressive values, she put a money-grabbing pay cheque before human rights," wrote Tatchell, who noted that the United Arab Emirates has the death penalty for homosexuality.
McNally ended his post by savagely adding, "Beyoncé often comes to Balthazar for dinner. Next time she comes I'm going to give her a table next to the kitchen."
Last November, the British-born restaurateur caused a viral firestorm when he slammed the late-night talk show host for being the "most abusive" customer he has had since Balthazar opened its doors in 1997.
"James Corden is a Hugely gifted comedian, but a tiny Cretin of a man. And the most abusive customer to my Balthazar servers since the restaurant opened 25 years ago," he claimed in a scathing Instagram post at the time.
Corden later admitted that he had "made a rude" and "unnecessary comment" that was "ungracious to the server."
Beyoncé wasn't the only celebrity to come under fire for celebrating the luxurious resort opening in Dubai on Saturday.
Rebel Wilson, who came out as a member of the LGBTQIA+ community last June, was also slammed online for promoting her lavish trip to the Middle East country.
"Atlantis The Royal is BEYond! What a weekend with BEY! @atlantistheroyal," the "Pitch Perfect" star, 42, captioned a video shared via Instagram, which showed her and her fiancée, Ramona Agruma, enjoying the hotel's amenities, indulging in fancy meals and dancing at the "Cuff It" singer's show.
In the comments section, one follower wrote, "Gee Rebel. You do know that it's the death penalty in Dubai for homosexuality?? Supporting such a country is really really poor form, especially as a member of that community 🤯," while another asked, "'So … any update on the situation of LGBTQ there?"
Share this article:
Source: Read Full Article