Kate Middleton's risqué nicknames for Prince William laid bare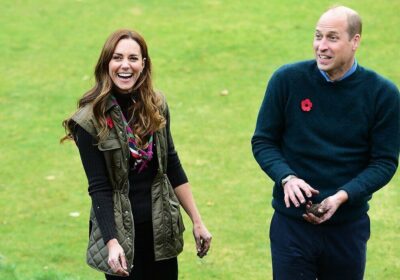 Prince William and Kate's move discussed by commentator
We use your sign-up to provide content in ways you've consented to and to improve our understanding of you. This may include adverts from us and 3rd parties based on our understanding. You can unsubscribe at any time. More info
Prince William and the Duchess of Cambridge are lovingly known as 'Wills and Kate' by the British public. But like any husband and wife, Kate and William have a range of nicknames for one another – some of which might raise a few eyebrows.
When referring to her husband in public, Kate is known to keep it safe and simply call him 'William'.
But in private, Kate has taken to calling her husband 'Baldy', according to the Sun.
The nickname is thought to have started as a retort after the Duchess faced complaints about her famous abundance of hair.
Back in the early days of their relationship, Kate also reportedly called her then-boyfriend 'Big Willy'.
At a gardening engagement a few years ago, a member of the public also said they heard Kate call her husband 'babe'.
It seems William gives as good as he gets on the nickname front, and he reportedly calls Kate 'DoD', standing for 'Duchess of Do-Little'.
The Duke and Duchess also have nicknames for their three royal children, Prince George, Princess Charlotte and Prince Louis.
George is reportedly called 'PG Tips' or simply 'Tips', as a play on his initials.
And Prince William was once heard calling Charlotte by the French term 'mignonette', which means sweet and delicate.
Other members of the Royal Family have taken to calling Prince William by a nickname, including his late mother Princess Diana.
While touring Australia with his parents, the name 'Wombat' is thought to have stuck when he was a little royal.
William said in an interview with NBC in 2007: "I can't get rid of it now. It began when I was two.
DON'T MISS:
Harry erupted over royals 'not showing sufficient respect' to Meghan [ANALYSIS]
Royal Family LIVE: 'Princess Meghan Markle' fury as wrong title used [LIVE]
Kate Middleton used 'hidden padding' in her wedding dress [INSIGHT]
"I've been rightfully told because I can't remember back that far, but when we went to Australia with our parents, and the wombat, you know, that's the local animal, so I just basically got called that.
"Not because I look like a wombat, or maybe I do."
Diana was also thought to have called William 'DDG', which stood for drop-dead gorgeous.
William also went by the name 'Steve' while he was studying at the University of St Andrews to help him fit in with other students.
Source: Read Full Article