Kate Middleton Was 'Chased Late At Night' by Paparazzi in 'Terrifying Episode,' Royal Author Reveals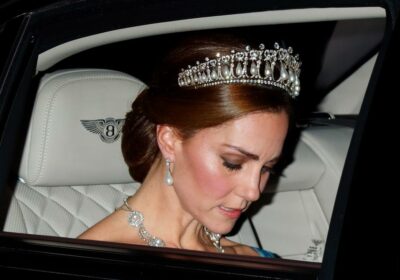 Members of the royal family have a complicated relationship with the paparazzi. The princes and duchesses are happy to smile for the camera at certain events that draw attention to their cause but when they're not attending official engagements they want their privacy.
After what happened to Princess Diana, both Prince William and Prince Harry have spoken out against the paps hounding Kate Middleton and Meghan Markle. Before the former married William and had protection officers, Kate was constantly followed by photographers. Now, it's being reported that one episode in particular, was "terrifying" for the Duke of Cambridge's future wife.
Kate was aggressively chased by paparazzi 'late at night'
Roya Nikkhah, who is an author for The Times wrote a lengthy piece on Kate for her 40th birthday. In that, Nikkhah detailed one episode in which the now-duchess was aggressively pursued by the paparazzi in an incident described as "terrifying." The royal writer explained that before Kate and William tied the knot, the paparazzi would camp outside of a flat in Chelsea where she lived with her sister, Pippa Middleton, and would chase her down the street to get a photo.
Nikkhah wrote: "A friend tells me Kate was even chased late at night by several men in a car."
The author said that photogs wouldn't leave her alone even when she was at her job either and would hound her on her lunch break. Nikkhah added that Kate was "on her own" until William proposed as she was not entitled to royal police protection unless she became his fiancée.
She had to quit her job because the photogs were always around
Kate worked as an accessories buyer for the fashion label Jigsaw between 2006 and 2007, and the paparazzi were always around trying to snap pictures as she would come and go. The unwanted attention went on for a while and eventually, it led to Kate leaving her job because it had become too difficult being there with the constant presence of the paps.
She then joined Party Pieces, her family's party-planning business.
Kate's mother, Carole Middleton, has said that each of her kids helped contribute to the company's success. "It is still very much a family business today, and over the years all my children have played a huge part in it from modeling for the catalog to developing new categories for the brand," Carole shared on Party Pieces website.
Before she became a duchess, Kate watched videos of how Princess Diana handled the paps
Kate appears to have transitioned into royal life seamlessly. But prior to getting engaged to the prince, she received some royal training.
According to commentator Katie Nicholl, the palace requested that William's then-girlfriend watch videos of the late Princess Diana to see how she interacted with photographers.
"Bizarrely, she had been advised to watch footage of the late Princess of Wales in order to learn how to deal with the paparazzi, notorious for being aggressive in their pursuit of a picture, taunting their prey in order to get a response," Nicholl wrote in her book Kate: The Future Queen (per AOL). "At the palace, there was a concerted effort not to allow Kate to be exposed to the same ruthless treatment."
Source: Read Full Article