Kate Middleton is using her clothes to show she means business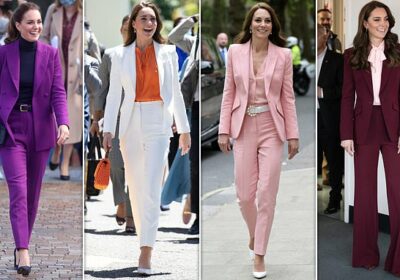 The Power Suit Princess… How Kate Middleton is using her wardrobe to show she really means business!
Suits have become more and more common in the Princess of Wales's wardrobe

From brightly coloured suits to pastels and white, Kate has an array of options  

Pick a pink power suit like the Duchess of Cambridge in Alexander McQueen 
While a midi dress or simple shift with court shoes used to be the go-to uniform for royal women, the power suit is having a big moment and the Princess of Wales is leading the way with her own feminine spin on business-like dressing. 
Kate Middleton has shown off an array of suits while carrying out her public duties, from pastel colours to bold reds and purples, as well as a sharp white jacket and trouser combination.
Yesterday's visit to the Foundling Museum in London saw her wear a particularly striking ensemble in pink blush. 
According to fashion experts, the suit jacket and trousers has become a popular wardrobe choice for royals because it remains trendy yet shows they mean business.
Catherine, Princess of Wales visiting The Foundling Museum in London where she met those who had had experience of the care system. The Princess was wearing a pink blush Alexander McQueen trouser suit, which she had previously worn in 2022, and teamed it with a pink blush blouse
During her royal tour to Kingston, Jamaica, in 2022, Kate wore her white Alexander McQueen suit with the fresh white jacket costing £1,370 and matching trousers costing £575. She added a pop of colour with a £249 vibrant orange blouse from Ridley London and  a matching orange £229 handbag from Willow Hilson Vintage – a Cheltenham-based boutique
Celebrity fashion stylist Miranda Holder said: 'This aesthetic works perfectly for the working Royal women as the on-trend silhouette keeps them relevant and fashion-forward. 
'It is a great look for when Kate is racing around from one public appearance to the next.' 
Alexander McQueen, the label who created Kate's wedding dress, is also her go-to for tailoring. 
She's been seen wearing the same suit from the designer, with angular pockets and sharp shoulders, in crisp white, pastel pink and midnight blue.
Kate wore her oversized white blazer on a number of occasions, debuting it during her and Prince Williams royal tour in Jamaica.
She then continued to wear the clean suit throughout the summer months on public appearances around London, including in Brixton and Waterloo.
In Boston earlier this year, she wore a deep burgundy suit matched with a blush pink pussy bow blouse from the same designer.
On other occasions, Kate opted to wear a pink blush suit, also designed by McQueen.
Susie Hasler, who runs Styled by Susie, said the royal may have chosen this colour to avoid appearing 'too formal' and adding a 'femininity' to her appearance.
Susie explained that royals across Europe may have started to wear these bright colours in a bid to become more optimistic.
She added: 'It could be the royals are embracing pink more in these dark times as a way of brightening the mood, sending a message of hope at a time when we need it the most.' 
In Boston in December 2022, while visiting the Roca organisation, Kate wore a burgundy Alexander McQueen suit matched with a blush pink pussy bow blouse
During a visit to University Magee campus in Londonderry, Northern Ireland, Kate stepped out in a magenta trouser suit by Emilia Wickstead, paired with a navy turtleneck and navy heels
Susie Hasler, who runs Styled by Susie, said the pink blush McQueen suit Kate chose to wear to the Early Years Sector meeting in June in London because it avoided her appearing 'too formal' and added 'femininity' to her appearance
While attending a pre-campaign launch for the Shaping Us campaign at BAFTA in January, Kate's Alexander McQueen suit exuded elegance with its leg-lengthening silhouette made in Italian red crepe
The Princess of Wales looked elegant in a £1,200 Roland Mouret burgundy suit as she hosted a reception for wheelchair rugby players at Hampton Court Palace in January 2023  
During her trip to Boston, Kate was pictured stepping off a British Airways flight wearing an effortlessly elegant in a midnight blue trouser suit from her go-to designer Alexander McQueen and a knitted turtleneck jumper. She paired it with a two-tiered flower-shaped earrings, which were previously owned by Princess Diana
When she attended the ELEVATE event in Brixton last June, she recycled her crisp white McQueen blazer, worn earlier on the couple's tour of Jamaica. She paired it with  with £590 crepe slim-leg pant
The midnight blue blazer cost £1,801 while the boot-cut trousers worn cost £732.30. The McQueen suit was the same as the pink and white suits by the designer she had previously worn 
The Duchess of Cambridge was this week spotted in a Marks & Spencer blush blazer and matching trousers when meeting staff at call centre in Croydon, south-west London, on Thursday (pictured)
When Charlotte, Prince William and Princess Kate attended the Commonwealth Games in Birmingham last summer, the mother-of-three recycled the Alexander McQueen suit she wore in the Caribbean, teamed with a white belt and a low pair of blush pink heeled pumps
The Princess of Wales was elegant in a navy Alexander McQueen suit and white bodysuit  during a surprise engagement to welcome Royal Navy sailors to Windsor Castle in September 2022 
More recently the Princess of Wales was spotted wearing a green suit and matching blouse when she welcomed, alongside her husband Prince William, Crown Prince Haakon and Crown Princess Mette-Marit of Norway at Windsor Castle  
Source: Read Full Article