Kate is wasting her time princessing – she should be an athlete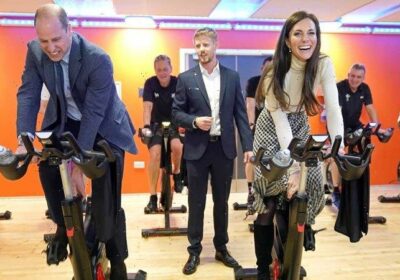 If you're lucky enough to have seen photos of that time Prince William did yoga in white jeans, you'll know the man has got the moves. He's strong and flexible. Yet, the glorious memory of William's plank with half twist counted for nothing when he was taken down by a more powerful physical force – his wife.
Visiting a leisure centre this week, the Waleses were lured onto spin bikes for a 45-second race. In heels and a skirt, Kate brained William. The video is terrific. It shows her, legs pistoning, coolly trying a couple of times to turn up her bike's resistance while William almost blows a foofer valve. "Oh my God," he says in the dying stages.
Kate scored a gold cup and nobody would be surprised if, somewhere at the family pile, she has a dedicated trophy room like Shooter McGavin's to put it in. From tennis (played with Emma Raducanu) to yachting, abseiling, scuba diving, ping pong, hockey, soccer, running, roller skating, she's seriously athletic.
Thanks to her senior royal role, the Princess of Wales is sentenced to spend much of her future professional life being hailed for her way with a coat dress, making chit-chat with dignitaries at state dinners, opening day care centres. Signs are her KPIs are going to be strong, but it all seems like a bit of a waste.
Is she living the wrong life? Kate may be someone who would be happier as a phys ed teacher or personal trainer. She's just been sidetracked by princessing.
Kate, Princess of Wales smiles at the crowd after attending the Christmas day service in Norfolk in 2022. Credit:AP
From the time he was 15, my husband drummed in a band with mates from school. They played on and off for decades in various incarnations – Dirty Ashtrays, Shaggy DAs, Bridgetown – then Chris quit for good in 2008. A couple of weeks ago, he had a call. The original band was getting back together. One night only. Was he in?
In our decade together it's been a sore point that I've only seen him on the kit once, a lounge room show during a 2020 lockdown Saturday night. Yes, he was in.
Apart from a mad dash to buy drumsticks, Chris was supernaturally calm. He sort of laughed at the suggestion he practice in the garage: "I don't need to practice." He was right. On stage with Jim, Foges and Dunny at the Hunt Club Hotel in Merrijig last Saturday night, Chris smashed out Wipeout, Happy Man, Route 66 like he was born to it.
Maybe he was. I'm not saying I'm married to Dave Grohl (which is disappointing, frankly) but I can't stop thinking about how we ignore our natural talents, forget the things we love because we're really good at them, in the pursuit of being grown up.
How many of us are missing out on the richness of life by not doing what we should be doing?
As adults, we stay bored or stressed at desks because of bills, babies, bosses. Globally, 60 per cent of workers are "emotionally detached" at work and 19 per cent are "miserable", according to Gallup's State of the Global Workplace 2022 report.
"The world is closer to colonising Mars than it is to fixing the world's broken workplaces," said Gallup.
I know the adage that "if you do something you love you never work a day in your life" is false. Anything worthwhile is rarely achieved without worry, stress or pain. I'm not suggesting we all ditch our day jobs to join the circus. More that maybe if we do more in our own time of what really lights us up, we'd be happier when we are on the clock.
When he was in prep, my son Felix had a new mate over after school. A little blondie, big teeth, good manners. Playing kick-to-kick in the backyard, the kid was James Hird-esque. His skills were unbelievable. Innate. Lachie Hunter – about to start your 11th AFL season – you always had it. Good on you for using it.
The Opinion newsletter is a weekly wrap of views that will challenge, champion and inform your own. Sign up here.
Most Viewed in Lifestyle
From our partners
Source: Read Full Article