Karen Hastie Williams, Barrier-Breaking Lawyer, Dies at 76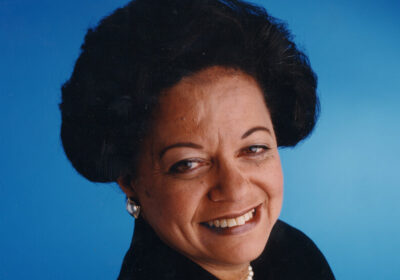 The first time Karen Hastie Williams remembered encountering racism was at a meeting with her junior high school guidance counselor.
Mrs. Williams attended an integrated school in Philadelphia in the 1950s. She had white friends and came from a long line of distinguished Black lawyers and judges; Thurgood Marshall was her godfather. It didn't occur to her that someone might stand in her way because of her skin color.
So when the counselor asked about her career aspirations, she didn't think twice before saying she wanted to be a lawyer. But instead of encouraging her, she said in a 2006 interview for the American Bar Association, the counselor said she would someday make "a really good store clerk."
"And I thought to myself, 'Not quite what I had in mind,'" Mrs. Williams said. "But that was the first time that I really got struck by the fact that there was, among many in the white population, a low expectation of what Blacks have the intellectual capability to achieve and had the drive to go after."
She took the counselor's disdain as a challenge. After graduating from college and earning a master's degree, she attended law school at the Catholic University of America in Washington, clerked for a judge on the District of Columbia Court of Appeals and, in 1974, became the first Black woman hired as a clerk on the Supreme Court, working for Justice Marshall.
Mrs. Williams died on July 7 at her home in Washington. She was 76. Her son Bo said the cause was complications of frontotemporal dementia.
Mrs. Williams broke other glass ceilings as well: She was the first woman and the first person of color to make partner at Crowell & Moring, a white-shoe law firm in Washington, and she repeated the same achievement on a series of corporate and nonprofit boards.
By the mid-1980s she and her husband, Wesley S. Williams Jr. — a partner at another top firm, Covington & Burling — were among the capital's power elite, part of a generation of Black professionals who entered the establishment in the post-civil rights era.
Mrs. Williams made it a point to give back. At Crowell, on corporate boards and in a long list of nonprofit positions, she set herself up as one of the city's leading mentors for women and people of color in legal and government circles, propelling dozens of promising young lawyers into successful careers.
"She gave voice to the concept of sponsorship, of actively mentoring women," Susan Hoffman, a partner at Crowell & Moring, said in an interview. "She didn't sit back and say, 'Good luck!'"
Karen Roberta Hastie was born on Sept. 30, 1944, in Washington. Her father, William H. Hastie, was himself a racial pioneer: In 1937 he became the first Black man to serve as a Federal District Court judge, a job he left to become dean of the law school at Howard University.
In 1946, when Karen was 2, President Harry S. Truman appointed her father governor of the U.S. Virgin Islands, where Karen's mother, Beryl (Lockhart) Hastie, a homemaker, had been born.
Three years later, Mr. Hastie broke another barrier when Truman nominated him to the United States Court of Appeals for the Third Circuit, based in Philadelphia. He was the country's first Black appellate court judge.
Ms. Hastie graduated from Bates College, in Lewiston, Maine, in 1966 and received a master's degree from the Fletcher School of Law and Diplomacy at Tufts University in Massachusetts a year later. While at Tufts she met Mr. Williams; they married in 1968.
Along with her husband and her son Bo, Mrs. Williams is survived by her daughter, Amanda P. Williams; another son, Bailey; her brother, William H. Hastie; and six grandchildren.
After her time with Justice Marshall, Mrs. Williams served as chief counsel for the newly establish Senate Budget Committee and then as an administrator in the Office of Federal Procurement Policy, where she pushed reforms that opened federal contracts to minority-owned businesses.
She left government at the end of the Carter administration and was quickly hired by Crowell & Moring, where she rose to partner in just two years.
As a lawyer, Mrs. Williams developed a specialty in government contracts and corporate governance, intellectual assets that made her especially valuable as a board member for corporations like Chubb and SunTrust Banks and nonprofit organizations including the NAACP Legal Defense Fund and the Folger Shakespeare Library.
Even after she retired in 2011, Mrs. Williams remained active with the Black Student Fund, a nonprofit that helps lower-income Black children in Washington attend private school.
"She did so much, it's hard to summarize," Ms. Hoffman said. "I don't know when she had time to sleep."
And she remained a mentor to countless aspiring legal stars. When she couldn't find time to join yet another board, Mrs. Williams would reach into the bottom drawer of her desk, where she kept a stack of résumés from women and people of color, and suggest one of those people.
At other times, she would bring young lawyers to the many charity lunches and dinners she attended, then introduce them to the law firm partners, politicians and judges who made up her social and professional circle.
Mrs. Williams also found time for yet another legal interest: In the mid-1980s, she became an advocate for victims of international terrorism.
She played a critical role in drafting legislation that allowed people to sue countries that sponsored terrorist groups, then worked to help them win compensation. Among them was the journalist Terry Anderson, who was kidnapped in 1985 by Iranian-backed Hezbollah militants in Lebanon and held captive for more than four years.
"The most gratifying moment was getting a phone call from Terry Anderson after the case was completed," she said in a 2006 interview. "We had told him it might take a week for the money to go through. He said, 'I'm in New York, and I just went to an A.T.M., and it's there!'"
Source: Read Full Article