Julia Fox's surprising dating advice is giving us serious BFF energy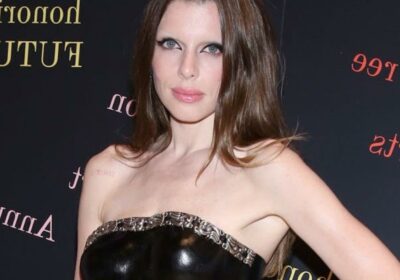 The Uncut Gems actor took to TikTok to share some advice on when it's the right time to stop dating someone or leave a relationship.
If there's one thing I've learned about Julia Fox, it's to expect the unexpected.
Since becoming the name on everybody's lips this year, she has continued to surprise and shock many.
From her quotable, viral moments ("I was Josh Safdie's muse in Uncut Gems" will forever be embedded in my brain) and her dominatrix-esque style, to starring in an upcoming biopic about Hollywood hairdresser Carrie White to writing her own book (which she famously called "a masterpiece"), Fox is making sure that we continue to know who she is and that she has a whole lot going on – and now the star has made an unlikely turn and is sharing some relationship advice on social media.
The actor took to TikTok to share her thoughts on when it's the right time to leave a relationship or stop pursuing someone in a clip that has gained over 715,000 views.
"I wanted to come on here and share a little bit of wisdom that I have learned in my 32 years on this Earth," she says in the video. "The best indicator of whether a relationship is worth pursuing or not is the way that you are while you are in that relationship. 
"So if you find that you don't feel so good, and you're not eating as much, you're wondering whether they like you or not, but they seem perfect [or] you're anxious, that's not good. This person's not calming your soul; they need to go.
"I think just always keep in mind how you're doing because we tend to look outward so much for answers, and we think our partner is going to answer them for us when the answers are right here."
Fox adds that another indicator that it's time to leave a relationship or someone you're dating is if you feel you're not the "best version of yourself" or if you're "acting out in ways you don't like".
"[If] this person is bringing out the worst in you then they need to go. If you're fantasising about a time long ago, wishing you could go back to being that person and the only thing that's changed is that you're now in a relationship, they need to go. 
"We as women have to protect ourselves so much more because no one has our backs so we really need to just stick together and be strong," she continues. 
"When you let that negative, toxic person out of your life you'll be so surprised about what you allow to come in. Have faith in that, have faith that what's meant for you is yours but don't stay with someone out of fear of being alone."
Preach Julia, preach.
Image: Getty
Source: Read Full Article