Johnny Depp Scores Historic $20 Million Deal With Dior: Report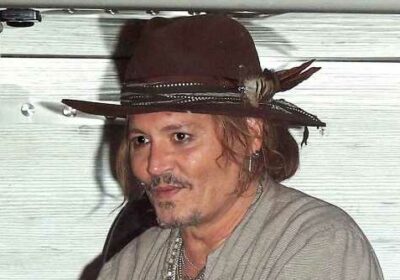 Johnny Depp is making history with Dior. The actor signed a new deal with the luxury label, Us Weekly can confirm.
Johnny Depp Through the Years: From Teen Idol to Oscar Nominee
According to Variety, who was first to report the news on Friday, May 12, the agreement is worth $20 million — the biggest men's fragrance partnership to ever exist. Robert Pattinson became the face of the Dior Homme fragrance in June 2013, sealing his role with the fashion house for $12 million. 
While Depp's $20 million contract is new, his work with Dior is not. The Pirates of the Caribbean actor, 59, has starred in ads for the company's Dior Sauvage cologne since 2015. 
The 2023 pact comes after Depp's public legal battle with his ex-wife Amber Heard. The Nightmare on Elm Street star sued Heard, 36, in 2019 after she published an op-ed in the Washington Post naming herself as a victim of domestic violence. Though she did not mention her ex-husband's name, Depp — who was married to the Aquaman star from 2015 to 2017 — filed a lawsuit against the actress for defamation.
In order to view the video, please allow Manage Cookies
After a number of court appearances, during which both Heard and Depp testified and claimed the other was the abuser, a jury ordered the Justice League actress to pay her ex $10 million in compensatory damages and $5 million in putative damages in June 2022. Heard was awarded $2 million in compensatory damages.
Johnny Depp and Amber Heard's Ups and Downs Through the Years: Divorce, Defamation Lawsuit and More
Though both Depp and Heard initially tried to appeal the verdict, the exes settled in December 2022.
"I defended my truth and in doing so my life as I knew it was destroyed," Heard wrote via social media after the settlement. "The vilification I have faced on social media is an amplified version of the ways in which women are [re-victimized] when they come forward. Now I finally have an opportunity to emancipate myself from something I attempted to leave over six years ago and on terms I can agree to. I have made no admission. This is not an act of concession. There are no restrictions or gags with respect to my voice moving forward." 
Amber Heard's Dating History: From Johnny Depp to Elon Musk
Depp, for his part, donated $1 million of his win to charities. Since then, the Kentucky native has kept a relatively low profile. He made headlines in August 2022 for joining the MTV Video Music Awards as a hologram astronaut. 
For access to all our exclusive celebrity videos and interviews – Subscribe on YouTube!
Related Stories
Generous Celebrity Tippers: See Which Stars Have Deep Pockets
Johnny Depp's Ex-Wife Defends Him, Calls Amber Heard Lawsuit 'Absolutely Horrific'
Hottest Couples Who Fell in Love on Set
Source: Read Full Article