John Lewis UK Christmas advert 2021 – TV ad to air tonight as Xmas jumper sold out & M&S launch their Percy Pig ad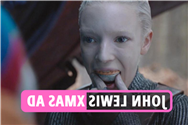 JOHN Lewis' 2021 Xmas advert has literally landed – featuring an adorable story of an alien experiencing her magical first ever Christmas.
New advert The Unexpected Guest follows the story of a teenage boy called Nathan who meets an alien named Skye after she crash lands her ship on earth – and they become best friends.
The ad first airs at 8.15pm on Thursday on ITV during The Pride of Britain Awards.
Snippets of the advert have been an instant hit with fans. So much so that John Lewis have even sold out of its Christmas jumpers just an hour after it launched the ad.
Read our John Lewis advert live blog below for the latest updates…
Milica Cosic




Fun facts about the John Lewis adverts

The first-ever John Lewis Christmas advert was released in 2007 and was called "shadow".
Here's how much last year's Give A Little Love advert was said to cost.
The location of last year's ad was "exposed" after locals spotted fake snow on their street.

Over the years

From excitable Edgar the dragon, to Monty the penguin, we've rounded-up all the John Lewis Christmas adverts from over the years.

In 2020, the advert first aired on Friday, November 13.

Its 2019 ad, which starred Edgar the dragon, was released on November 14.

It followed the 2018 Elton John inspired advert, which aired on November 15 of that year.

Both the 2017 Moz the Monster and 2016 Buster the Boxer adverts came out on November 10.

If none of these ring a bell, we round up every single John Lewis Christmas advert that's aired since 2007 here.

Competition is always tough

There's always a battle for who has the best Xmas advert. Now… we're not going pick which is our fave. Don't make us do that.

However, the Boots' Christmas advert came out today and is all about making it the best one ever.

And M&S has launched it's Xmas ad starring Percy Pig.

Milica Cosic




Critics of the ad

Of course, you can't please everyone and some people have criticised the advert.

One Facebook user said it was the "worst ad yet" while another said it was too "far fetched".

Another person commented: "Another year passes where I'm left disappointed. My favourite will always be 2011."

Some people have slammed the retailer for "ripping off" the classic film ET.

One disappointed customer tweeted: "John Lewis does ET."

Another joked: "I'm getting ET vibes here, they could have been a bit more original with the story line and look at the carbon footprint from that spaceship."

Milica Cosic




Jumper already sold out

An instant hit, John Lewis even sold out of its Christmas jumpers just an hour after it launched the ad.

We've tracked down where you can still buy the advert merchandise.

Milica Cosic




John Lewis fans 'in tears'

The John Lewis Christmas advert was unveiled today and is already set to go down as one the most popular ads ever.

One Twitter user said: "Ahhh the John Lewis Christmas ad is lovely, all about wonder, magic and being young, as the best Christmas' were."

Another added: "A sweet message with a little humour thrown in, just how a Christmas ad should be."

Milica Cosic




When will the ad be on TV?

But the big question is, how can you see it for yourselves?

The ad first airs at 8.15pm on Thursday on ITV during The Pride of Britain Awards.

However, it will also be launching at 6.30am for members of the 'My John Lewis' loyalty scheme via email access.

Milica Cosic




Where to buy John Lewis' Christmas Jumper

It's available in kids, mens and womens, and is priced from £14.

John Lewis & Partners Christmas Advert 2021 Kids' Jumper, from £14 – buy here
John Lewis & Partners Christmas Advert 2021 Men's Jumper, £29 – buy here
John Lewis & Partners Christmas Advert 2021 Women's Jumper, £29 – buy here

You can shop the whole advert here.

Who sings the John Lewis advert 2021?

The track is a cover by 20-year-old south Londoner LolaYoung of 1984 hit Together in Electric Dreams, originally by Human League's Philip Oakley and Italian composer Giorgio Moroder.

The ad launched on John Lewis's website and social media channels this morning at 8am and will air on TV tonight at 8.15pm on ITV during The Pride of Britain Awards. 

Last year the track, Give A Little Love, was sung by British soul singer Celeste.

Milica Cosic




What are the five traditions that feature in the John Lewis ad? (Continued…)

The five traditions are:

Decorating the Christmas tree
Eating mince pies
Have a snowball fight
Wearing Christmas jumpers
Watching a Christmas film

The 5 Xmas traditions in the John Lewis ad explained

THE John Lewis advert this year is all about celebrating Christmas traditions.

It follows the fictional story of a 14-year-old boy who finds an alien has crash landed in a forest near his home.

The alien, called Skye, doesn't know anything about Christmas or the traditions which many people like to do during the festive season.

John Lewis created the magical ad to celebrate the joy of Christmas.

They wanted to focus on the things which many could not do last year, including spending time with loved ones.

But did you spot the five which featured in the two-minute long ad? We explain everything you need to know.

Christmas advert news you don't want to miss

See Katy Perry sing a Beatles song for Gap's festive ad.
Online retailer Very launched its festive advert on October 1 – which was 85 days until the big day at that point.
Amazon's Christmas advert from 2020 told the story of a wannabe ballet dancer whose performance is cancelled by coronavirus.
And Sports Direct have spent £6m – the most expensive ever – to enlist the likes of Emma Radacanu and Jack Grealish for their Xmas ad.

The Unexpected Guest

The latest Xmas advert from the retailer, The Unexpected Guest, is about a teenage boy called Nathan who meets an alien named Skye who has crash landed on earth.

Through friendship Nathan shows Skye a series of festive family traditions.

They decorate a tree, eat mince pies, throw snowballs, watch an Xmas movie and he even gives her a gift of a Christmas jumper.

But the advert has a bittersweet ending, as Skye has fixed her ship and must return home.

In a tear-jerking moment, Nathan gifts Skye his Christmas jumper. The same one he was wearing the day they met.

More social media reaction to The Unexpected Guest

One fan tweeted: "No me crying 50 seconds into the new John Lewis Christmas ad. Easily my favourite one so far."

Another said: "John Lewis Christmas ad has me crying in the middle of the street on a Thursday morning."

On Facebook, fans were also in tears, with one commenting: "Just watched it and yes as always I cried. It's a lovely advert and it's also one of my favourite songs."

Another added: "So sweet and lovely, perfect after what everyone has gone through."

One Facebook user said it was the "worst ad yet" while another said it was too "far fetched".

Another person commented: "Another year passes where I'm left disappointed. My favourite will always be 2011."

John Lewis fans 'in tears' over 'lovely' advert

JOHN Lewis fans are raving about the retailer's tear-jerking Christmas advert, saying it has brought them to tears.

The John Lewis Christmas advert was unveiled today and is already set to go down as one the most popular ads ever.

Users have taken to social media to praise the advert.

One Twitter user said: "Ahhh the John Lewis Christmas ad is lovely, all about wonder, magic and being young, as the best Christmas' were."

Another added: "A sweet message with a little humour thrown in, just how a Christmas ad should be."

Joseph Gamp




What are the five traditions in the John Lewis ad?

The five traditions are:

Decorating the Christmas tree
Eating mince pies
Have a snowball fight
Wearing Christmas jumpers
Watching a Christmas film

Give a little love

Alongside the advert, the retailer supporting its charity – Give a Little Love.

The brand says Give a Little Love has raised and donated £5m to charity over the years.

For Christmas 2021 – like last year – Give a Little Love is supporting the two charities FareShare and Home-Start.

John Lewis will also be supporting 200 families this Christmas with its Magical Christmas for Families initiative.

Meanwhile, food bank donations through Waitrose will also help support people through the festive period.

How to donate to John Lewis' Christmas campaign

There are several ways you can help donate to charity with John Lewis' Christmas campaign.

The retailer has not yet released the full details of how it intends to raise money this festive period and how people can donate.

But it has been said that the main way to provide support is by buying one of the brand's Christmas advert jumpers.

The jumpers are part of a range of merchandise being released alongside the advert.

John Lewis has said that 10% of contributions made from the Christmas jumpers will go to Home-Start and FareShare.

Which charities has John Lewis worked with before?

John Lewis also partnered with FareShare and Home-Start for its Give a Little Love advert in 2020.

In 2019, for its Edgar the Dragon adver, the retailer also partnered with FareShare.

Previous John Lewis charity partners include the Elton John Charitable Trust for its 2018 advert starring Elton John.

In 2017, John Lewis donated money to Barnardos through its Moz the Monster advert.

And in 2016, it raised money for the The Wildlife Trusts with its Buster the Boxer release.

Who does FareShare and Home-Start support?

FareShare is a food poverty charity which helps fight hunger and food waste across the UK.

Since the pandemic started, FareShare has had to double the amount of food it distributes to meet the rising demand.

Home-Start, meanwhile, provides support to parents from disadvantaged or vulnerable families.

Home-Start centres have also seen an increase in demand for its services since the start of the coronavirus crisis.

The charities will use these donations to provide food, comfort, emotional support and advice to thousands of families in need.

John Lewis child stars: Where are they now?

PEOPLE look forward to seeing the new John Lewis advert every Christmas.

Often the heartwarming mini movies have kids stealing the show, but have you ever wondered what the young stars are up to nowadays?

Here, we track down some of the John Lewis kids to see what they're up to now…

Joseph Gamp




John Lewis accused of 'ripping off' ET

This year the retail giant has been accused of "ripping off" 80s cult classic movie ET.

The launch of the major ad campaign marks the start of the countdown to Christmas for many, but some have been feeling a little frosty toward the festive film that was released today.

John Lewis' 2021 Christmas adThe Unexpected Guest, follows a teenage boy called Nathan who meets an alien named Skye after she crash lands on earth.

But much like many of John Lewis' Christmas ads past, the advert has a bittersweet ending, as Skye has fixed her ship and must return home.

She also flies off into the sky back to her alien family and home, like ET does at the end of his own film.

Though while many will be tearing up at the short film, it's this part that a lot of fans are taking major issue with, saying it's too close to the plot line of ET.

Some have even noticed similarities in moments where the John Lewis characters "point" much like the famous motif spotted in the original movie.

Joseph Gamp

John Lewis advert: The latest

If you can't get a jumper there are other parts of the advert you can buy, including tree decorations.

The music is always a key part of the John Lewis Christmas advert – we've covered everything you need to know about this year's song.

And take a trip down memory lane by revisiting old John Lewis adverts from 2007 to this year.

Joseph Gamp




John Lewis adverts over the years

FROM excitable Edgar the dragon, to Monty the penguin, we round-up all the John Lewis Christmas adverts from over the years.

In 2020, the advert first aired on Friday, November 13.

Its 2019 ad, which starred Edgar the dragon, was released on November 14.

It followed the 2018 Elton John inspired advert, which aired on November 15 of that year.

Both the 2017 Moz the Monster and 2016 Buster the Boxer adverts came out on November 10.

If none of these ring a bell, we round up every single John Lewis Christmas advert that's aired since 2007 here.

Joseph Gamp




Bittersweet ending

That's right, a bittersweet ending. But what's a John Lewis advert without a few tears?

The end of the advert shows Skye has fixed her ship and must return home.

In a tear-jerking moment, Nathan gifts Skye his Christmas jumper. The same one he was wearing the day they met.

Source: Read Full Article