John Lewis Christmas advert pyjamas that glow in the dark are selling fast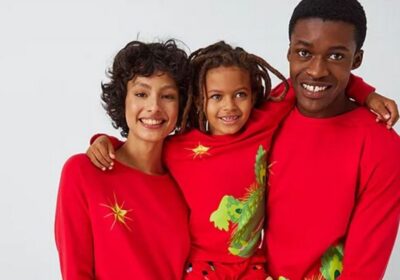 It's official, the countdown to Christmas is finally upon us, as department store John Lewis once again kept up their tradition of releasing a heartwarming advert to spread some much needed holiday cheer this festive season.
This year, the joyful advert features a break from tradition, when a young boy called Alfie accidentally grows a Venus fly trap, called Snapper, rather than a Christmas tree to hang his holiday ornaments on.
Over the course of the two minute advert, the singing plant, sadly grows too big to be contained in the tiny pot he started out in, and before long Snapper is cast out into the cold, where he embarks on a series of mischievous antics.
Thankfully, the advert does have a happy ending however, when Snapper is finally accepted by Alfie's family to help switch up their Christmas decor for 2023.
Although the advert has divided some fans at home, several customers have been eager to get their hands on the products featured in the clip, with an impressive range of merchandise already on sale to help bring a little of Snapper's festive charm to your home this Christmas.
One Snapper-inspired buy that's flying off the shelves is this women's pyjama set – and we're not at all surprised!
Priced at just £34,these adorable super soft pyjamas are made from cotton jersey and feature ribbed cuff details to help stave off the chill.
Offered in a regular fit with an elasticated waist, they feature this year's Christmas superstar, the loveable plant Snapper, and are designed with comfort in mind. And if that wasn't enough, the fairy light detail on the pyjama bottoms even glow in the dark!
Available in sizes 8 – 18, these are the perfect pair of PJ's to snuggle up into for that all important Christmas Eve visit from Santa.
In addition, a men's version of the pyjamas jam packed with all of the same features are also available,priced at £35 here,while a children's version, are also on the marketfrom £17 here .
If you're looking for a more budget friendly way to incorporate Snapper into your festive countdown,John Lewis are also selling a stylish tote bag for just £6which features an adorable Snapper illustration.
Crafted from natural cotton, the reusable square tote bag is an ideal way to sustainably carry your shopping, with an impressive capacity able to fit plenty of festive goodies inside for both over the holiday period and beyond it.
It isn't just John Lewis getting in on the festive action however, with several other brands also having released some equally cheerful pyjamas, such as this Grinch inspired pyjama range at Asda, starting at £10 , or this Snoopy inspired lounge set from Marks and Spencer priced at £38.
Source: Read Full Article