Jill Biden's Dress Stunned Viewers At Biden's Address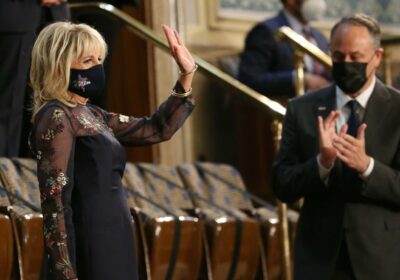 Just as Joe Biden marked his first 100 days as president with a Joint Address to Congress, Dr. Jill Biden has made her mark not just as the first working first lady in history, but for her fashion choices (via Town and Country).
First Lady Jill Biden set Twitter on fire during the president's Wednesday night speech with a stunning violet-hued dress embroidered with flowers. Eagle-eyed CNN White House correspondent Kate Bennett pointed out, via Twitter that: "@FLOTUS tonight appears to be wearing a Gabriela Hearst dress, similar in style and similar floral appliqués to the Hearst dress she wore on Inauguration night." The original inaugural dress, which was executed in white, featured 50 embroidered flowers to symbolize the states of the union (via The New York Times).  
Voices on Twitter applauded Dr. Biden's choice of outfit, many saying simply that she looked "beautiful" (via Twitter) and "classy" (via Twitter). "We are SO fortunate to have Joe Biden as POTUS. He is knocking it out of the park tonight with his uplifting message to Americans. (And not for nothing, First Lady Dr. Jill Biden looks amazing.)," commented one Twitter user.
Gabriela Hearst is one of the first lady's preferred designers
As with everything else, there were critics, one of whom compared the first lady to her immediate predecessor, saying, "Is Jill Biden wearing another @Forever21 dress?? Good Grief get her a stylist that can dress her for her age!!"
The blog Irenebrination says designer Gabriella Hearst and Jill Biden first crossed paths in 2017, before Jill became first lady, when she became involved with Save the Children. Hearst was Jill Biden's designer of choice, and she actively campaigned for the Biden-Harris ticket. The blog also says Hearst, who originally comes from Uruguay and who was naturalized not long ago, works with artisans from her home country to execute on her designs. She was named creative director of Chloe in December of 2020 and is known for her interest in creating sustainable fashions with low environmental impacts (via Vogue). Interestingly enough, former FLOTUS Melania Trump was also a Hearst fan, although Irenebrination says Trump purchased her clothes from retailers.
While the internet applauded the first lady for her choice of outfit, we know where Jill Biden's heart and attention lie, because when the president began speaking, she had just one thing to Tweet: "Proud."
Source: Read Full Article