Jax Taylor slams Tom Sandoval for inviting Brittany Cartwright to concert: 'Never text my f–king wife'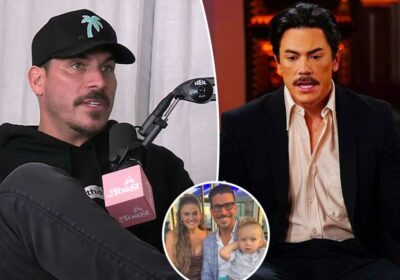 More On:
tom sandoval
'Empathetic' Lala Kent also changes tune on Raquel Leviss after 'Pump Rules' reunion
Amy Schumer defends T-shirt sex after Tom Sandoval's 'revolting' reunion comment
Ariana Madix suddenly changes her tune, admits she feels bad for Raquel Leviss
Andy Cohen: Tom Sandoval weaponized Ariana Madix's 'body issues' with upsetting T-shirt comment
Jax Taylor raged after Tom Sandoval invited his wife, Brittany Cartwright, to a recent Tom Sandoval & The Most Extras concert amid the fallout from Scandoval.
"This is how tone-deaf and selfish [Sandoval] is," the "Vanderpump Rules" alum explained to podcast host Claudia Oshry in Friday's episode of "The Toast."
"His band was performing in Louisville. He texted Brittany … 'Hey, if you have any friends in Louisville, [I would] love to see you. Come [see] my band. I'll get you free passes.'
"I looked at the phone. I go … 'Are you f–king serious?'"
Taylor visibly turned red as he explained how he swiftly responded to the embattled frontman.
"I went on my phone, and I go, 'Don't you ever f–king text my wife again. How dare you. How selfish and tone-deaf are you? You do realize Brittany is friends with all these girls? What do you think she's going to do?'"
Oshry went so far as to call Sandoval, 40, a "narcissist" and "not well" for reaching out to Cartwright, 34, about his June 1 show in Kentucky.
"It's like a serial killer who kills their family and then goes out to the bar," Taylor, 43, added.
Earlier this year, the former Bravolebrity — who has long had beef with Sandoval — officially cut ties with the bar owner, who had a bombshell affair with Raquel Leviss amid his nine-year relationship with Ariana Madix.
Taylor publicly backed Madix, 37, amid the unraveling details of the rendezvous and has since come clean with his real thoughts about the serial cheater.
"He's cheated on every girlfriend he's had," the former model claimed on "The Toast."
When asked whether he has ever covered up for Sandoval's infidelities, Taylor quickly added, "I've always outed him."
Taylor went on to diss Sandoval as "not talented" as the singer takes his cover band on tour around the country — despite poor ticket sales.
"You should have dreams and goals and whatever, but keep it in your living room," he suggested. "It's really bad."
Meanwhile, the former bartender believes Madix will be OK as she takes on various brand deals and new endeavors, including joining the cast of "Dancing With the Stars" for the show's upcoming season.
"I hate using the word thriving because everybody uses that word, but she really is," he said.
Follow Page Six's coverage of 'Scandoval':
Tom Sandoval, Raquel Leviss, Ariana Madix drama, explained
How Ariana Madix found out about Tom Sandoval, Raquel Leviss' affair
Ariana Madix rips 'subhuman' Raquel, 'rat' Sandoval in 'Pump Rules' reunion trailer
Taylor admitted he never had the best relationship with Madix and questioned why she was so negative while dating Sandoval.
"I always had to walk on eggshells because I was like, 'Ah, she doesn't like me. She doesn't like me. Why? What did I do now? Is it because I'm just too much of a guy's guy?'
"But now, she's just … a completely different person."
Speaking about the aspiring actress' spirit, Taylor said, "She's got so much weight lifted up. She's a different human being.
"She was so angry all the time. She was so depressed. She never came out. I don't know what it was from. Well, I mean, now I do. She was living with a monster, and you see her now, and she's doing all these great things."
While the cast of the forthcoming 11th season of "Vanderpump Rules" remains unclear, Taylor suggested he is open to heading back to the small screen.
Speaking on behalf of himself and his wife, he explained, "We're trying to figure out what makes sense for my family. Obviously, we've been off for a couple years, so we want it to make sense for us."
Taylor and Cartwright left the show in December 2020 after Season 8, a year after they tied the knot.
They went on to welcome a baby boy, Cruz, in April 2021.
Taylor shared that being away from the on-screen drama has been good for him but also confessed that he "missed it."
Share this article:
Source: Read Full Article