Jaw-dropping creations go on display at Cake International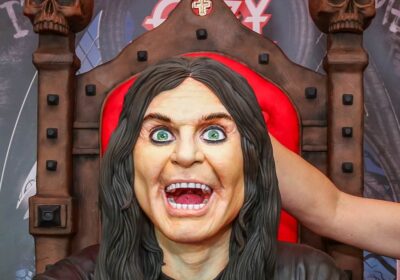 Jaw-dropping bakes are unveiled at Birmingham's Cake International – including life-size sponge versions of Black Sabbath star and Mrs Doubtfire
The Cake International competition in Birmingham displays amazing creations
READ MORE: Can YOU tell what's real and what's cake? Amateur baker fools fans with her VERY realistic creations
Bakers have created incredible edible displays for this year's Cake International event at the NEC in Birmingham.
Realistic edible versions of some of the world's most famous stars – including King Charles and Ozzy Osbourne – were among the show-stopping creations on display at the world's biggest cake competition today.
The competition receives over 1,500 entries each year and it attracts thousands of baking enthusiasts, cake artists, chocolatiers, and patisserie chefs from around the world. 
Bakers of all ages and levels of experience can enter, with many taking inspiration from the world of celebrity for their elaborate bakes.
Ozzy Osbourne was transformed into a breathtaking but slightly spooky cake by cake designer Jane Lashbrook.
The cake realistically replicated the Black Sabbath star to life-size, and he sat on a throne made of skulls.
One baker, Jane Lashbrook, created an impressive homage to Ozzy Osbourne using flour, eggs, butter, sugar – and a whole lotta fondant icing – while taking part in the world's biggest baking competition, Cake International at Birmingham's NEC
Elsewhere, another talented baker recreated Mrs Doubtfire, from the cult 1993 film starring Robin Williams, in sponge. The impressive cake was complete withthe character's classic outfit and broom.
And one baker used their kitchen skills to create a chef's table made completely from cake. The magnificent work of art included a chopping board with chef's essentials, such as garlic and tomatoes.
But the realistic piece took a creepy turn with a chopped off finger and an ear leaking with blood.
One talented baker recreated Mrs Doubtfire, from the cult 1993 film starring Robin Williams, in sponge. The impressive cake is complete with Mrs Doubtfire's classic outfit and broom
A chef's table was also conjured up in sponge – but with the creepy addition of a chopped-off finger and ear 
The Ozzy Osbourne cake realistically replicated the star to a life-like size, and he sat on a throne made of skulls
Regal icing: A life-size cake figure of King Charles, by sugar artist Emma Jayne is surely a contender for the top prize
Another baker created a chimpanzee head out of a cake – along with pieces of their favourite fruit, bananas 
One magnificent cake sculpted a female fairy with a scary twist, which featured a split tongue and fangs  
This spooky creation was entered, but who'd want to nibble on a slice?
Macabre: One incredible cake showed a figure from the horror classic Hellraiser with nails across the face, in a sponge that is perhaps too scary to eat 
Careful now! The bakers carried their impressive creations into the NEC in Birmingham today
An impressive mouse with a backpack recreated as cake looked more like it was made out of clay then sponge 
Exhibitors entered a stunning tower cake of an oriental building in red – complete with blue features 
Bakers took inspiration from around the world with their cakes, with one including oil lamps called Diwas, which is used to commemorate the Hindu God Rama (bottom of the cake)
One royal fan, Emma Jayne, even recreated His Majesty's head with sponge, Rice Krispies, marshmallows and modelling chocolate.
The regal cake came complete with the monarch's sparkling crown, adorned with 2,500 zodiac crystals, each painstakingly placed on individually by the patient maker.
Other events throughout the day include bakery masterclasses, decorating workshops, and the chance to meet cake artists famed within the industry.
Source: Read Full Article