Is Charles set to fly into a new row with his visit to Australia?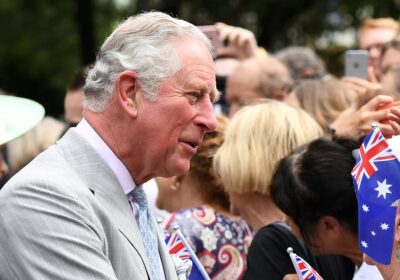 Is Charles set to fly into a new 'end the monarchy' row with his visit to Australia? Palace aids are drawing up a plan for the King's Sydney trip next year
Planned visit to Sydney will coincide with Commonwealth summit meeting
King Charles is set to face the biggest test to his reign next year when he flies to Australia – where calls for the country to break from the Commonwealth and become a republic are ever-increasing.
The Mail on Sunday can reveal that royal aides are preparing for a visit to Sydney to coincide with his first attendance as the head of the Commonwealth at its summit meeting in Samoa.
A senior Australian government minister last night said the visit would lead to a 'renewed conversation' about the country having its own head of state.
Charles is due to be at the Commonwealth Heads of Government Meeting (CHOGM) next October and it is predicted that he will extend the tour to visit Australia, New Zealand and Fiji.
Matt Thistlethwaite, the assistant minister for the republic – an anti-monarchist role created in the Australian Labor Party last year – told the MoS: 'The King will always be welcome in Australia and greeted fondly by the Australian people. But in modern-day Australia his visit will trigger a renewed conversation about having our own head of state who lives with us, represents us and is an Australian.'
The then Prince Charles being greeted by members of the public during a visit to Brisbane on April 4 2018
Charles chatting with an indigenous elder during a traditional Welcome to the Country Ceremony in Gove, Australia, on April 9 2018 
Charles has already been criticised for not yet making an official visit to any Commonwealth country despite having been on the throne for more than a year.
READ MORE: King Charles is 'subtly punishing' Prince Harry over their rift while Prince William 'is full of regret' that his and his brother's 'relationship is irretrievably broken', royal expert claims
Isaac Jeffrey, leader of the protest group Australian Republic Movement, added: 'By the time Charles visits he'll have been King of Australia for more than two years. He's hardly been in a rush to visit us and that's fine – we don't need him.'
A recent survey found that 78 per cent of 1,500 Australians believe the Royal Family should foot the bill for a state visit. In 2011, it cost Australian taxpayers $2.6 million (£1.9 million today) to host the Queen and Prince Philip.
Royal aides will be keeping a close eye on Saturday's referendum, where Australians will vote on whether to permit an indigenous voice in parliament. If successful, the Labor government, under prime minister Anthony Albanese, has said it will hold a vote to test the appetite to be a republic if it is elected for a second term in 2025.
A YouGov poll of 1,200 Australians last month found that 32 per cent want a republic as soon as possible – up 12 percentage points on a similar survey last year.
For his part, Charles is understood to have been left 'disquieted' by the delay in receiving an official invitation from the Australian PM.
It is understood that should Charles travel to the country – his 17th visit to Australia – anti-monarchists would use it as the launchpad for their bid to oust him as King.
Sources claim opponents will target official engagements to press their case for an Australian to be the country's first president.
Australian Prime Minister Anthony Albanese (pictured left) and Labor member for Hawke Sam Rae (pictured right)
They add there have been 'conversations on both sides' and that 'the King has made it clear he is keen to meet as many Australians as he can when the opportunity arises'.
Shadow defence minister Andrew Hastie contrastingly told the MoS: 'The King will be very welcome on his first visit. There is a renewed enthusiasm for the Crown down-under and a sense that we share in something special and historic.'
But prime minister Albanese is in no rush to send a formal invitation. One source claimed: 'It is fair to say there has been some disquiet about it. As is protocol, the King cannot act upon anything until he receives an official invite.'
The Palace would not discuss details of talks between the King and Mr Albanese for a state visit.
In May, this newspaper revealed Charles's plans to visit his first Commonwealth country – Kenya – at the end of the month. It is expected to be confirmed by the Palace in the coming days.
Source: Read Full Article