'Intimate disasters' make for compelling music from this young group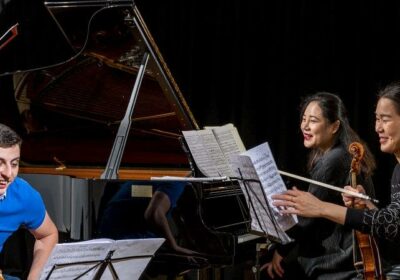 Peter McCallum reviews two very different classical music concerts.
Z.E.N. Trio
Musica Viva
City Recital Hall. August 20
Also, Monday 22
★★★½
Australian composer Matthew Laing said, in a program note, that his new work for piano trio, Little Cataclysms, premiered by Z.E.N Trio on its current tour for Musica Viva, is about "intimate, personal disasters in miniature form".
In an age of climate change and war, "cataclysm" might seem like hyperbole, but the intimate nature of the pieces suggested the subject was some kind of failure to connect on a personal level. The first cataclysm began with high notes on the piano, whistling violin harmonics and a sliding idea on the cello before big chords emerged, making the earlier delicacy harder to re-establish.
Z.E.N. Trio are (l-r) Esther Yoo, Zhang Zuo, and Narek Hakhnazaryan.Credit:Daren Leigh Roberts
In the second, a mechanically repeated note on the piano suffered minor bumps in the middle before petering out. In the third miniature, it did look as though things got intense, the piece starting with ideas being passed between the three players before developing into a serious, possibly physical, tussle.
The fourth one also started amiably, with reflective slow notes on the strings. The piano began by fitting in cordially with downward arpeggios but then became totally manic. In the fifth, the cataclysm seemed to be what might have been but wasn't. A delicate, mechanical figure in the high piano against high notes on the strings, transferred briefly to the other instruments and then faded to nothing at the end. These were thoughtful small gems that didn't outstay their welcome.
Z.E.N Trio's program introduced another work that would be new to most listeners, the Piano Trio from 1953 by Armenian composer Arno Babajanian, an immediate success in its day but largely unknown to Western audiences. Its salient features are its coherence of form with a recurring motif at the start that binds the work and returns at the close, a beautifully memorable slow movement based on a sentimental popular song, and a frenetic finale in 5/8 time.
The slow movement provided the high point of the concert, as pianist Zhang Zhuo accompanied a sweet high melody from violinist Esther Yoo with an intimately entwining second melody from warm-toned cellist Narek Hakhnazaryan (himself Armenian and the work's champion). The third movement provided a wild end to the concert with moments of ferocious energy, darkening with memory of the very first idea at the close.
The concert began with Brahms' youthful Piano Trio No. 1 in B, Opus 8 with strong tone and true pitch from Yoo, but the first movement was somewhat one-dimensional and unvaried in interpretative approach.
Max Richter: The Four Seasons recomposed
Sydney Symphony Orchestra
August 19
★★★★

Max Richter's "cover" version of Vivaldi's The Four Seasons is familiar without being derivative. The themes, rhythms and textures all come from Vivaldi, yet somehow the ideas of Spring, Summer, Autumn and Winter are heard as the soundtrack to an inner film clip – a lonely nocturnal walk where "earworms" are recalled by association with one's personal experience.
Rather than burst to life as Vivaldi did, the opening loses itself in whispering birdsong between soloist and orchestra. In the slow movement violinist Ray Chen opened out with a beautiful sound of glowing, radiant tristesse that touched the soul in the way recalling a parting lover on the big screen carries much more vivid emotionalism than the pragmatism of real life.
Gemma New was recently appointed artistic advisor and principal conductor of the New Zealand Symphony Orchestra.Credit:Fred Stucker
In Autumn, Chen and conductor Gemma New skipped beats playfully as Richter takes away notes from Vivaldi's original to create the charm of small irregularities. In the stormy music at the close of Summer, Chen was demonic and in the opening movement of Winter, he played the music Vivaldi wrote to represent wintry blasts and chattery teeth, like one possessed, as though the chill wind had gripped his very being.
Overarching his violin virtuosity was a dramatised narrative of how we would like life to be – how it is in films rather than in the humdrum of every day – and it brought the audience to its feet at the close in warm appreciation.
In the first half, conductor Gemma New enlivened and invigorated the twinkling, stirring textures of Nico Muhly's Control (Five Landscapes for Orchestra) with engaged precision and purposeful directness. Muhly's work is like a series of five panels textured with minute sprays, dots and fine lines of sound.
The first movement, Landform, overlays glistening delicacy with big tectonic chords, slicing through like Pollock's Blue Poles, to mix light sounds with ominous weight. The second movement, Mountain, has the sweetness of warm summer. A viola melody and sonic droplets all combine with layers of shifting sound like slanting light.
Beehive, the third movement, is built of intricate rhythmic structures crossing and colliding in exhilarating, worrying chaos. The trombone melody of the fourth, Petroglyph & Tobacco, invoked folk song and was angular and comic in its awkward deliberateness.
In the last movement, Red Dust, New animated and breathed spirit into the dry earth before sudden drum strokes closed the work with unsentimental thuds. New was recently appointed artistic advisor and principal conductor of the New Zealand Symphony Orchestra, and it is a pleasure to welcome her to Sydney's newly refurbished concert hall, in what we hope is the first visit of many.
A cultural guide to going out and loving your city. Sign up to our Culture Fix newsletter here.
Most Viewed in Culture
From our partners
Source: Read Full Article