Insufficiently Jovial Jove at Glyndebourne – Semele review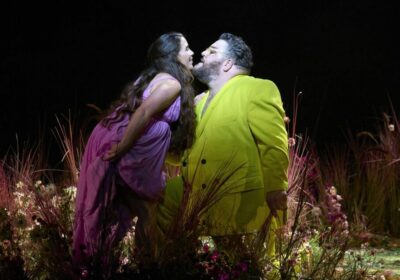 Despite being packed with glorious music by Handel, Semele has not been seen at Glyndebourne before. With some 45 Handel operas to choose from, some are bound to be neglected, but Semele has always had problems of its own to account for its rarity.
When first produced in the 1740s, it was presented as an Oratorio, for choir and soloists, rather than a fully staged opera.
Part of the reason for this was the plot which did not follow Handel's usual practice of taking a Biblical or historical tale but was based on a rather raunchy Greek myth about the loves of Jove.
The story about the King of the Gods having an affair with a human was thought by many to be too profane for the theatre but Handel knew he could get away with it in a concert hall.
Presenting Semele as a fully staged opera, however, brings problems that Adele Thomas, the director of the new Glyndebourne production, does not completely solve. Perhaps the most obvious of these was in the use of the chorus which at times looked too rigid. 
READ MORE 'The loudest musical I have experienced in a long while' – The Wizard of Oz
Their music, of course, was written to a choir, to be sung sitting or standing inflexibly at the back of the stage, but for an opera they need to be given something to do.
This was sometimes managed, but too often the director's imagination seemed to fail in that respect, adding to a general lack of vitality accentuated by a slowish tempo for the music and unexciting set designs.
The Orchestra of the Age of Enlightenment, under Czech conductor Vaclav Luks, gave a generally excellent account of the music, but an increase in the speed of some of the arias would have brought out the essential jolliness and great humour of Handel's creation.
The excellence of the cast, however, almost overcame these problems. American soprano Joelle Harvey was terrific in the title role, effortlessly coping with all the vocal gymnastics Handel's music demanded of her. The English tenor Stuart Jackson also impressed as the god Jove.
I knew from the programme notes, incidentally, that the affair between Jove and Semele led to the birth of Bacchus, god of wine and festivity, but I thought it odd that the director portrayed Semele as obviously pregnant from the beginning of the opera. Surely that would have created some doubts in the mind of Athamas, who passionately wanted to marry Semele at the start.
Don't miss… 'A few too many bangs for your bucks' – Dr Semmelweis review[LATEST]
We use your sign-up to provide content in ways you've consented to and to improve our understanding of you. This may include adverts from us and 3rd parties based on our understanding. You can unsubscribe at any time. More info
The other two main roles were Jove's wife Juno, played by American mezzo-soprano Jennifer Johnson, and messenger God Iris, played by the Venezuelan Samuel Marino who is a rare example of a male soprano whose pure voice was a treat to listen to though his gestures and dancing around the stage seemed to me to be rather too obvious a way of accentuating his unusual talents.
On the whole, therefore, a welcome opportunity to see a rare opera, with all the necessary components to make a great show, but rather let down by an uninspired production.
Semele is at the Glyndebourne Festival. Box Office: glyndebourne.com or 01273 815000 (various dates until 26 August)
Source: Read Full Article