Inside the 2019 Golden Globes After-Parties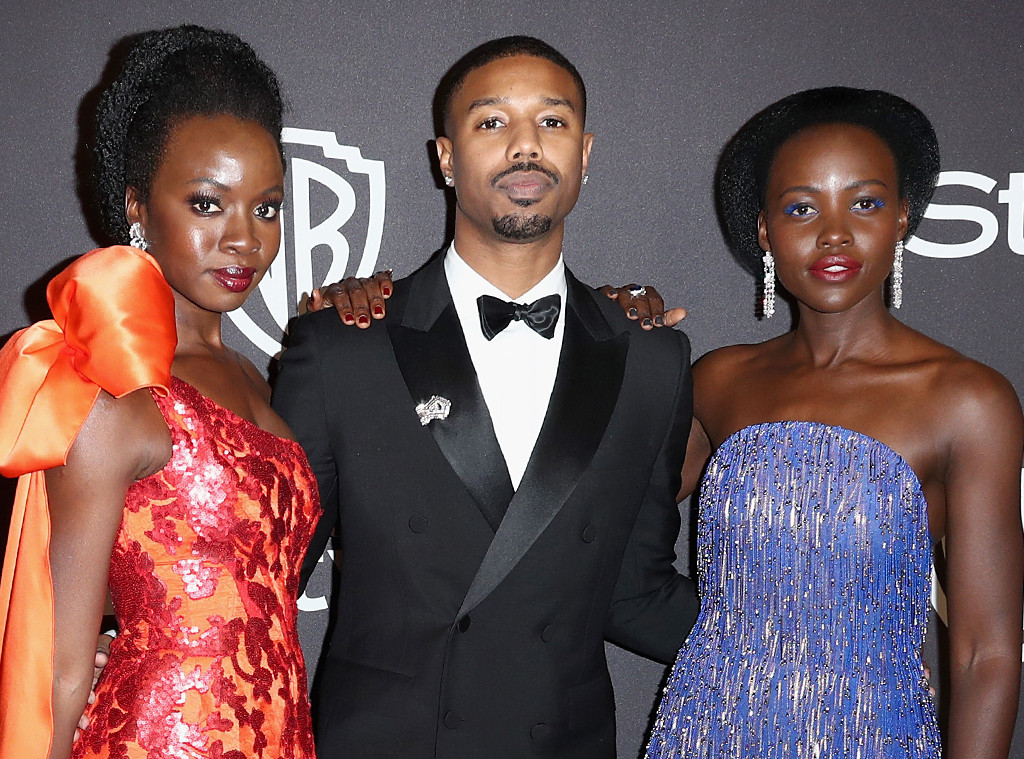 Rich Fury/Getty Images
The wildest thing about the 2019 Golden Globes wasn't the award show itself—it was what went down at all the after-parties. It was a night filled with reunions and run-ins, and E! News was on the scene as Hollywood's biggest stars let loose to celebrate the year in movies and TV.
Didn't get a ticket to the hottest parties in town? Consider this your all-access backstage pass:
Amazon Prime Video
Hilary Duff enjoyed a rare night out with Matthew Koma, while fellow Disney Channel alum Ashley Tisdale showed off her newly dyed pink hair on the red carpet. A Very English Scandal winner Ben Whishaw told E! News he was "so excited" over his win, despite feeling sad about co-star Hugh Grant's loss. Other guests included Garcelle Beauvais, Alex Bornstein, Sophia Bush, Derek Hough, Katherine McNamara, Bethany Joy Lenz, Jack Quaid and Tony Shalhoub.
CAA
Held at Sunset Tower, guests enjoyed everything from chocolate cake to truffle fries. Sadly, a source says the rain kept some people away, since "everyone was complaining about the cold." Still, Timothée Chalamet was ready to rage—and after sending his mom home, he did just that.
Jessica Chastain and Gian Luca Passi de Preposulo left early in the night. Before that, though, "she was saying hi to everyone and was making the rounds. She and her husband held hands and shared a kiss in valet as they waited for their car," a source says. "They were super in love."
Meanwhile, The Marvelous Mrs. Maisel winner Rachel Brosnahan was given a glass of champagne shortly after her midnight arrival. "She was roaming around, saying hi to Anne Hathaway and Emily Blunt," a source tells E! News. "They all talked for several moments."
After grabbing a glass of champagne herself, Blunt and husband John Krasinski danced to ABBA's "Dancing Queen." Blunt then began talking to Hathaway, "and they were all on the dance floor dancing with drinks in their hand. It looked like a total moms night out and they were having a lot of fun. John looked so in love with Emily and was laughing at her dancing." Blunt and Hathaway were "inseparable" all night. "Everyone was dancing around and laughing."
As Amy Adams, Lupita Nyong'o, Bill Murray and more stars made the rounds, The Wife winner Glenn Close "was mingling with people at the center bar and still had a look of shock over her win. Several people were approaching her to say congrats and she had a huge smile on her face," a source says. "Emily chatted with her for several moments and she looked very happy."
Alwyn and Swift made a brief appearance around 1 a.m. "They weren't showing any PDA but it was clear they were together. Security swarmed them," the source says. "They sat in a couch at a table with their drinks in the back of the party and were talking with several people. They looked at each other a few times and it seemed like Joe was trying to make sure she was OK and gauge when she wanted to leave. They were then escorted out of a private exit together."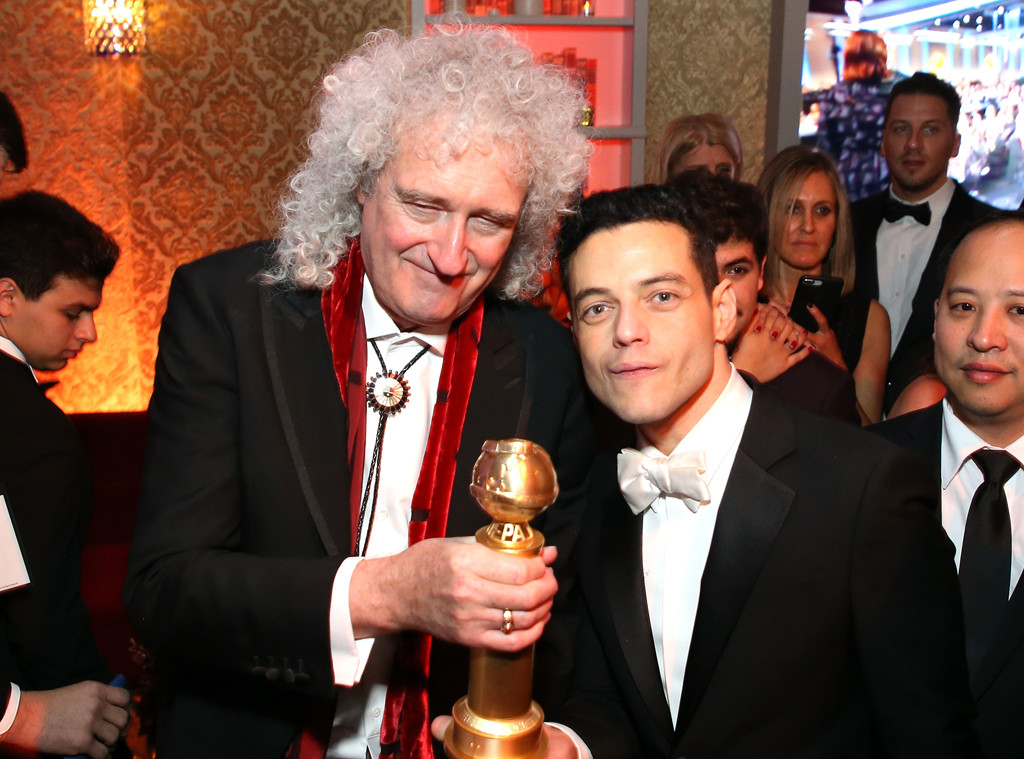 Phillip Faraone/Getty Images
FOX, FX and Hulu
Swift beelined for The Favourite cast to show her support for Alwyn and Stone. Meanwhile, Rami Malek celebrated Bohemian Rhapsody's win with his castmates and Queen's Brian May.
Other guests included Penélope Cruz, Cody Fern, Keegan-Michael Key, Janet Mock, Ryan Murphy, Matthew Rhys, Keri Russell, Tika Sumpter, James Van Der Beek and Ariel Winter.
HBO
Held at Circa 55 Restaurant, guests included Mahershala Ali, Caitriona Balfe and Henry Winkler. Emma Stone and boyfriend Dave McCary were seen "holding hands" as they made their exit just before 10 p.m., according to a partygoer. As Tiffany Haddish was congratulating If Beale Street Could Talk winner Regina King, Pete Davidson and Machine Gun Kelly rolled in at 10:08 p.m. "They were in good mood," a source tells E! News, adding that Davidson—with a joint tucked behind his ear—went up to the bar and ordered booze for his friends and a Coke for himself. "One man asked Pete how he's doing," the source adds, "and he said 'Good, man!'"
As Colin Hanks, Debra Messing, Billy Porter and more stars worked the room, Crazy Rich Asians nominee Constance Wu introduced her dad to co-star Jimmy O. Yang. "They saw some friends; she was excited and hugged one of the guys," a source says. "They were at a table chatting."
Sharp Objects winner Patricia Clarkson was also seen "mingling with guests," according to an insider. "She was holding a drink then went to her table and danced for a moment. It was cute!"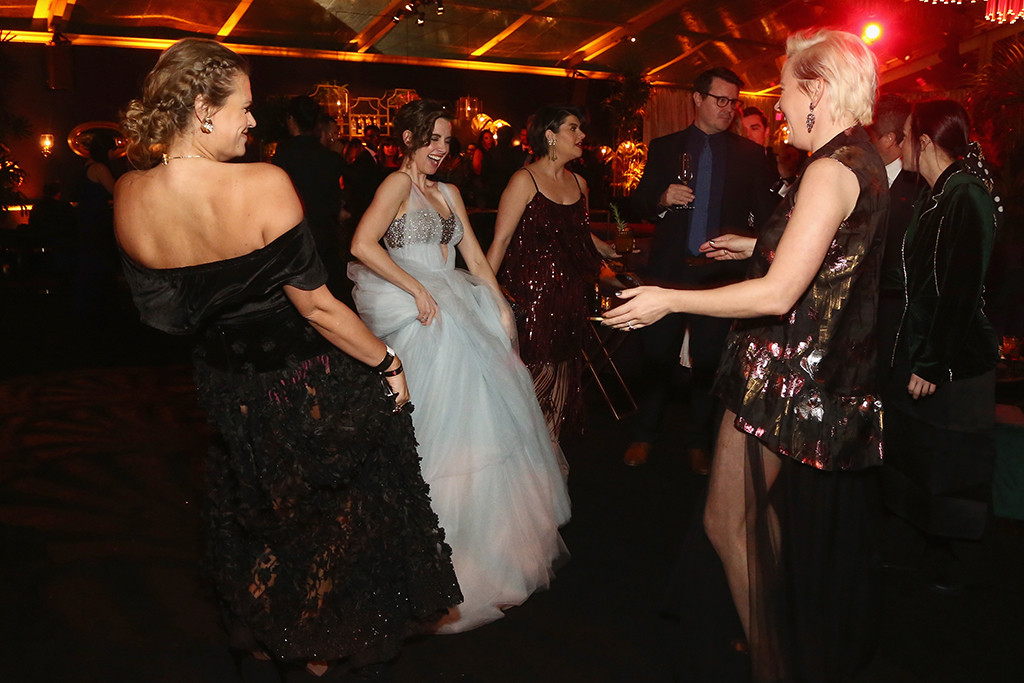 Tommaso Boddi/Getty Images for Netflix
InStyle and Warner Bros.
The most star-studded event of the night brought out Malin Akerman, Connie Britton, Jim Carrey, Kristin Cavallari, Gemma Chan, Laverne Cox, Kaley Cuoco, Kieran Culkin, Laura Dern, Adam Driver, Ryan Eggold, Claire Foy, Johnny Galecki, Richard Gere, Brad Goreski, Danai Gurira, Jameela Jamil, Michael B. Jordan, Pom Klementieff, Heidi Klum, Sonequa Martin-Green, Lea Michele, Janelle Mon&#225e, Michelle Monaghan, Julianne Moore, Troye Sivan, Ben Stiller, Jon Voight, Rumer Willis, Finn Wittrock, Michelle Yeoh and Rachel Zoe.
Alwyn and Swift arrived to a "sea of flashing cameras" but did their best to stay calm. "Several people approached them," a source says. "They were by each other's side saying hi to people." Not wanting to draw extra attention, the couple didn't take pictures together on the red carpet.
After midnight, new couple Jenna Dewan and Steve Kazee arrived holding hands. "Jenna is so comfortable around Steve," a source says. "She had a smile on her face the whole time. They danced to several songs on the dance floor together and sang the lyrics of songs to each other."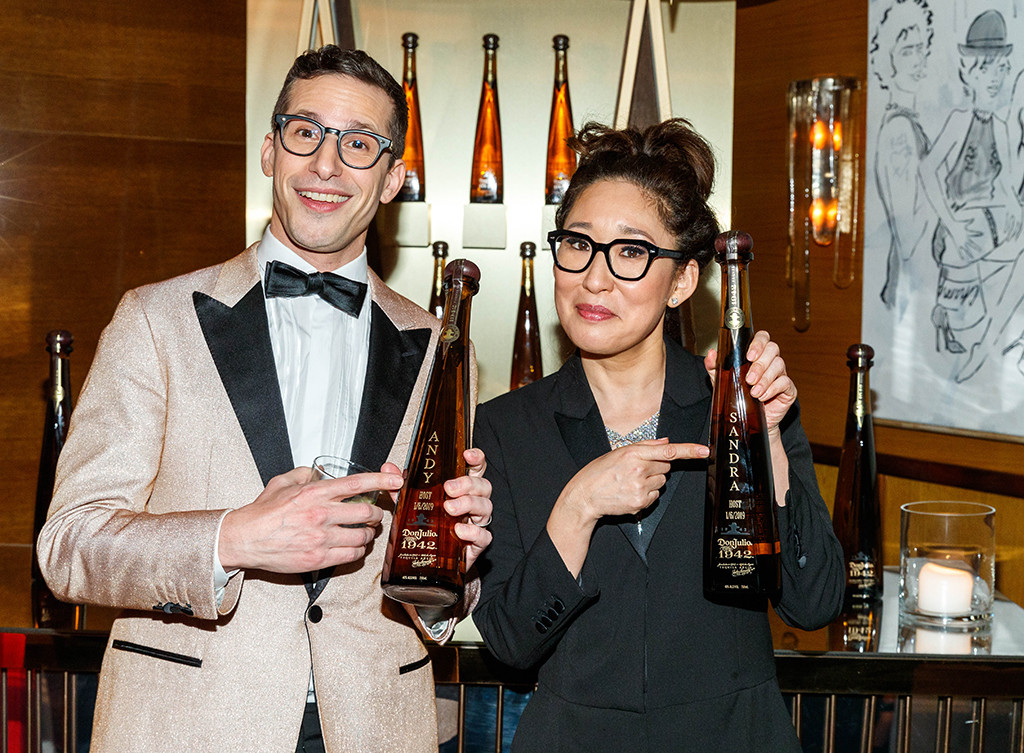 Rich Polk
Sandra Oh and Andy Samberg
To celebrate a job well done, the co-hosts busted open some Tequila Don Julio 1942 at Delilah. "We had such a great time hosting the show, it only made sense to keep the night going with some of our closest friends, colleagues and complete strangers," Oh and Samberg said in a press release. "They say the Globes is Hollywood's biggest party, but this was the REAL party!"
Some of the "closest friends" and "complete strangers" who turned up included Sterling K. Brown, Drake, Tiffany Haddish, John Hamm, Lorne Michaels, Amy Poehler and Maya Rudolph.
— Reporting by Linda Kim, Spencer Lubutz, Lauren Mendoza, Alli Rosenbloom and Amanda Williams
Don't miss E! News every weeknight at 7, only on E!
Source: Read Full Article