Inside stories of four Cold War double agents who were caught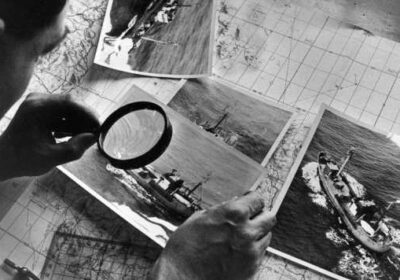 'We are not seeking a new Cold War' says President Biden
We use your sign-up to provide content in ways you've consented to and to improve our understanding of you. This may include adverts from us and 3rd parties based on our understanding. You can unsubscribe at any time. More info
Relations between Russia and the West remain at an all-time low. After a brief period of political thawing after the dissolution of the USSR, things seem to have gone back to the days of the Cold War. While things currently aren't on such a global scale as back then, similarities have cropped up, like the jailing of David Smith, a security guard at the UK's Berlin embassy, who was found to have passed on information to Russia.
Espionage was a powerful tool utilised by the Soviets and governments in the West, often with gruelling consequences.
Spies led secretive lives in the shadows, constantly on the move and expected to deceive some of those closest to them.
Those who were caught by their opposition governments were often imprisoned and tortured. Sometimes, to avoid this, spies would become double agents and begin leaking their own country's most important information. In other instances, former diplomats or security personnel decided enough was enough and changed sides off their own accord.
Here, Express.co.uk looks at five spies who have crossed and double-crossed their countries while working for the KGB or CIA.
Alexander Dmitrievich Ogorodnik
A former Soviet diplomat, Ogorodnik was recruited by the US Central Intelligence Agency (CIA) and the Colombian Intelligence Agency to spy on his country, using the code name TRIGON.
To start with, the Russian's role was stifled because of his position, though his part in spying for the West eventually bore fruit when he was transferred to the Soviet Foreign Ministry, based in Moscow. There, he photographed secret diplomatic cables, which were sent daily to the White House in Washington.
But Ogorodnik became panicked and asked for a suicide pill in case he were caught. His request was originally granted, with a tablet given to him by Aldrich Ames, a KGB double agent. Concerned, he threw away the original lethal pill and was eventually given another to ease his concern.
Then came the betrayal that led to his downfall. Karl Koecher, a Czechoslovakian translator who worked for the CIA, revealed his true identity to the Soviets, leading to Ogorodnik's arrest.
During his interrogation, Ogorodnik offered to write a full confession and asked for his pen, which contained the deadly pill. After the interrogator handed him his pen, the spy bit on it, reportedly dying before his body hit the floor.
Ogorodnik died in 1977, unaware he had left behind a daughter Alejandra Suárez Barcala. The child's mother was a Spaniard called Pilar Suárez Barcala, who helped the CIA recruit him.
JUST IN: Warning UK's enemies could be using gaps in our law to spy on citizens
Boris Morros
A former American Communist Party member, Boris Morros — who worked as a Paramount Pictures film producer, helping supervise the studio's music department — acted as an FBI double agent during World War Two.
Born in Saint Petersburg, Russia, Morros was enlisted as a Soviet spy. His position, however, was compromised in 1943, when FBI director J. Edgar Hoover received a mysterious tip-off that Morror was a spy. Though debated, many believe the tip-off came from KGB Officer Vasily Mironov.
It described Morros as an agent working in Soviet intelligence who then became a counterspy for the FBI in 1947. During his time as a mole, he reported on Jack Soble and members of his spy ring, passing on low-level secrets to Moscow, and acting as an informer for both the Soviets and the US.
Codenamed FROST, Morros solicited funds for the Soviet intelligence service while a double agent for the FBI to create a US television network. It was planned to be called the Boris Morros Music Company and was set to serve as an espionage cover. It was, however, never made.
DON'T MISS:
Russia accuses US citizen of espionage and opens criminal case [INSIGHT]
Iran sentences dual UK national to death for espionage activities [LATEST]
'Very dangerous' double agent Cuba spy Ana Montes freed from jail [UPDATE]
Gunvor Galtung Haavik
Gunvor Galtung Haavik was a Norweigan suspected spy who worked for her country's Ministry of Foreign Affairs. Born in Oslo, she initially studied medicine in the capital between 1932 and 1933 but gave this up to pursue a career as a nurse.
Working in hospitals during World War 2, Haavik fell in love with Russian prisoner-of-war Vladimir Koslov, and a year after Germany was defeated, she was hired as an interpreter for the ministry.
By 1947 she was working in Norway's Moscow embassy and was recruited by the KGB, maintaining a relationship with Koslov for two years, committing to spy for the Soviet Union after they threatened to deport her beau.
She returned to Oslo in the next decade, continuing her work for Moscow, until she was betrayed by Oleg Gordievsky, arrested, and charged with espionage and treason.
Reports suggest she confessed to the crimes, but died under mysterious circumstances before her case could come to trial.
In 2008, a film about her life called Iskyss premiered in Norway, based on the biography of the same title by investigative journalist and author Alf R. Jacobsen.
Alrich Hazen Ames
Nicknamed Rick, Alrich Hazen Ames was a former CIA officer turned double agent for the KGB. He was convicted of espionage in 1994.
The year before his arrest, the CIA and FBI began a major investigation into him, including electronic surveillance which saw officers comb through his bins, and install a monitor in his car to trace his whereabouts.
Until his official arrest in November 1993, he was watched at all times. It soon emerged that Ames would be attending a conference in Moscow, which was the moment the FBI made its move to arrest him and his wife on February 21, 1994.
As he was being taken away Ames yelled, "You're making a big mistake! You must have the wrong man!"
During his trial, Ames noted how he was not afraid of being caught by the FBI or CIA, instead more concerned about his Soviet employers. He said: "Virtually every American who has been jailed in connection with espionage has been fingered (informed on) by a Soviet source".
When he was pressed about how he passed lie detector tests, he added: "There's no special magic. Confidence is what does it. Confidence and a friendly relationship with the examiner. Rapport, where you smile and you make him think that you like him. Making the examiner believe that the exam has no importance to you seals the deal."
Source: Read Full Article