Inside Maura Higgins' sun-soaked Mexico holiday as she stuns in bikini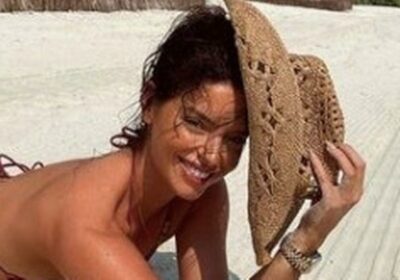 Former Love Islander Maura Higgins, who recently flaunted her very impressive abs, jetted off to Mexico to enjoy some winter sun.
Maura, 32, shared her journey every step of the way with her 3.6 million Instagram followers, as she posted snaps of her and pals enjoying some pre-flight champagne.
She later shared that she "loves being in the clouds," from the flight and even shared snaps of her very indulgent in flight meal as she relaxed and enjoyed a film.
Making good use of the inflight wifi, she also shared an update on her skincare routine via her Instagram stories.
Opening up about her concerns, Maura explained that whilst her fans often say her skin looks good "up close, it's not great… it's very much red, it's very much bumpy. It's not great, it still looks like nappy rash."
Maura explained that, to combat her skin "demons," she had been using a La Roche-Posay moisturiser, which she recommended to fans, and had even tried a natural nappy rash to try and tackle her skin problems.
However, according to Maura the latter didn't do much for her skin woes.
The excited influencer also revealed to fans that she had bumped into actor Jamie Dornan the morning of her flight and revealed that her jaw "hit the floor," when she spotted him.
Adding that she's a huge fan of the Fifty Shades of Grey series, Maura explained that whilst she understands people will say he's just a regular person she couldn't help but be extremely excited to meet him.
Maura finally landed after a mega ten hour flight and rushed to enjoy the beach.
The reality star, 32, later posted a sultry snap of her enjoying the sun and sand in a dark red string bikini .
Holding a straw hat to her thigh, Maura proved her modeling chops as she gazed seductively into the camera.
She later posted another of her lounging around in the sand, unable to hide a massive grin as she made the most of her trip.
Maura's Mexican getaway comes after Joey Essex broke his silence over the pair's steamy kiss at last year's Pride of Britain awards.
Joey, 32, admitted that he only had hazy memories of the interaction and that "all I can remember is her tongue being down my throat to be honest!"
He previously confirmed that he was still a single man despite the pair's cinch, and it seems that Maura is in the same boat.
READ MORE:
Source: Read Full Article