In misreading the times, Labor's bad week has become Albanese's long-haul mess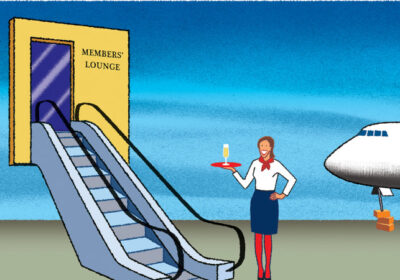 Save articles for later
Add articles to your saved list and come back to them any time.
Two months ago, the aviation industry warned that flights to and from Australia may soon be cut back. As countries try to reduce emissions, the Australian Airports Association warned, long flights to far-flung countries were an easy target. Airlines trying to meet their obligations would do the obvious thing: stop flying to Australia.
This is already happening at an individual level. Increasingly, those who organise events will tell you, artists and performers are reluctant to fly, certainly as far as Australia: they say they just can't justify the damage to the climate.
Illustration by Jim PavlidisCredit:
All this suggests that the public frustration around aviation caused, in part, by high prices and limited capability – even excluding Qantas' many other problems – may be only a taste of what is to come. Which in turn carries a useful reminder of two things. First, that our "way of life" – whatever you take that to mean – is not something we can take for granted. Second, that our governments – and, by extension, the rest of us – are hostages to greater forces than whatever individual incidents have dominated the most recent week of politics.
Which is not to say those incidents should be ignored. The last week was bad for the government. Most notably, it was messy. Not all of this was the government's fault. And some of the apparent messiness pointed to the government doing useful things. For example, the powerful pharmacists have for too long been a protected species in Canberra. The fact they are horribly annoyed and shouting in parliament is probably a good sign.
But a fair portion of the mess – the Qantas bit – was absolutely the government's fault. All this added up to a sense of chaos. Impressions are not the same as reality and one week is just one week. But there are hints of danger here for the government, if it is prepared to notice them. Since the election, "good government" has been Anthony Albanese's main calling card. If that vague impression is disturbed, what is left? Outside of the Indigenous Voice to parliament – which, if it is defeated, will not count for much – what signature policies have defined it in the public mind?
Minister for Transport Catherine King and Prime Minister Anthony Albanese during Question Time at Parliament House in Canberra on September 4.Credit: Alex Ellinghausen
In relation to Qantas, too, not all criticisms of the government are fair. It is easy enough to imagine the outcry had the government simply said yes to Qatar Airways' request for more flights after some of the women who endured invasive searches at Doha airport had explicitly asked it not to. Presumably, too, the government thinks it has been a little unlucky with timing. But that's politics. The government has allowed itself to be tied to Qantas at precisely the wrong moment and done an appalling job of publicly justifying its decision.
Its chaotic response has been an interesting reminder that this government has not come under a great deal of pressure since being elected. As Crikey's Bernard Keane asked: "What happens when a real crisis comes along?"
Some of this – as the government will tell you – has been skilful management. But the Qantas issue points to the fine line dividing "skilful management" – effective negotiation with stakeholders to keep things running, keep the peace and pass legislation – from "appeasement", giving stakeholders too much of what they want to avoid political fights.
Recent events may teach the government that, when it comes to troubling those who are used to being left alone by governments, a small bit of troubling often causes as much noise as a large bit of troubling. Labor's actions on prescriptions, industrial relations and superannuation have all been carefully designed to keep changes narrow. Those affected have yelled regardless.
Which in turn is a reminder that in politics it is possible to protect yourself from one angle of attack, but not every angle. Most obviously, this government has been concerned about seeming reckless; which has left it open to the charge of not doing enough (or anything bold enough for voters to remember). Last week made another of these tricky choices obvious. The Albanese government has wanted to work well with business, to avoid the usual political risk of Labor looking like an insurgency rather than a government. Inevitably, this has left it open to the charge of looking like it is too close to business. You can't avoid political risk – not forever, anyway. The only choice is which risk you are most prepared to live with.
And here we come to a more important question of timing than the weekly drip-drip of new revelations about Qantas. Last month's SEC Newgate poll found a sharp increase in people who disagree that businesses are "behaving ethically and doing the right thing". A research note last week from polling company Redbridge said people's patience with "major parties that seem to prioritise protecting big corporate interests" was wearing thin. This rising discontent about the influence of big business on our governments and society may be particularly obvious against the backdrop of a cost-of-living crisis – but such criticism has been building for years.
In recent weeks, Labor appears to have misread the mood. But a greater danger for the government is that it has misread the times more broadly. Of course, this is by no means certain – the polling on the referendum may suggest we are still reluctant to embrace even small changes. But then it may depend on the issue. Outgoing Governor of the Reserve Bank, Philip Lowe, in his final speech last week pointed out house prices – increasingly an emblem of so much that is wrong – were "the outcome of the choices we have made as a society". As society begins to grasp that different choices need to be made – on housing, on climate, on the influence of corporations – one political risk is that the government lags the people, responding to our old fears rather than our new ones.
Sean Kelly is an author and regular columnist. He's a former adviser to Julia Gillard and Kevin Rudd.
The Opinion newsletter is a weekly wrap of views that will challenge, champion and inform your own. Sign up here.
Most Viewed in Politics
From our partners
Source: Read Full Article